CHRISTNET SERVICES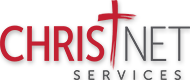 Night-time Intake & Daytime Warming Center
ChristNet Center
24356 Eureka Rd., Taylor, MI 48180
Tel: 734-287-8890
A Community Ministry Supported by St. Paul United Church of Christ, Taylor
Where do our homeless go on a cold winter night? They come to our church and others like it through ChristNet Services.
What is ChristNet?
ChristNet is an emergency nighttime shelter and daytime warming center for men, women, and children, co-founded and supported by St. Paul United Church of Christ. The goal of ChristNet is to insure that no one is left out in the cold. Each night from October to May, guests enrolling in the ChristNet Sevices receive a warm, safe place to stay overnight, plus three meals provided by one of more than forty-five churches hosting week-by-week on a rotational basis. Other guest needs are also addressed, matching guests with services that can help them move to more stable and secure lives.
How Did ChristNet Get Started?
The ChristNet Shelter is an outgrowth of a community forum convened by St. Paul United Church pastor Geoffrey Drutchas and the Rev. Hal Weemhof from West Mound United Methodist Church in September 1992. Thereafter, Pastor Drutchas and Joan Forest, a parish administrator from nearby St. Cyril of Jerusalem Roman Catholic Church, shepherded the ChristNet ministry through its early developmental phases. Pastor Drutchas served as ChristNet president/executive director during its first decade of operation.  In the years since, more churches have become affiliated with ChristNet, allowing us to increase the length of our season. Each season we are now able to provide approximately 33 weeks of overnight shelter to those in need from mid October into May.  ChristNet is a non-profit, non-sectarian organization with an elected board of directors representative of its many participating churches.  In recognition of his founding role, Pastor Drutchas is a 'life' member of the Board of Director.  St Paul members regularly contribute to ChristNet as a local mission project.
How Can I Get Involved?
Our St. Paul congregation hosts the ChristNet Emergency Shelter every October. Over a 100 volunteers are needed to welcome guests for our rotational week. Food preparation, overnight hosting, laundering of linens, and transportation of bedding and supplies to the next hosting church are commitments that our church volunteers take on in efforts to combat homelessness. Financial donations for our host week and the ChristNet ministry overall are also welcomed. In mid-to-late September the call goes out for rotational week volunteers. Please keep an eye open for sign-up rosters in the church narthex just outside the sanctuary. For information about volunteering on behalf of ChristNet at other times of the year, please call the church office at 313-291-1221.