The ministry of St. Paul United Church of Christ is supported and assisted by a committed staff. Staff members serve the congregation on either a full or part-time basis, working closely with the Church Council, the Cabinet, and various committees and organizations of the congregation. Any member of the staff can be contacted by calling the church office (1-313-291-1221) Monday thru Friday, 9:00 a.m. to 2:00 p.m.
Minister of Christian Education
Cheryl Herkimer-Schalm is Minister of Christian Education for St. Paul United Church of Christ. From September 1998 to January 2012, Cheryl served as Director of Christian Education. On January 29, 2012, she was formally commissioned by the Detroit Metro Association of the United Church of Christ and our congregation as Minister of Christian Education. She continues to serve as a pastor for our church with a special focus on ministry to children, youth, and families, but also assisting with wedding services. Mrs. Schalm grew up as a part of the St. Paul United Church congregation. A graduate of Truman High School and the Southeastern Academy in Kissimmee, Florida for professional training in the travel field, she has a Bachelor of Arts degree in Family Ecology from Spring Arbor University. She is also certified as a Family Life Educator. Before joining the St. Paul United Church staff Pastor Schalm worked with BTI America, an executive travel firm.  Cheryl is the mother of six children and has two grand-children.
Health Ministries

Kathy Williams, our professional for Programs and Visitation, graduated from Romulus High School and received Bachelor degrees in both Philosophy and Nursing Sciences and a Master of Education in Health Education from Wayne State University. She is also certified as an Educational Specialist in Instructional Technology. Although Ms. Williams began her career as a registered nurse at both Deaconess and Wayne County Hospitals, she subsequently served for over 25 years as a school nurse in the Taylor Public Schools. Ms. Williams has also received her training as parish nurse. At St. Paul, she assists the senior pastor in visitation, as well coordinates and leads health-related programs.
Director of Music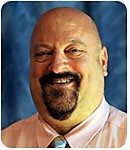 Tracy Hoffman began as our congregation's new Director of Music in June 2017, leading both vocal and handbell choirs and coordinating special music for worship services throughout the year.  He brings to St. Paul Church fifteen years of experience directing church choirs and ensembles of all sizes.  Alongside his directorial talents, he is an accomplished pianist and vocalist—gifts that he shares with the congregation as hymn leader and occasional soloist. A native of Muskegon, Michigan, Mr. Hoffman has a Bachelor's degree in Music Education from Western Michigan University and Master's degree in Education Administration from Wayne State University. For nearly three decades he has served as an elementary school music teacher.
Administrative Assistant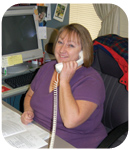 Cindy Romas serves as part-time Administrative Assistant for Member Services at St. Paul United Church of Christ. In this role, she schedules all building use, including weddings and other special events, and supervises mailings to church members. Mrs. Romas is a graduate of Huron High School. Along with her two daughters and grandson, she is a member of the St. Paul congregation.
Office Manager
Sue Mrowka serves as office manager.  She is a Downriver native with a long St. Paul heritage going back several generations.  Sue was baptized and confirmed in faith at St. Paul Church.  For forty years she was employed as a legal secretary and a judicial aide and secretary to a Michigan District Court judge.  Active in the congregation, Sue is also a mother and grandmother.
Financial Secretary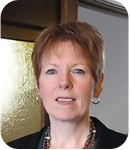 Annette Thie brings to the job more than three decades of accounting and bookkeeping experience, based upon her full-time employment with the Meijer's Store in Southgate, plus an Associate's degree in Accounting from the Detroit College of Business. She served a three year elected term as Council secretary and also volunteered her time as a substitute for our church bookkeeper during their vacation time. In the past, Annette has also served as acting Financial Secretary, demonstrating her competence and "learning the ropes" as to what the job requires.
Grounds Keeper/Sexton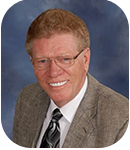 Harold Fick serves as sexton and groundskeeper for our church.  In his role as sexton, he opens, closes, and monitors our church building for private events.  As groundskeeper he maintains our ten acre church property, which includes extensive landscaping and gardens.  As a lifetime member of our congregation, Harold was baptized and confirmed at St. Paul.  Early in his career, Harold served as maintenance director at Greenfield Village for many years.