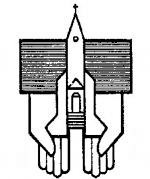 Lord, you have been our dwelling place in all generations. Psalm 90:1
Welcome to St. Paul United Church of Christ Taylor, Michigan
As a visitor, here are a few things you might like to know:
We are a self-governing Protestant Christian congregation of approximately 395 members which belongs to a non-creedal family of churches called the United Church of Christ. Founded in 1883, we have a blended Lutheran and Reformed Christian heritage.
2. Sunday Worship Schedule
Our Sunday morning services are held at 10:00 a.m.
3. Families with Infants and Toddlers
Our new Family Room on the east side of the front entrance of our church provides child care for infants and pre-schoolers for all Sunday morning services.  Our child care attendant is on hand to welcome you and your child.  The Family Room is equipped with a closed circuit video monitor so that parents who prefer to remain with their child for part or all of the worship hour may view the sanctuary service in its entirety.
4. Nursery and Christian Education
Christian education classes are offered for all young people kindergarten through high school on Sunday mornings at 10:00 a.m.  All Christian education classes are held in well-equipped upstairs classrooms, accessible by stairways in the west and east lobbies of our church.  An usher can direct or escort you and first-time visitors to our Christian education Welcome Desk where our Christian Education pastor and welcome volunteer can connect with the right classroom and teacher for your son or daughter.
5. Order of Worship and Bulletins
Our congregation follows a printed order of service for worship. Included in the worship bulletin is a Morning Tide insert detailing upcoming church programs and events. Please feel free to speak with an usher or the pastor after the service if you have any questions regarding upcoming events announced by the Morning Tide.
6. Morning Offering
When you enter the church sanctuary your offering can be deposited in the tithe box. Contributions made support our church's ministries and outreach to the community. Offering envelopes are available in the pew holders next to the hymnals and pew bibles.  We welcome all first-time visitors as our guests: no donation is expected or necessary.
7. Sacrament of Holy Communion
Holy Communion is served on the first Sunday of each month at our  10:00 a.m. service.  Our congregation practices an "open communion." All adult baptized Christians, regardless of church affiliation, are invited to share in the sacramental meal begun by Jesus in an upper room with his apostles.
8. Fellowship and Refreshments
Following our 10:00 a.m. service each Sunday, various church groups host a friendly and informal fellowship period in Fellowship Hall, directly beyond the sanctuary through the east front archway. At the sculpture courtyard, turn left, then immediately right. The Fellowship Hall is directly ahead through the double doors.
9. Restroom Locations
Restrooms are available near the main church entrance at the east end of the narthex; in the west lobby of the church; and in hallway between the St. Paul sculpture courtyard and the east lobby.  All first floor lavatories are unisex and "knock and lock."
10. Church Office and Staff
The St. Paul Church office is located off the west lobby of our church building.  On Sunday mornings, it can also be reached through the arched door at the front-left end of the sanctuary.  The church office is open Monday through Friday, 9 a.m. – 2 p.m.  To contact the church office or to make an appointment with a church pastor please call 313-291-1221.
A Congregation Gathered in Jesus Christ from Every Direction
One of the favorite Christian hymns regularly sung at St. Paul United Church of Christ reminds us that "In Christ, there is no east or west; in him no south or north." The words are especially apt for the St. Paul congregation. Since its formal chartering in 1883, it has gathered its members from different communities throughout the Downriver area, particularly Taylor, Romulus, Southgate, and Allen Park. Those communities remain well represented within our congregation. But with greater mobility the geographical spread of our membership has also increased. Today, our church's active members also come from Belleville, Brownstown Township, Dearborn, Dearborn Heights, Detroit, Gibraltar, Grosse Isle, Huron Town-ship, Lincoln Park, New Boston, Riverview, Rockwood, Trenton, Wyandotte, Wayne, Westland, and, even more distantly, Farmington Hills, Beverly Hills, and Milan. In many instances, our church members travel long distances from the four points of the compass because they find something special at St. Paul United Church—a caring congregation truly committed to living out Christian faith in everyday life. Wherever you live, we invite you to make St. Paul United Church your spiritual home.