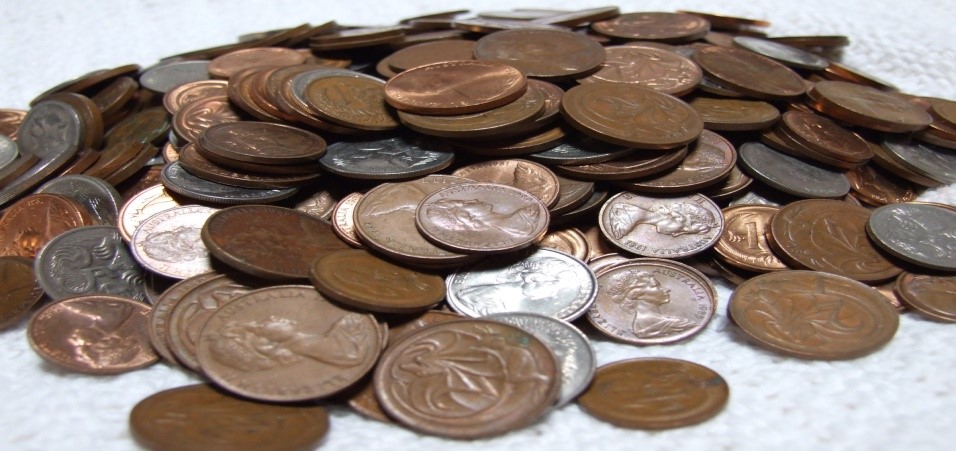 "For the Son of Man came to seek and to save the lost." ~Luke 19:10
Greetings ,
 Happy Spring!  I hope you and your family are doing well on this first Sunday of Spring.  This morning in Sunday School the children will be learning about the "lost coin."  Through message, a treasure hunt and activities it is our prayer that the children will come to understand that God loves and seeks to save and help all people.
If your child/ren are unable to attend the face-to-face class, please see the lesson that follows.  Simply substitute items with things that are available to you and adjust the lesson to meet the age of your child.  Feel free to contact me with any questions. 
Peace, Blessings and Love,
Pastor Schalm
---
Parable of the Lost Coin (Luke 15:8-10) Lesson for Lent
Bible Story: The Parable of the Lost Coin
Scripture: Luke 15:8-10
Learning Objectives:
Children will experience the story of The Lost Coin, exploring how we might lose God and how we can find him again.
Introduction:
Nametags: Children find their shoe nametag that they made during the first lesson and put it on.  If there are children without a nametag, provide materials and allow them to make one.
Search & Find Picture Books: Provide a stack of search and find picture books.  Two popular series are "Where's Waldo?" and "I Spy".  Your local library should carry many of these books!  Children, most likely in pairs, search the picture books to find the things that are "lost" or hidden.
COVID STYLE: Each child has his/her own "search and find"
Pray Big: Provide large poster board or mural paper and markers or crayons.  Children can write words or draw pictures of things or people they want to pray for, inside the letters P-R-A-Y written on large paper.
COVID STYLE: Each child will have their own sheet
Discussion Questions: What were you doing with the books?  Why?  Do you ever think we lose God?  Does he lose us?  How can we find him?  What things or people can you pray for?  Why should we pray?
Game: Lost and Found Games
– In advance, hide an item for each child. – One child waits outside, while group agrees on a hiding place for an object (plastic egg?).  After it's hidden, child comes inside and searches.  The group claps louder when the finder gets closer to the hidden object, and softer when they make a wrong turn.
Discuss:   How do you find God when you lose him?  Can anyone or anything help us?
Story: The parable story is taught in this lesson using the following puppet script.  You may also want to read Luke 15:8-10 from the Bible.  Use these follow-up discussion questions after the puppet show:  What happened?  What did Billy do when we found his lost coin?  Do we ever get lost from God?  Does he lose us or do we lose him?  How do we find God?  How does God feel about that?
Parable Puppet Show:  The Lost Coin
Materials: two people, bag of coins, ticket, lots of random stuff
Billy: (holding a bag of coins, jingle pop can with coins for sound effect) That's it!  This is really it!  I just earned the last dollar coin I need to go to the movies.  Now I can finally go see "Monsters vs. Aliens in 3D".  Wow!  All that lawn mowing and leaf raking and babysitting is FINALLY going to pay off.  I can't wait to go to the movies with Jenna.  I hope she gets here soon!
Jenna: Hey Billy!
Billy: Hiya Jenna.  I am so super excited to go to the movies with you!  Lets go, lets go, lets go!
Jenna: Hold your horses, Buddy!  We'll get there.  My Mom's outside waiting in the car.  Here's your ticket.  She bought them for us last night before they sold out.  You owe me $10.
Billy: The money is all right here.  I hope dollar coins are ok.  I just love saving these big dollar coins.  I know I have enough because I just got the last coin this morning from Mrs. Jones after I watered her flowers.  But let me count it for you, just to be sure; one, two, three, four, five, six, seven, eight, nine….WHAT!?!?  Only NINE!??!  There must be some mistake.
Jenna: Here.  Let me try counting.  Kids, will you help me?  One, two, three, four, five, six, seven, eight, nine….Uh Oh, there is definitely only nine coins here, Billy.
Billy: (crying/sobbing) Oh, no!  This is HORRIBLE!  Now I won't be able to see "Monsters vs. Aliens" after all.  This stinks.  I worked so hard…and for what?  NOTHING!  THAT'S what!
Jenna: Don't freak out yet.  Lets try to find your missing coin.  Maybe it's just lost.  Come on!
(Both start looking and start throwing random props around while they search for the coin…)
Billy: Oh this is horrible!  A stuffed animal, a stick, and Kleenex, but no coin anywhere!
Jenna: Here's a ball…oh, and a really pretty scarf.
Billy: JENNA!  Concentrate!  We need to find my coin.
Jenna: (Jenna and Billy come back up) Well, I didn't see it down there anywhere, Billy.  Hey…maybe we should ask the kids to help us look for the lost coin.  It HAS to be around here somewhere.  Can you do that kids?  Look under your chair and see if you see Billy's missing coin!
(kids look for hidden coin and when someone finds it teacher gives it to Billy)
Billy: Woohoo!  Hooray!  You kids are awesome!  Thank you SO much.  I am so excited!  Now we can go to the movie after all!
Jenna: That's enough dancing!  We gotta go if you don't want to miss the beginning of the movie.  Come on!
Billy: Seeya kids!  Thanks again for your help finding my lost coin.  Bye!
Art Activity: Prayer Cube Children color and decorate six paper squares, each with different prayers on them and then glue them to a large block to make a prayer dice to use to help choose a prayer to say.  Consider using mealtime and bedtime sets of prayers the kids can choose from.  I have found inexpensive plastic colored ABC blocks at Big Lots that work well, but you could use a wood, or any other type of cube.  Why should we pray?  How does prayer help us find God?
Prayer: Consider using a "repeat after me prayer" to close each of the Lent lessons.  Pause between every few words, allowing the children to echo what you have said.  Dear Jesus,/You are/so good./Help us/to walk/your ways/and serve others/as you would serve./Amen.
P
R
A
Y