Churched Families Have a Better Chance
"Train up a child in the way he should go, and when he is old he will not depart from it..." --Proverbs 22:6
"Therefore...let us run with perseverance the race that is set before us, looking to Jesus the pioneer and perfecter
of our faith..." --Hebrews 12:1-2
"In over 1,200 studies, at least half show that a religious person has a great well-being, great satisfaction with life, less depression, less anxiety, lower suicide rate, is more hopeful and optimistic, has less cardiovascular disease, lower blood pressure, and lives longer. That's the bottom line."  --Dr. Harold H. Koennig, Director of Duke University's Center for the Study of Religion, Spirituality, and Health
Are you Looking for a New You?
Every year, especially in January, hundreds of thousands of people across the United States plunk down cash to purchase a membership at a health spa. The hope and goal is a new svelte self-healthy and vigorous. I don't deride those who make resolutions at the New Year or at any other time to take better care of themselves and to get more exercise. In past years, I have been among those queuing up at a work-out machine based upon a personal resolution made. Yet I do wonder whether in the quest for a personal "make-over" people give thought to everything that really matters. We live in a very body-oriented culture. But what often gets neglected is the state of our soul or spiritual well-being. We have great visions of being able to slip into clothing we haven't been able to wear for years. Yet we don't give much thought as to whether, down the road, we are going to be able to "slip" into heaven for eternity.
Faith Matters for All of Us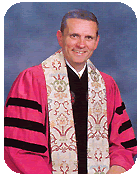 In the field of medicine there is a growing appreciation for the "mind-body connection." What we think and feel and how we relate to others, including God, have an impact on our physical well-being. In turn, our physical well-being impacts upon and reinforces our mental, emotional, and spiritual well-being. What this says to me is that we each need to be attentive to the needs of mind and body alike. Physical activity is great. It's important for folks of all ages. But no less important-indeed, I would say even more important-is the cultivation of our faith life. Our ability to throw a ball well may make us a stand-out. It may even get us a college scholarship. Yet it will not save us for the here and hereafter. Only a real relationship with Jesus Christ can do that. Church-going is pretty essential in developing our relationship with Jesus. Just as sports like baseball, basketball, and football are team activities, Christianity is too. You gotta be there for "practice" week after week if you want to win the game. Churched people of all ages always have a better chance for a healthy and positive life.
Make the Faith Connection Work for You and Your Family
I encourage you and your family to look for the right balance in your lives each and every day. Let's get active and stay active, physically and spiritually. Above all, if you're not already worshiping regularly on Sunday mornings and at other times, find a church community where you and your family can grow in grace and make the faith connection work for you. As the Adidas commercial for athletic shoes says: "Just do it!" If you and your family don't have a church home, we invite you to visit St. Paul United Church of Christ. We look forward to welcoming you.
--Pastor Geoffrey G. Drutchas