Reformation Sunday - 'Saints, Souls, and Heroes of Faith'
Twenty-Second Sunday of Pentecost
 October 30, 2022

SILENT PRAYER / PRELUDE  "Quiet Morning," Sally Sigman, Organist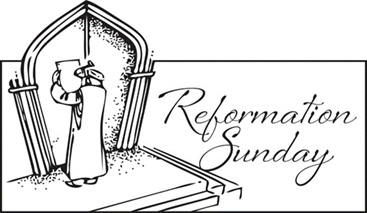 RINGING OF CHURCH BELL
WORSHIP CALL / PASSING OF THE PEACE
Pastor: May the peace of Christ be with you.
Congregation: And also with you.
UNISON INVOCATION
O God, we come into your presence this day with singing and praise.  We remember how you spoke to our ancestors in faith.  Now, we ask you to speak to us in words tender and clear that our lives might be better guided along paths true to you in the loving spirit of Jesus Christ. Amen.
*HYMN No. 611 "Rise Up, O Saints of God" (Verses 1-3)
ANNOUNCEMENTS / MOMENT FOR JOY (Operation Christmas Child)
BLESSING OF BIBLES FOR REFORMATION DAY
*HYMN No. 323  "Wonderful Words of Life" (Verses 1-2)
SCRIPTURE   John 5:19-24; Philippians 4:4-9
CELEBRATION OF MUSIC  "Lily of the Valley," Tracy Hoffman, Music Director
MORNING PRAYER / MEMORIAL PRAYER (Donald Babin and Daisy Stedman)
*HYMN No. 476 "Rejoice in God's Saints" (Verses 1, 3, 4)
OFFERTORY INVITATION / BLESSING OF TITHES AND 'NEIGHBORS IN NEED' GIFTS
*DOXOLOGY
Praise God from whom all blessings flow;
Praise Him all creatures here below;
Praise Him above, Ye Heavenly Host;
Praise Father, Son, and Holy Ghost.  Amen.
MESSAGE  "Saints, Souls, and Heroes of Faith,"  Reverend Dr. Geoffrey G. Drutchas
A PRAYER FOR SAINTS, SOULS, AND HEROES / LORD'S PRAYER (debts/debtors)
*CLOSING HYMN No. 65  "A Mighty Fortress Is Our God"
*BENEDICTION
POSTLUDE  "Pass It On," Sally Sigman
---
ST. PAUL MORNING TIDE ANNOUNCEMENTS – October 30, 2022

WELCOME TO ALL SHARING TODAY'S SERVICE BOTH IN PERSON AND THROUGH FACEBOOK LIVESTREAMING.  Our 10 a.m. service can be viewed on Facebook at other times as well.  An order of service and the pastor's full message are downloadable from our church website (stpaulucctaylor.org) with a video recording of our worship together also posted by Sunday afternoon.
THIS MORNING'S FELLOWSHIP HOUR immediately following our worship service will be hosted in the Fellowship Hall. Come enjoy coffee, donuts, and good fellowship.
OUR SUNDAY SCHOOL CHILDREN WILL BE LEARNING THIS MORNING how they can share in 'Spreading Spectacular Joy' through Operation Christmas Child, our church's mission outreach. Afterwards, they will be going on a ghost walk in search of some friendly ghost truths and treats!
OUR HALLOWEEN-SAFE 'TRUNK OR TREAT' happens tonight.  All trunkers should plan to arrive by 4:30 p.m.  For safety our church's circular drive will be blocked off at 4:45.  Prior to trunk or treating, hot dogs, chips, juice boxes, and caramel apples will be served. After trunk or treating, hayrides and photo opportunities in a Pumpkin Carriage, made available by the Block's Stand and Greenhouse will follow. For more information contact Pastor Schalm or Sheri Herkimer.
YOUTH BIBLE STUDY for post-high school students meets on Mondays, 7 p.m. at Pastor Schalm's home. All post high-school young adults are welcomed and encouraged to join the group.
THIS IS OUR LAST SUNDAY FOR OUR NEIGHBORS IN NEED (NIN) MISSION OFFERING which supports education, justice, peace, and the rights of the poor and needy. On behalf of our church's faithful outreach please give as generously as you are able to those in need.
NEXT SUNDAY IS TOTENFEST remembering those of our church family who have passed onto God in the last year.  The communion sacrament will be offered to all sanctuary and live streamed worshipers.  Those arriving for worship may wish to use communion 'kits' distributed by elders or come to the chancel steps for the bread and cup.
NEXT SUNDAY WE GAIN AN HOUR as Daylight Savings comes to an end.  Remember to set your clocks back one hour Saturday night.
FELLOWSHIP   OF CONCERN: Dan Case, Dorothy Evison, Dianne Sturgeon, Doreen Thompson, Sheila Klimek, Wayne Jones, Vicki Simon, Linda Tank, Rosemarie Laslo, Nancy Rabb, Mandy Ajulu, Gloria Lakatos, Miles Church, Joan Smarr, Shirley Robinson, Kyle Hard, Eleanor Rossi, Jerry Rossi, Janet Enesey, Hayden Forsyth, Jeff Natzke, Neil MacEachern, Al Wierzbicki, Sandi Rose, Jeff MacZink, Sue Spears, Bert Thompson, Karen Collett, Margo Charette, Larry Kurtsel, Loretta Kurtsel, Carl Smith, Brenda Stockwell, Diane St. Louis, Susan Barnard, Raymond Harmon, Steve Matney, Judy Kirsch, Debi Petri, family of the late Amanda Kish.  Condolences: Darlene Babin and family on the loss of Donald Babin who passed away October 24, 2022, at the age of 84 years.  Service was October 28, 2022; family and friends of Daisy Stedman who passed away October 26, 2022, at the age of 92 years.
OPERATION CHRISTMAS CHILD kicks off today. Shoe boxes and materials are available in  Fellowship Hall during coffee hour.  A huge thank you to Jane Dykowski for preparing Operation Christmas Child shoe boxes for us.  For more information about how you can help an overseas child overseas receive a Christmas box adding to their holiday joy, call Pastor Cheryl Schalm. All shoe boxes must be returned by Sunday, November 20.
ST. PAUL COUNCIL NOMINEES are being sought for Second Vice President, Secretary, Elder, Deacon, and Trustee positions – all for three-year terms beginning January 2023. Please consider serving our church and ministry in this vital, faithful way. For more information regarding positions duties or to offer nominations, please speak (313-291-1221) with Trustee and past president, Fred Miller.
TUESDAY MORNING BIBLE STUDY meets Tuesday, November 1, 10:30 a.m., in the West Room.  Newcomers welcomed!
EXERCISE CLASS meets Wednesday, November 2 in the West Room, 10:30 a.m.
CHANCEL CHOIR REHEARSALS meets Wednesday, 7 p.m., West Room.  New voices always welcome.  No auditions required.  More information contact music director, Tracy Hoffman.
'THANK YOU' TO ALL VOLUNTEERING to host Fellowship periods following worship.  The roster is now complete for the remainder of this year.
NOT FORGETTING THE COVID SPIKE which touched our own congregation this past summer, church members and friends are welcome to mask for sanctuary worship, also making use, if preferred, of several roped pews at our sanctuary's center.  Masks and hand-sanitizer are available at the entrances to the church. See any Deacon or Usher for assistance.
FOR SECURITY REASONS our sanctuary's front and east doors will be locked ten minutes after the start of morning worship. Those arriving late are asked to telephone the deacons and ushers (313-291-1221) or knock.  To exit out of these doors simply push the bar across them. Throughout the service, our deacons remain attentive on our behalf to any and all security concerns.
---