Totenfest & Memorial Sunday
23rd Sunday of Pentecost
Livestream & Sanctuary Worship
November 6, 2022
 PRELUDE "Abide With Me," Sally Sigman, organist
 RINGING OF THE TOWER BELL / WELCOME / CALL TO WORSHIP
*OPENING HYMN No. 628 "Precious Lord, Take My Hand"
*INVOCATION Rev. Dr. Geoffrey Drutchas, Senior Pastor
*PASSING OF PEACE  The peace of Christ be with you… And also with you!
 ANNOUNCEMENTS/ MOMENT OF SHARING
 ANTHEM "At the Table of the Lord," Chancel Choir – Tracy Hoffman, Music Director
 PRESENTATION OF TITHES & OFFERINGS
 HYMN No. 33 "How Great Thou Art"
 MORNING SCRIPTURE  Psalm 23; John 14:1-7, 15-20, 25-27
CHIME RESPONSE  "Let All Mortal Flesh Keep Silence"
 MESSAGE  "The Five Promises of Christ," Pastor Drutchas
*HYMN No. 340  "Softly and Tenderly"
 PRAYERS OF INVITATION, CONFESSSION & CONSECRATION FOR COMMUNION
Almighty and most merciful Father, we have erred and strayed from your ways like lost sheep. We have followed too much the devices and desires of our own hearts.  We have offended against your holy laws.  We have left undone those things which ought to be done, and we have done those things which we ought not to have done.  But you, O Lord, are merciful.  Spare us, O God, as we confess our faults.  Restore us in our  penitence according to your promises declared unto humankind in Christ Jesus our  Lord.  And grant, O most merciful God, for Jesus' sake, that we may hereafter live a godly, righteous, and sober life to the glory of your holy name.  Amen.

 AFFIRMATION OF UNITY IN CHRIST
 One bread, one body, one Lord of all; one cup of blessing which we bless.
 And we, thou many, throughout the earth, we are one body in this one Lord!
 SACRAMENT OF COMMUNION Pastors Drutchas and Schalm
 LORD'S PRAYER (debts, debtors)
*DOXOLOGY
 Praise God from whom all blessings flow; praise him all creatures here below;
 Praise him above ye heavenly host; praise Father, Son, and Holy Ghost.  Amen.
 THE MEMORIAL SERVICE Memorial Acclamations (see insert) / Tolling of the Bell
 *CLOSING HYMN No. 562  "Because He Lives"  
*BENEDICTION/ POSTLUDE  "I Am Thine, O Lord"
---
A Resurrection of Faith
Readings from Paul's First Letter to the Corinthians
Chapter 15 with Memorial Acclamations
---
OUR RESURRECTION
---
MINISTER:  And now I want to remind you, my brothers, of the Good News
which I preached to you; which you received, and on which your faith stands
firm.  That is the gospel, the message that I preached to you.  You are saved by
the gospel if you hold firmly to it—unless it was for nothing that you believed…
Now, since our message is that Christ has been raised from death how can some
of you say that the dead will not be raised to life?  If that is true, it means that
Christ was not raised… And if Christ has not been raised, then your faith is a
delusion and you are still lost in your sins.
WOMEN:  It would also mean that the believers in Christ who have died are
lost.  If our hope in Christ is good for this life only and no more, then we
deserve more pity than anyone else in the world.
MEN:  But the truth is that Christ has been raised from the dead, as the guarantee
that those who sleep in death will also be raised.  For just as death came by means
of a man, in the same way the rising from death comes by the means of a man.
For just as all people die because of their union with Adam, in the same way all
will be raised to life because of their union with Christ.
ALL:  But each one will be raised in his proper order:  Christ, first of all; then,
at the time of his first coming, those who belong to him.  Then the end will come;
Christ will overcome all spiritual rulers, authorities and powers, and will hand
over the Kingdom to God the Father… The last enemy to be defeated will be death.
MEMORIAL ACCLAMATION:  (Choir / Soloist)  "Christ's death, O God,
we proclaim.  Christ's resurrection we declare.  Christ's coming we await.
Glory be to you, O God."
---
THE RESURRECTION
---
MINISTER:  Someone will ask, "How can the dead be raised to life?  What kind
of body will they have?"
EAST CONGREGATION:  You fool!  When you plant a seed in the ground, it
does not sprout to life until it dies.  And what you plant is a bare seed, perhaps a
grain of wheat or some other grain, not the full-bodied plant that will later grow
God provides that seed with the body he wishes; he gives each seed its own
proper body.
MINISTER:  And the flesh of living beings is not all the same kind of flesh;
human beings have one kind of flesh, animals another, birds another, and fish
another.  And there are heavenly bodies and earthly bodies; the beauty that
belongs to heavenly bodies is different from the beauty that belongs to earthly
bodies.  The sun has its own beauty, and the stars have a different beauty; and
even among the stars there are different kinds of beauty.
WEST CONGREGATION:  This is how it will be when the dead are raised to
life.  When the body is buried, it is mortal; when raised, it will be immortal.
When buried, it is ugly and weak; when raised, it will be beautiful and strong.
When buried it is a physical body; when raised it will be a spiritual body.  There
is, of course, a physical body, so there has to be a spiritual body.
ALL:  What I mean, brothers, is that what is made of flesh and blood cannot
share in God's kingdom, and what is mortal cannot possess immortality.
MEMORIAL ACCLAMATION:  (Choir / Soloist)  "Christ's death, O God
we proclaim.  Christ's resurrection we declare.  Christ's coming we await.
Glory be to you, O God."
---
KEEPING FAITH IN THE PROMISE OF THE RESURRECTION
---
MINISTER:  Listen to the secret truth: we shall not all die, but when the last
trumpet sounds, we shall all be changed in an instant, as quickly as the blinking
of an eye.  For when the trumpet sounds, the dead will be raised never to die again,
and we shall all be changed into what is immortal; what will die must be changed
into what cannot die.
WOMEN:  So when this takes place, and the mortal has been changed into the
immortal, then the scripture will come true:  "Death is destroyed; victory is
complete!  Where, Death, is your victory?  Where, Death, is your power to hurt?"
MEN:  Death gets its power to hurt from sin, and sin gets its power from the Law.
But thanks be to God who gives us the victory through our Lord Jesus Christ!
ALL:  So then, my dear brothers, stand firm and steady.  Keep busy always in
your work for the Lord, since you know that nothing you do in the Lord's
service is ever useless.
MINISTER:  May God bless us all in this reading from his Word so that our
lives may testify to our faith in Christ's resurrection and our own.  AMEN.
MEMORIAL ACCLAMATION:  (Choir / Soloist and Congregation)  "Christ's
death, O God we proclaim.  Christ's resurrection we declare.  Christ's coming
we await.  Glory be to you, O God."
---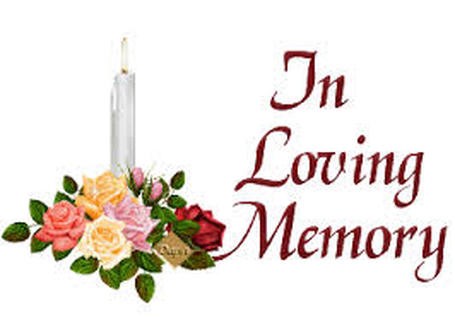 "Those who believe in me,   even though they die,
shall live."  -- John 11:25                                               
Let us remember in prayer the following members and friends
of our church whose funeral and memorial services have been held
since Totenfest / Memorial Sunday, November 7, 2021:
Kathleen Eichner, November 6, 2021, at the age of 85 years.
Richard Wagner, November 16, 2021, at the age of 50 years.
Richard Sherman, December 1, 2021, at the age of 76 years.
Ken Frost, December 13, 2021, at the age of 63 years.
Betty Hagerty, December 18, 2021, at the age of 96 years.
Damien Michael Burke, January 4, 2022, at the age of 21 years.
Rev. Larry Hawkins, February 3, 2022, at the age of 89 years.
Clifford Board, February 25, 2022, at the age of 77 years.
Marquerite "June" Dolan, April 23, 2022, at the age of 92 years.
Gertrude Holland, March 12, 2022, at the age of 98 years.
Betty Caufield, March 15, 2022, at the age of 79 years.
Joseph Smith, March 17, 2022, at the age of 70 years.
Beverly Kulhanek, March 17, 2022, at the age of 74 years.
Shirley Koths, March 24, 2022, at the age of 97 years.
Harry Gardner, June 8, 2022, at the age of 83 years.
Frank Wolfram, June 12, 2022, at the age of 76 years
Mary Faremouth, August 9, 2022, at the age of 86 years.
Daniel Mason, August 13, 2022, at the age of 73 years.
David M. Linnert, September 9, 2022, at the age of 49 years.
Janet Brown, September 19, 2022, at the age of 95 years.
Robert Smarr, October 1, 2022, at the age of 84 years.
Glen Sigman, October 3, 2022, at the age of 84 years.
Laurence Edward Yax, October 3, 2022, at the age of 85 years.
Arlene Felske, October 7, 2022, at the age of 78 years.
Donald Babin, October 24, 2022, at the age of 84 years.
Daisy Stedman, October 26, 2022, at the age of 92 years.
May the souls of the faithful departed rest eternally in God's grace
and may light perpetual shine upon them.  Amen.
---
ST. PAUL MORNING TIDE ANNOUNCEMENTS – November 06, 2022
WELCOME TO ALL SHARING TODAY'S SERVICE BOTH IN PERSON AND THROUGH FACEBOOK LIVESTREAMING.  Our 10 a.m. service can be viewed on Facebook at other times as well.  An order of service and the pastor's full message are downloadable from our church website (stpaulucctaylor.org) with a video recording of our worship together also posted by Sunday afternoon.
PRIOR TO THE START OF THIS MORNING'S TOTENFEST SERVICE those mourning loved ones are invited to light a altar candle to their memory.  An usher is available at the chancel steps to assist you.
THE COMMUNION SACRAMENT IS SHARED THIS MORNING with sealed 'kits' available from the ushers upon arrival.  Please request your wafer and cup from the elders if not already received.  All communion elements, whether provided or improvised from home kitchens, will be consecrated with prayer.  Our St. Paul congregation observes an "open" communion: church membership is not required to partake of the Lord's Supper.
THIS MORNING'S FELLOWSHIP HOUR immediately following our worship service will be hosted in Fellowship Hall. Come enjoy coffee, donuts, and good fellowship.
A BURNING BUSH AND A BAG OF POPCORN await our Sunday School children this morning as they gather in the IAM Theater upstairs with teacher Cindy Romas. After watching a powerfully messaged movie on Moses, they will discuss God's plan for Moses' life and how God used the ancient prophet to answer the prayers of His people.  The popcorn's a'popping!
OPERATION CHRISTMAS CHILD shoe boxes and materials are pick-up ready in the Fellowship Hall during coffee hour.  All shoe boxes need to be returned no later than November 20 for delivery.  For more information, please contact Pastor Cheryl Schalm.
OUR SALVATION ARMY TREE is up with tags hung!  All interested in purchasing a gift for a child in need are encouraged to select a tag from the special Fellowship Hall tree.  Each tag identifies the gender and age of a child in need of a gift this Christmas.  A list of suggested age-appropriate gifts is available with the sign-up sheet below the tree.   Due back by December 4 and deposited in the tub below the tree table, each gift should be left unwrapped with the tags taped to them.  Need more information?  Please contact Pastor Schalm.
OUR SUNDAY SCHOOL IS COLLECTING HATS, GLOVES, SCARVES AND UNDERGARMENTS on behalf of the Salvation Army's Holiday Shop for families in need.  All donations should be dropped off by December 6 at either the upstairs Welcome Center bucket or in the church office.
YOUTH BIBLE STUDY for post-high school students meets on Mondays, 7 p.m. at Pastor Schalm's home. All post high-school young adults are welcomed and encouraged to join the group.
OUR ST. PAUL CONGREGATION IS HOSTING A WEEK OF SUPPERS for the ChristNet Homeless Shelter, Sunday, November 27 through Saturday December 3.  Volunteers are needed to prepare 25 suppers in our church kitchen for delivery to shelter housing.  To volunteer, please sign a Make-A-Wish card from your pew and drop it into the narthex tithe box or return it to the church office.
NEXT SUNDAY IS STEWARDSHIP SUNDAY -- an occasion to reflect upon God's blessings, as well as his call to be faithful stewards of resources he makes possible for our needs, and for sharing with others through our church's ministry.  Everyone is encouraged to complete a Faith Commitment card and drop it in the Narthex tithe box or return it to the office. Faith Commitment cards will be received throughout November.
A MEMORIAL SERVICE FOR DAISY STEDMAN will be held this afternoon, beginning with visitation in the sanctuary at 1 p.m., followed by a 2 p.m. service.  Refreshments in the West Room will follow.
ST. PAUL COUNCIL NOMINEES are being sought for Second Vice President, Secretary, Elder, Deacon, and Trustee positions – all for three-year terms beginning January 2023. Please consider serving our church and ministry in this vital, faithful way. For more information regarding positions duties or to offer nominations, please speak (313-291-1221) with Trustee and past president, Fred Miller.
TUESDAY MORNING BIBLE STUDY meets Tuesday, November 8, 10:30 a.m., in the West Room.  Newcomers welcomed!
EXERCISE CLASS meets Wednesday, November 9 in the West Room, 10:30 a.m.
CHANCEL CHOIR REHEARSALS are held Wednesdays, 7 p.m., West Room.  New voices always welcome.  No auditions required.  More information contact music director, Tracy Hoffman.
FELLOWSHIP   OF CONCERN: Dan Case, Dorothy Evison, Linda Tank, Dianne Sturgeon, Sheila Klimek, Shelly Wilson, Wayne Jones, Vicki Simon, Rosemarie Laslo, Nancy Rabb, Doreen Thompson, Gloria Lakatos, Miles Church, Joan Smarr, Shirley Robinson, Kyle Hard, Eleanor Rossi, Jerry Rossi, Jeff Natzke, Neil MacEachern, Kevin Siemers, Al Wierzbicki, Sandi Rose, Jeff MacZink, Sue Spears, Bert Thompson, Karen Collett, Margo Charette, Larry Kurtsel, Beverly Sitz, Loretta Kurtsel, Carl Smith, Brenda Stockwell, Susan Barnard, Steve Matney, Judy Kirsch, Debi Petri.
NOT FORGETTING THE COVID SPIKE which touched our own congregation this past summer, church members and friends are welcome to mask for sanctuary worship, also making use, if preferred, of several roped pews at our sanctuary's center.  Masks and hand-sanitizer are available at the entrances to the church. See any Deacon or Usher for assistance.
FOR SECURITY REASONS our sanctuary's front and east doors will be locked ten minutes after the start of morning worship. Those arriving late are asked to telephone the deacons and ushers (313-291-1221) or knock.  To exit out of these doors simply push the bar across them. Throughout the service, our deacons remain attentive on our behalf to any and all security concerns.
---