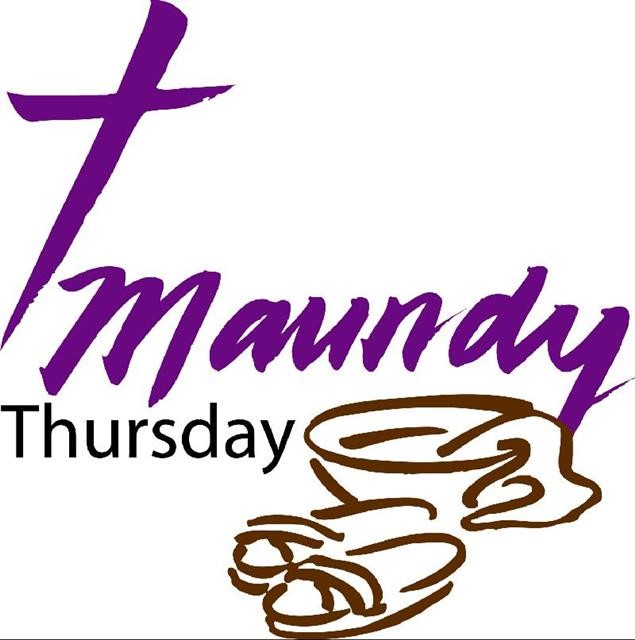 MAUNDY THURSDAY SERVICE
Sanctuary and Livestreamed
St. Paul United Church of Christ
Taylor, Michigan
April 14, 2022
PRELUDE  "Near the Cross," Sally Sigman, Organist
CALL TO WORSHIP  Rev. Dr. Geoffrey G. Drutchas
*OPENING HYMN No. 344  "I Have Decided to Follow Jesus"
*INVOCATION (Unison)
  O God, we gather together on this somber night to honor the final hours that  
  Jesus devoted to his apostles and to remember the events leading to  
  Calvary's cross.  Open our hearts and minds that we might be deepened in
  faith by our shared worship and our commemoration of Christ's sacrifice for
  us all. Amen.
*CONGREGATIONAL RESPONSE Amen, Amen, Amen.
WELCOME & ANNOUNCEMENTS
ANTHEM "Remember Me," Chancel Choir – Tracy Hoffman, Music Director
GOSPEL READING  Mark 14:32-51  Pastor Drutchas and Aaron Johnson
HYMN No. 196 "Go to Dark Gethsemane" (Verse 1, 2)
MEDITATIONS FROM THE GARDEN:
   INTRODUCTION "Flashbacks," Pastor Drutchas
FIRST MEDITATION & PRAYER "The Birth of Jesus," Barbara Schultz
SOLO  "Mary Did You Know?" Tracy Hoffman
   SECOND MEDITATION & PRAYER  "The Boyhood of Jesus," Dylan Stull
   HYMN No. 82  "His Eye is on the Sparrow"
   THIRD MEDITATION & PRAYER "A Proclamation Ministry Begins," Eileen Vernor
   HYMN No. 340  "Softly and Tenderly" (Verses 1, 3)
   FOURTH MEDITATION & PRAYER  "Jesus Heals," Kaitlyn Isaacs
   HYMN No. 385 "An Upper Room with Evening Lamps Ashine" (Verses 1-2)
   FIFTH MEDITATION & PRAYER "Jesus' Last Night," Tracy Hoffman
   CHIMES  "'Tis Midnight, and on Olive's Brow"
   SIXTH MEDITATION & PRAYER "The Way to Golgotha," Rebecca Markey
   HYMN No. 195  "When I Survey the Wondrous Cross" (Verses 1-3)
SEVENTH MEDITATION & PRAYER "Jesus Stays Faithful," Pat Staffeld
   HYMN No. 86 "Great is Thy Faithfulness" (Verses 1,3)
   EIGHTH MEDITATION & PRAYER "Christ Nurtures Us Body and Spirit," Angel Staten
   HYMN "No. 197 "Beneath the Cross of Jesus"
INVITATION TO THE LORD'S SUPPER
   At the bidding of the ushers, you are invited to share in the Lord's Supper at
   the chancel steps in groups of seven or eight.  Approach the sacrament that   
   Jesus began on this holy night with quiet reverence. The consecrated
   communion bread and juice will be extended to you by the presiding pastors
   and elders. You may consume each when you first receive them.  Before
   returning to your pew in silence pause in prayer for a few moments, nodding
   your head in acknowledgement of Jesus praying in Gethsemane in the roundel
   window above the altar.  Please use the side aisles to return to your pew.
ANTHEM  "Within the Shadow of the Cross," Chancel Choir
BENEDICTION / LORD'S PRAYER (debts/debtors)
POSTLUDE
- ANNOUNCEMENTS -
WELCOME TO ALL SHARING TODAY'S SERVICE IN OUR SANCTUARY OR THROUGH FACEBOOK LIVESTREAMING.  Our livestreamed 7:30 Maundy Thursday service can be viewed on Facebook at other times as well.  An order of service and the pastor's full message are downloadable from our church website (stpaulucctaylor.org) with a video recording of our worship together also posted by Sunday afternoon.
AS HOLY WEEK CONTINUES WE MEET TOMORROW FOR A SOLEMN NOON GOOD FRIDAY TENEBRAE SERVICE in the sanctuary.  All invited.  On Saturday, 6:30 p.m. those who wish to be baptized or in doubt about their baptism in Christ are welcomed to an Easter Vigil Service with Pastor Drutchas presiding.  Our Holy Week observances culminate with an Easter Morning Service, 10 a.m., with "open communion" offered to members and non-members.  Those at home following the service livestreamed may also participate with bread and juice from home kitchens consecrated by pastoral prayer.  Following Easter worship, sanctuary attendees are invited to a light Easter brunch hosted by our Chancel Choir in Fellowship Hall—a wonderful to fellowship together as celebrate the risen Christ.
ON SUNDAY MORNING OUR CHURCH SCHOOL CHILDREN JOIN TODAY for our annual Easter Egg Hunt & Party outdoors, weather permitting, as well as upstairs.
CALLING ALL YOUTH AND YOUNG ADULTS FOR 'HOME PLATE 2022' NIGHT at Comerica Park, Saturday, May 14, as Tigers and Orioles (past and present) share true stories about their sports careers and personal faith walk with Jesus Christ, then meet on the field for a great ball game for all to enjoy.  Pre-game speakers from the Detroit and Baltimore teams will include Michael Fulmer, Jeimer Candelario, Andy Dirks, and Frank Tanana.  All youth/ young adults interested in our limited number of free tickets should sign up now on the youth board sheet. Adult tickets for the pre-game program and game are $20.  For more information: contact Pastor Schalm.
FELLOWSHIP OF CONCERN: Grace Wangbickler, Dan Case, John Dubke, Kim Beyar, John Caufield, Rosemarie Laslo, John Kovach, Brenda Murphy, Hayden Forsyth, Dianne Sturgeon, Kyle Hard, Anne Blanchard, Jeff Natzke, Eleanor Rossi, Sue Spears, Jeff and Maria MacZink, Pat and Jeffrey Britt, Loralee Wilson, Brydon Stull, Glen Sigman, Steve Matney, Judy Kirsch, Wayne Jones, Margo Charette, Harold Fick, Laverne Roe, Arthur Jensen, Loretta Kurtsel, Josh Edelbrock, Carrie Hill, Neil McEachern, Leon Kroeger, Bert Thompson, Brenda Meridth, and Kim Chichowicz.
---