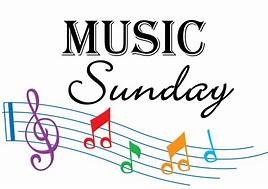 Second Sunday of Pentecost
St. Paul United Church of Christ, Taylor
June 12, 2022
SILENT PRAYER / PRELUDE  "Great is the Lord," Sally Sigman, Organist
RINGING OF TOWER BELL / CALL TO WORSHIP  Reverend Dr. Geoffrey G. Drutchas
*HYMN  No. 64  "We Sing Your Mighty Power, O God" (Verses 1 & 2)
*OPENING PRAYER  May the words of the Lord be our invocation this joyful morning...
Congregation: Sing joyfully to the Lord, you righteous; it is fitting for the upright to praise him.  Praise the Lord with the harp; make music to him in the ten-stringed lyre.  Sing to him a new song; play skillfully, and shout for joy.  For the word of the Lord is right and true; he is faithful in all he does. Amen. (Psalm 44:1-4)
PASSING OF THE PEACE  The Peace of Christ be with you… and also with you.
CHORAL AMEN  Chancel Choir
WELCOME / ANNOUNCEMENTS                                                                              
ANTHEM  "Standing on the Promises of God," Chancel Choir
OUR SINGING HERITAGE / SCRIPTURE  Mark 14:17-21, 26 - Pastor Drutchas
*HYMN  No. 231 "Sing of One Who Walks Beside Us" (Verse 1 & 2)
SINGING POINT "Martin Luther on Singing"
ANTHEM  "We Will Be a Shelter," Chancel Choir – Tracy Hoffman, Music Director
MORNING PRAYER
CHIMES "Sing and Rejoice"
SINGING POINT  "John Calvin on Singing"
SOLO "I Come to the Garden Alone," Tracy Hoffman
SINGING POINT "John Wesley on Singing"
ANTHEM "Breathe," Chancel Choir
SINGING POINT  "On the Joy and Value of Singing"
SOLO "In His Time / Surely the Presence of the Lord," Mark Ennis
SPECIAL MOMENT  Commissioning of St. Paul Pastoral Search Team
*HYMN No. 452 "Here I Am, Lord"
BENEDICTION / POSTLUDE "My Hope is in the Lord"
---
ST. PAUL MORNING TIDE ANNOUNCEMENTS – June 12, 2022
WELCOME TO ALL SHARING TODAY'S SERVICE IN OUR SANCTUARY OR THROUGH FACEBOOK LIVESTREAMING.  Our livestreamed 10 a.m. service can be viewed on Facebook at other times as well.  An order of service and the pastor's full message are downloadable from our church website (stpaulucctaylor.org) with a video recording of our worship together also posted by Sunday afternoon.
A FELLOWSHIP HOUR immediately follows this morning's service in our Fellowship Hall, reached through the arched doorway at the right front of the church.  All welcome.
TODAY WE CELEBRATE OUR MUSIC MINISTRY with a special music program. Chancel vases honor organist Sally Sigman and Music Director Tracy Hoffman.
SUMMER SUNDAY SCHOOL TEACHERS SOUGHT TO TEACH one Sunday over the summer. All curriculum, materials and snacks will be provided. A sign-up sheet can be found on the Christian Education Welcome Center desk upstairs. You can also contact Pastor Schalm to secure a date and/or for more information.
OUR PASTORAL SEARCH AND CALL COMMITTEE will be commissioned this morning for their important work ahead.  Those installed: Mark Ennis (co-chair), Aaron Johnson (co-chair), Marjie Barnard, Kari Capello, Kaitlyn Isaacs, Deborah Case, John Dykowski, Diane Poet, Tim Ruffner, and Barbara Schultz.  Soliciting your input on future ministerial leadership, the Committee is hosting focus groups, Sunday, June 26, 11:30 – 12:30 and Wednesday, June 29, 7- 8 p.m., plus other times as needed.  Please sign up for these focus groups in the narthex this morning or by directly contacting Committee co-chairs Mark Ennis and Aaron Johnson.
EXERCISE AND 'MATTER OF BALANCE' CLASSES meet Wednesday, June 15, 10:30 a.m. and 1 p.m. For more information, contact Parish Nurse Kathy Williams.
FELLOWSHIP OF CONCERN: Dan Case, Dianne Sturgeon, Frank Wolfram, Thelma Poet, Joan Smarr, Patricia Olson, Jack Burchard, Marge Bergman, Sandi Rose, Eleanor Rossi, Hayden Forsyth, John Dubke, Sue Kren, Teri Staffeld, Bob Robinson, Brenda Murphy, Helene and Neil MacEachern, Jeff Natzke, Sue Spears, Diane St. Louis, Kevin Siemers, Marcie Bolen, Raymond Harmon, Jeff and Maria MacZink, Steve Matney, Judy Kirsch, Wayne Jones, Margo Charette, Harold Fick, Laverne Roe, Hailey Smith, Janet Kren, Mary Manier, Bill Warner, Tom Koths, Arthur Jensen, Loretta Kurtsel, Josh Edelbrock, Carrie Hill, Sharon Thompson (friend, Dianne Sturgeon), Bert Thompson, and Kim Chichowicz.  Condolences: Harry Gardner Family (Wednesday funeral, Howe-Peterson-Taylor, 11 a.m.)
YOUR 'STRENGTHEN THE CHURCH' OFFERING IS INVITED this month, making use of Vanco electronic online giving at www.stpaulucctaylor.org/giving, or your June Tidings offering envelope.  Your prayerful and generous support is appreciated.
THE 2021 PICTORIAL DIRECTORY is available for pick-up today and next Sunday before and after 10 a.m. worship or by calling the Church office (313-291-1221) for those who had pictures taken by Universal Church Directories.
ALL ST. PAUL MEN WILL BE HONORED NEXT SUNDAY WITH A SPECIAL 'DONUTS FOR DADS' RECEPTION FOLLOWING WORSHIP, hosted by our Christian Education ministry. Everyone is invited to join in this Father's Day celebration of fathers, grandfathers, and uncles in Fellowship Hall.
VACATION BIBLE SCHOOL 2022 'CIRCLE G RANCH' IS SCHEDULED FOR JULY 25 - 29. Please sign the sheet on the Welcome Center Desk to confirm your child/ren's participation. VBS registration forms can be found on the St. Paul UCC website. Friends and neighbors are welcome to join.  Pre-registration helps to ensure that supplies and staffing are sufficiently secured.
THE YOUTH SUMMER MSSION TRIP 2022 IS AUGUST 15- 20. Housed in St. Paul designated cabins at the Michindoh Conference and Retreat Center in Hillsdale, our St. Paul youth will be serving at the Gleaners Food Pantry and Farm (Detroit), Jackson County Animal Shelter, Habitat for Humanity and Imagine Planet, all located in Jackson Michigan. All interested youth should sign up on the youth board and pick up a mission trip information packet.
FOR CONTINUING COVID CAUTION St. Paul worshipers can make use of several roped pews at the center of the sanctuary for the sake of social distancing.  Masks and hand-sanitizer are available at the entrances to the church.
---