Easter Sunday - Livestreamed and Sanctuary Worship – April 17, 2022
St. Paul United Church of Christ, Taylor, Michigan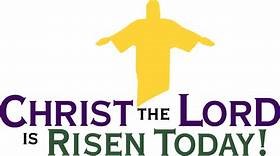 PRELUDE "Easter Morning, Joyous Dawning," Organist, Sally Sigman
RINGING OF CHRUCH BELL
WELCOME TO FACEBOOK LIVESTREAMING
INTROIT  "Jesus Lives and So Shall I," Chancel Choir
CALL TO WORSHIP
Pastor: Christ the Lord is risen!  He is risen indeed!
Congregation: Sing unto the Lord!  For he has done an excellent thing!
Pastor: Sing, O heavens and be joyful, O earth!  For the Lord has comforted his people.
Congregation: Thanks be to God!  He hath given us the victory.
OPENING PRAYER  Reverend Dr. Geoffrey Drutchas
HYMN No. 224  "Christ Arose!"
PASSING OF THE PEACE / ANNOUNCEMENTS  Pastor Drutchas
ANTHEM "No Cross, No Crown," Chancel Choir, Tracy Hoffman, Music Director
MORNING SCRIPTURE  1 Corinthians 15:1-11; Mark 16:1-8, Pastor Drutchas
HYMN No. 216  "Christ the Lord Is Risen Today"
MESSAGE  "A World Turned Right Side Up," Pastor Drutchas
HYMN No. 226  "He Lives!"
INVITATION TO THE COMMUNION SACRAMENT
PRAYERS OF CONFESSSION & CONSECRATION (pew card)
UNISON AFFIRMATION (Pastor and Congregation)
  One bread, one body, one Lord of all; one cup of blessing which we bless.
  And we, thou many, throughout the earth, we are one body in this one Lord!
CHORAL AFFIRMATION  "Majesty, Worship His Majesty," Chancel Choir
SACRAMENT OF COMMUNION Pastors Drutchas and Schalm
LORD'S PRAYER (debts, debtors) / DOXOLOGY
  Praise God from whom all blessings flow; praise him all creatures here below;
  Praise him above ye heavenly host; praise Father, Son, and Holy Ghost.  Amen.
BENEDICTION
RECESSIONAL HYMN No. 562 "Because He Lives"
POSTLUDE "Faith is the Victory," Sally Sigman, Organist
---
ST. PAUL MORNING TIDE ANNOUNCEMENTS – April 17, 2022
WELCOME TO ALL SHARING TODAY'S SERVICE IN OUR SANCTUARY OR THROUGH FACEBOOK LIVESTREAMING.  Our livestreamed 10 a.m. service can be viewed on Facebook at other times as well.  An order of service and the pastor's full message are downloadable from our church website (stpaulucctaylor.org) with a video recording of our worship together also posted by Sunday afternoon.
EASTER COMMUNION IS OFFERED TO WORSHIPERS THIS MORNING.  At the usher's bidding, you are invited to come forward to the front the sanctuary to receive both the wafer and cup from our pastors and elders.  At St. Paul we observe an "open communion."  Membership in our congregation is not required to partake of the Lord's Supper.  We simply ask that all receiving the communion be baptized and either confirmed or of adult age.  You may immediately consume the communion elements before returning to your pew for the recessional of the cross and closing hymn.  
A LIGHT EASTER BRUNCH immediately follows this morning's service in Fellowship Hall, reached through the arched doorway at the right front of the church.  All are invited to share in both Easter food and fellowship.
THANKS TO ALL WHO ASSISTED WITH OUR SANCTUARY DECORATION through the dedication of Easter lilies.  Your lily can be picked up at the end of this morning's service.  An usher is available to assist you.
OUR CHURCH SCHOOL CHILDREN JOIN TODAY for our annual Easter Egg Hunt & Party outdoors, weather permitting, as well as upstairs.
ALTAR FLOWER SIDE VASE wishes "Happy 94th Birthday" to Irene Stoner from Walter & Janet, Becky & Roy, and Great-granddaughter Nora.
TUESDAY MORNING BIBLE STUDY next meets in person one week from this coming Tuesday, April 25, 10:30 a.m. -12 noon. All welcome.  Please speak with Pastor Geoff Drutchas for call-in information. 
ST. PAUL'S EXERCISE CLASS meets Wednesday, April 20, 10:30 a.m. in Fellowship Hall. For more information, please contact the church office. Can't make it to class, but want to join us from home? Join on us ZOOM via computer internet, I-pad, or video-phone. Contact Parish Nurse Kathy Williams (313-291-1221) for sign-on and link information.
SPRING'S IN THE AIR AND THE ST. PAUL YOUTH FLOWER SALE IS COMING UP SOON. Flower order forms, available from Sunday morning ushers, must be returned no later than May 1 with flower pick-up on Mother's Day, May 8, after worship. Flowers provided by Blocks Stand & Greenhouse. For more info: Candace Poet or Cheryl Schalm. 
CALLING ALL YOUTH AND YOUNG ADULTS FOR 'HOME PLATE 2022' NIGHT at Comerica Park, Saturday, May 14, as Tigers and Orioles (past and present) share true stories about their sports careers and personal faith walk with Jesus Christ, then meet on the field for a great ball game for all to enjoy.  Pre-game speakers from the Detroit and Baltimore teams will include Michael Fulmer, Jeimer Candelario, Andy Dirks, and Frank Tanana.  All youth/ young adults interested in our limited number of free tickets should sign up now on the youth board sheet. Adult tickets for the pre-game program and game are $20.  For more information: contact Pastor Schalm.
SPRING RUMMAGE SALE DROP-OFF begins Tuesday, April 19, 9 a.m. – 2 p.m.  (The church office is closed Monday, April 18.) Volunteers will be needed during set-up, the Rummage Sale, and on Saturday, May 14 for clean-up.  To volunteer or for more information, contact Women's Fellowship Chairwoman and Trustee, Toni Hill.
BLOSSOMS FLOWERS is our new church florist for altar decorations and commemorative vases--$20 each vase.  A flower chart for date sign-up and dedication designation can be found at the foot of the balcony steps. Make check payable to 'St. Paul UCC Church' and return to the church office.
FELLOWSHIP OF CONCERN: Grace Wangbickler, Dan Case, John Dubke, John Caufield, Rose Marie Laslo, John Kovach, Brenda Murphy, Hayden Forsyth, Diane Sturgeon, Kyle Hard, Anne Blanchard, Jeff Natzke, Eleanor Rossi, Sue Spears, Jeff and Maria MacZink, Gunter Berndl, Pat and Jeffrey Britt, Brydon Stull, Glen Sigman, Steve Matney, Vicki Simon, Judy Kirsch, Wayne Jones, Margo Charette, Harold Fick, Laverne Roe, Arthur Jensen, Loretta Kurtsel, Josh Edelbrock, Carrie Hill, Neil McEachern, Leon Kroeger, Pat Vernor, Bert Thompson, Brenda Meridth, and Kim Chichowicz.  Happy Birthdays:  Irene Stoner and Harold Fick.
---