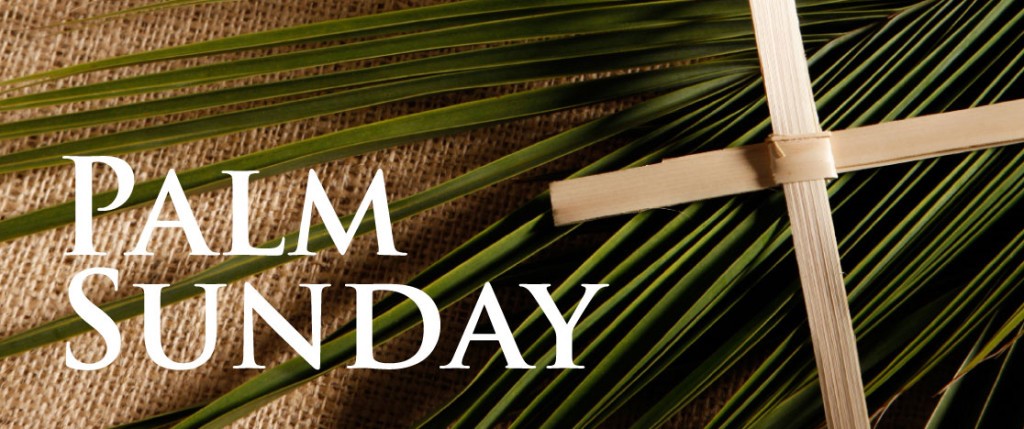 Livestreamed and Sanctuary Worship
St. Paul United Church of Christ, Taylor, Michigan
April 10, 2022
PRELUDE "Hosanna, Loud Hosanna!"  Organist, Sally Sigman
CALL TO WORSHIP  Reverend Dr. Geoffrey Drutchas
OPENING HYMN No. 27 "Come, Thou Almighty King," Tracy Hoffman,  Music Director
OPENING PRAYER / PASSING OF THE PEACE
Pastor: The peace of Christ be with you…  Congregation: And also with you!
ANNOUNCEMENTS 
ANTHEM  "Sing Hosanna!" Chancel Choir
TESTIMONIAL  Confirmand Dylan Stull
HYMN No. 191  "Ride On, Ride on in Majesty"
TESTIMONIAL  Confirmand Angel Staten
ANTHEM "Footprints: You'll Never Walk Alone," Mark Ennis
MORNING SCRIPTURE  John 12:12-16, 19; Philippians 2:1-11
MORNING PRAYER / LORD'S PRAYER (debts, debtors) / TRIPLE AMEN
MESSAGE  "Hosana – God Help Us!" Pastor Drutchas
HYMN No. 75  "I Was There to Hear Your Borning Cry"
BAPTISM AND CONFIRMATION CEREMONY (Insert)
CHIMES  "All Glory, Laud, and Honor"
INVITATION TO RECEIVE PALMS WITH BLESSING
RECESSIONAL HYMN /POSTLUDE  No. 234 "Crown Him with Many Crowns"
---
SERVICE OF CONFIRMATION
St. Paul United Church of Christ, Taylor
April 10, 2022
INVITATION TO CONFIRMANDS  (Candidates come forward)
QUESTIONS OF THE CANDIDATES
AFFIRMATION OF FAITH   
       All who are able may stand. The responses are made in unison
       by each worshipper including the candidates.
Pastor:    Let us unite with the church in all times and places in
confessing our faith in the triune God. Do you believe in God?
       People:  I believe in God.
Pastor:    Do you believe in Jesus Christ?
       People:  I believe in Jesus Christ.
Pastor:    Do you believe in the Holy Spirit?
       People:  I believe in the Holy Spirit.
(Congregation may be seated.)
PRAYER OF THE CANDIDATES
Pastor and Candidates: O God, my God, known to me in Jesus Christ, I give myself to you as your own, to love and serve you faithfully all the days of my life. Amen.
PRAYERS OF THE CONGREGATION
Pastor:   Let us pray in silence... Let us pray together.
 All:  Almighty God, who in baptism received these, your  servants into the church, forgave their sins, and promised them eternal life, increase in them the gifts of your Holy Spirit.  Grant love for others, joy in serving you, peace in disagreement, patience in suffering, kindness toward all people, goodness in           evil times, faithfulness in temptation, gentleness in the face of opposition, self-control in all things.  Thereby strengthen them for their ministry in the world; through Jesus Christ our Savior.  Amen.
 ACT OF CONFIRMATION
          (Parents are invited to come forward and godparents are asked to stand as their child is confirmed.  Please remain standing in the pew.) 
PRAYER OF CONFIRMATION
ADDRESS - QUESTION ABOUT PARTICIPATION
A THANKS TO PARENTS AND GODPARENTS
WELCOME
Members of the church who are able may stand and say the following:
Pastor:   Let us, the members of St. Paul United Church of Christ express our welcome and affirm our mutual ministry in Christ.
        People:  We promise you our continuing friendship and prayers as we share in the hopes and labors of the church of Jesus Christ.  By the power of the Holy Spirit may we continue to grow together in God's knowledge and love and be witnesses of our risen Savior. (Congregation may be seated.)
GREETING OF CHRISTIAN LOVE
PRAYER
BENEDICTION
Pastor:   Go in the peace of Christ.
   People: Thanks be to God.
(Those who have participated in the Order for Confirmation may return to their places in the congregation.)

BEING CONFIRMED THIS MORNING
April 10, 2022
Kaitlyn Isaacs, Angel Staten, Dylan Stull
---
ST. PAUL MORNING TIDE ANNOUNCEMENTS – April 10, 2022

WELCOME TO ALL SHARING TODAY'S SERVICE IN OUR SANCTUARY OR THROUGH FACEBOOK LIVESTREAMING.  Our livestreamed 10 a.m. service can be viewed on Facebook at other times as well.  An order of service and the pastor's full message are downloadable from our church website (stpaulucctaylor.org) with a video recording of our worship together also posted by Sunday afternoon.
HOLY WEEK BEGINS TODAY with a distribution of palms and continues through Holy Week ahead: Maundy Thursday Service with full bread and cup communion, April 14, 7 p.m.: Good Friday Service, April 15, 12 noon: and Easter Morning Communion Service 10 a.m., with special Fellowship Hall "Light Brunch" reception afterwards, all on April 17.  Come share this important week of faith with Jesus Christ and your church family.
ST. PAUL MEMBERS AND FRIENDS will be receiving palms and a personal blessing as worship concludes. As the ushers' signal, please approach the front of the sanctuary via the center aisle and depart along the west side aisle without returning to your pew.
A FELLOWSHIP HOUR immediately follows this morning's service in Fellowship Hall, reached through the arched doorway at the right front of the church. All are welcome for conversation and refreshments with donuts and choice of beverage served.
PALMS, NO PALACE IS THIS MORNING'S SUNDAY SCHOOL THEME as our children learn through story, skits, song and crafts about God's forever and forgiving love for them displayed through His Son, Christ Jesus.
SIDE VASES OF FLOWERS are in honor of Robert Poet from Thelma Poet, Jim and Diane Poet, and Eric, Candace and Chrystal Poet; and, the 40th wedding anniversary of Pastor Geoff and Eileen Vernor Drutchas.
FAMILIES SHOULD MARK THEIR CALENDARS FOR NEXT SUNDAY'S ANNUAL EASTER EGG HUNT AND PARTY during the Sunday School Hour. Wrapped Easter candy donations are invited and can be dropped off upstairs at the Christian Education Welcome Center or in the church office.
A FINAL LENTEN DRIVE-THRU FISH SUPPER is set for April 15, $12-adults and $4-children. Alert friends and neighbors: your full support is asked for this important fundraiser for our congregation and its ministry. 
TUESDAY MORNING BIBLE STUDY meets in person April 12, 10:30 a.m. -12 noon. All welcome.
ST. PAUL'S EXERCISE CLASS meets Wednesday, April 13 10:30 a.m. in Fellowship Hall. For more information, please contact the church office. Can't make it to class, but want to join us from home? Join on us ZOOM via computer internet, I-pad, or video-phone. Contact Parish Nurse Kathy Williams (313-291-1221) for sign-on and link information.
SPRING'S IN THE AIR AND THE ST. PAUL YOUTH FLOWER SALE IS COMING UP SOON. Flower order forms, available from Sunday morning ushers and on our web page, must be returned no later than May 1 with flower pick-up on Mother's Day, May 8, after worship. Flowers provided by Blocks Stand & Greenhouse. For more info: Candace Poet or Cheryl Schalm.
CALLING ALL YOUTH AND YOUNG ADULTS FOR 'HOME PLATE 2022' NIGHT at Comerica Park, Saturday, May 14, as Tigers and Orioles (past and present) share true stories about their sports careers and personal faith walk with Jesus Christ, then meet on the field for a great ball game for all to enjoy. Pre-game speakers from the Detroit and Baltimore teams will include Michael Fulmer, Jeimer Candelario, Andy Dirks, and Frank Tanana. All youth/young adults interested in our limited number of free tickets should sign up now on the youth board sheet. Adult tickets for the pre-game program and game are $20. For more information: contact Pastor Schalm.
BLOSSOMS FLOWERS is our new church florist for altar decorations and commemorative vases--$20 each vase.  A flower chart for date sign-up and dedication designation can be found at the foot of the balcony steps. Make check payable to 'St. Paul UCC Church' and return to the church office.
FELLOWSHIP OF CONCERN: Grace Wangbickler, John Kovach, Brenda Murphy, Dan Case, John Caufield, , Dianne Sturgeon, Kyle Hard, Anne Blanchard, Hayden Forsyth, Rosemarie Laslo, Jeff Natzke, Eleanor Rossi, Sue Spears, Jeff and Maria MacZink, Gunter Berndl, Pat and Jeffrey Britt, Brydon Stull, Glen Sigman, Steve Matney, Vicki Simon, Judy Kirsch, Wayne Jones, Margo Charette, Harold Fick, LaVerne Roe, Dave Kulhanek, Diane Steinhauer, Charles Helms, Arthur Jensen, Loretta Kurtsel, Josh Edelbrock, Carrie Hill, Neil McEachern, Leon Kroeger, Pat Vernor, Bert Thompson, Brenda Meridth, and Kim Chichowicz.
---