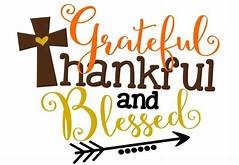 Thanksgiving Eve - Livestreamed and Sanctuary Worship
St. Paul United Church of Christ,
Taylor, Michigan
November 24, 2021
PRELUDE "Come, Thou Font of Every Blessing," Sally Sigman, Organist
WELCOME TO FACEBOOK LIVESTREAMING
CALL TO WORSHIP / PASSING OF THE PEACE
   The peace of Christ be with you…And also with you!
OPENING PRAYER  Reverend Dr. Geoffrey Drutchas
HYMN No. 545  "He Leadeth Me, O Blessed Thought"
ANNOUNCEMENTS
ANTHEM  "We Limit Not the Truth of God"
HONORING THE PILGRIM WAY  Lectors: Barb Schultz, Eileen Vernor  Drutchas, and Mark Ennis
HYMN No. 718 "Come, Ye Thankful People, Come"
MORNING PRAYER
DOXOLOGY
  Praise God from whom all blessings flow;
  Praise Him all creatures here below;
  Praise Him above ye heavenly host;
  Praise Father, Son, and Holy Ghost!  Amen.
THANKSGIVING SCRIPTURE  Romans 8:28-30; Mark 6:6b-13
CHIMES  "Seek Ye First"
MESSAGE  "No Time to Be an Ingrate," Pastor Drutchas
PRAYER / LORD'S PRAYER (debts, debtors)
HYMN  No. 458  "Ours the Journey"
BENEDITION
POSTLUDE  "Lead On, O Cloud of Presence," Sally Sigman