ORDER OF SERVICE
Sixteenth Sunday of Pentecost
St. Paul United Church of Christ
Taylor, Michigan – September 5, 2021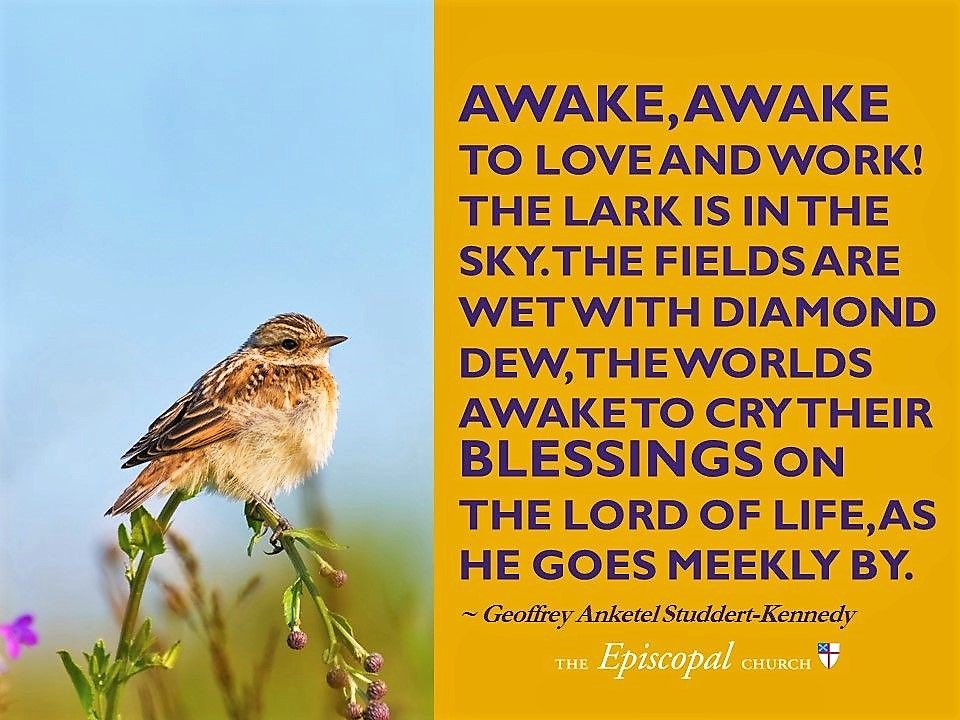 CHIME AND ORGAN INTROIT
  "When Morning Gilds the Skies," Sally Sigman, Organist
WELCOME TO FACEBOOK LIVESTREAMING
CALL TO WORSHIP / PASSING OF PEACE
The peace of Christ be with you… And also with you!
OPENING PRAYER with AMENS  Rev. Geoffrey Drutchas
MORNING ANNOUNCEMENTS
CONGREGATIONAL SINGING "The Sun is on the Sea and Shore," No. 3
SCRIPTURE Philippians 4:4-9; Matthew 10:5-16
ANTHEM  "Awake, Awake, to Love and Work" Tricia Nault, Soloist
MORNING PRAYER
CONGREGATIONAL SINGING  "When I Survey the Wondrous Cross." No. 195
MESSAGE  "The Dust Off Our Feet," Pastor Drutchas
CONGREGATIONAL SINGING  "Great Is Thy Faithfulness," No. 86
PRAYERS OF INVITATION, CONFESSSION & CONSECRATION FOR COMMUNION
Almighty and most merciful Father, we have erred and strayed from your ways like lost sheep. We have followed too much the devices and desires of our own hearts.  We have offended against your holy laws.  We have left undone those things which ought to be done, and we have done those things which we ought not to have done.  But you, O Lord, are merciful.  Spare us, O God, as we confess our faults.  Restore us in our penitence according to your promises declared unto humankind in Christ Jesus our Lord.  And grant, O most merciful God, for Jesus' sake, that we may hereafter live a godly, righteous, and sober life to the glory of your holy name.  Amen.    
AFFIRMATION OF UNITY IN CHRIST
One bread, one body, one Lord of all; one cup of blessing which we bless.
And we, thou many, throughout the earth, we are one body in this one Lord!
SACRAMENT OF COMMUNION Pastors Drutchas and Schalm
LORD'S PRAYER (debts, debtors) / DOXOLOGY - Congregation Standing
  Praise God from whom all blessings flow; praise him all creatures here below;
  Praise him above ye heavenly host; praise Father, Son, and Holy Ghost.  Amen.
BENEDICTION/ POSTLUDE "Christ Arose!"
---
ST.PAUL MORNING TIDE ANNOUNCEMENTS – September 5, 2021

THANK YOU FOR WORSHPING WITH US onsite or via Facebook livestreamed Sunday, 10 a.m.  for today's communion service.  Communion elements from home kitchens will be consecrated with prayer during worship.  Our service will also be posted on the St. Paul church web site under "Sermons, Bulletins, and Audio Services."  Sanctuary worshipers not vaccinated are encouraged to continue masking.  As we depart today, let's all seek to social distance, giving each other lots of space without congregating in the aisle, narthex, or vestibule.  Our congregation's goal is to keep everyone healthy and safe.  Thanks! 
A COFFEE HOUR IMMEDIATELY FOLLOWS THIS MORNING'S SERVICE in Fellowship Hall at the rear of the church. Please use the east side aisle through the front arched or the outdoor sidewalk to enjoy coffee, donuts, and great conversation with fellow worshippers.
'ROAR-ING BACK' RALLY SUNDAY WITH ANNUAL PICNIC arrives next Sunday, September 12, 9:30-2 p.m. under the outdoor tent, weather permitting.  Coffee and donuts will be served, 9:30 a.m., and a buffet lunch follows the 10 a.m. service.  Worship will highlight our children's Vacation Bible School learnings.  There will be fun activities for all ages.  Mark you calendar.  Come and enjoy!
OUR LAST SUMMER SUNDAY SCHOOL MEETS UPSTAIRS during the 10 a.m. service.  Greeted by their teacher in the West Lobby when they first arrive, children may also be picked-up there by parents as worship and Sunday School class finish. For their morning and activity on the theme of "Labors of Love" our children and youth will be coloring and framing pictures as a fundraiser for Hurricane Ida relief efforts.  For a donation, all framed pictures will be available for purchase during coffee house today.  Help support this "labor of love" for those in need.
YOUTH BIBLE STUDY for post-high school students meets this coming Wednesday, September 8, 7 p.m. at Pastor Schalm's home.  All post-high school young adults are invited and encouraged to join as we together study the Book of Hebr
OUR YOUTH FELLOWSHIP AND YOUNG ADULT BIBLE STUDY GROUP head to Comerica Park on Tuesday, September 14 for the Detroit Tigers versus the Milwaukee Brewers with first pitch thrown at 6:40 p.m. Complimentary tickets are also available to members of the congregation, first come, first serve basis. Contact Pastor Schalm for free tickets and information.
TUESDAY MORNING BIBLE STUDY RESUMES this Tuesday, September 7, 10:30-12 noon, West Room.  All welcome.
CONFIRMATION CLASS ORIENTATION for eighth and ninth graders with parents will be held this Wednesday, September 8, 7 p.m.  All youth and parents invited!
SIGN-UP FOR YOUR PICTORIAL DIRECTORY PHOTO SESSESIONS TODAY in the West Room after worship service. Gary Peters can also answer any questions.  Online sign-up is available through our church's website.
CHANCEL CHOIR REHEARSALS CONTINUE Wednesday, September 8, 2021, 7 p.m. Rehearsals are Wednesday evenings at 7 p.m. in the West Room.  New voices are always welcome.  No auditions necessary.  For more information, please contact Music Director, Tracy Hoffman.
ST. PAUL'S EXERCISE CLASS meets Wednesday, September 8, 10:30 a.m., outdoors, weather permitting. For more information: Parish Nurse Kathy Williams.
MEMORIAL SERVICE FOR SHERYL SCHWAB will be held next Sunday, September 19, 2 p.m., St. Paul sanctuary with visitation 1-2 p.m.
FELLOWSHIP OF CONCERN: Michelle Matney, Wayne Jones, Shirley Koths, Sandy Rose, Tom Tank, Jeff MacZink, Joe Hill, Dennis and Alice Nagy, Nancy Walker, Margo Charette, Gunther Berndl, Sherrill Berndl, John Caufield, Sue Spears, Don Mack, Kyle Hard, Diane Wickline, Bob Smarr, Sue Stern, Christie Smart, Maria MacZink, Shirley Robinson, Dave Lange, Linda Tank, Eleanor Rossi, Carrie Hill, Neil McEachern, Tyler Staten, Doreen Thompson, Bert Thompson, Loretta Kurtsel, Robert Gaither, Darryl Smith, Philip Smith, Dale Rose, Gunnar Theisen, Hailee St. Louis, Renee St. Louis, Jamie Helton
Altar Flowers: In honor and remembrance of the 20th wedding anniversary of Frank and the late Arlene Wolfram.
---