ORDER OF SERVICE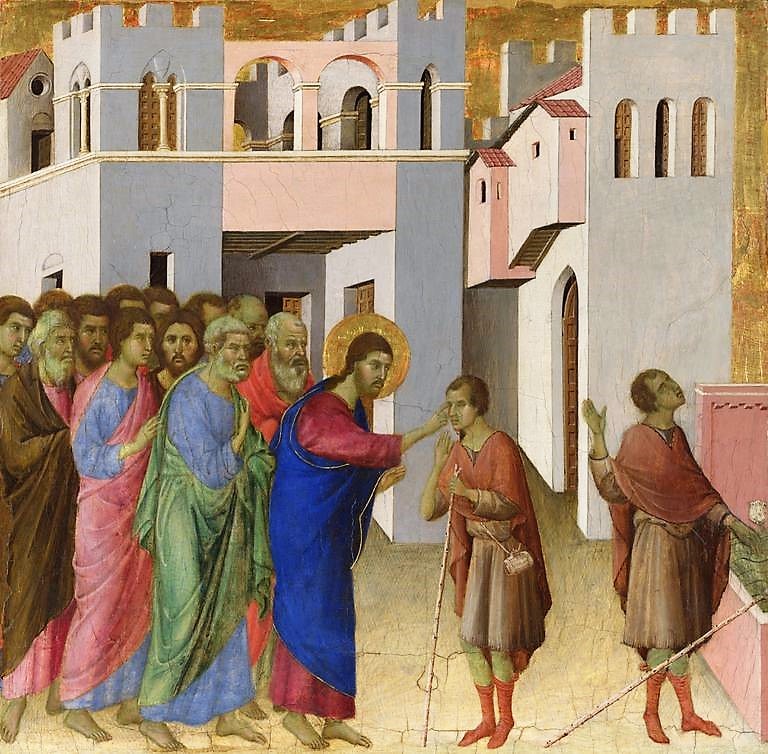 Livestreamed and Tabernacled Worship
St. Paul United Church of Christ, Taylor, Michigan
September 27, 2020
PRELUDE   Organist, Sally Sigman
WELCOME TO FACEBOOK LIVESTREAMING
CALL TO WORSHIP / PASSING OF THE PEACE
Pastor: The peace of Christ be with you.
   Congregation: And also with you!
OPENING PRAYER  Reverend Dr. Geoffrey G. Drutchas
ANNOUNCEMENTS
RE-DEDICATION OF MEMORIAL GARDEN
ANTHEM  "I Come to the Garden Alone," Tracy Hoffman, Music Director
MORNING SCRIPTURE  Acts 26:8-18; Mark 9:2-8
MESSAGE  "Faith's Sight" Pastor Drutchas
MORNING PRAYER/ MEMORIAL REMEMBRANCE (Irene Church)
LORD'S PRAYER (debts, debtors)
CLOSING ANTHEM "Amazing Grace," Tracy Hoffman
BENEDICTION / POSTLUDE
Amazing Grace
Amazing grace, how sweet the sound, that saved a wretch like me.
I once was lost, but now am found, was blind, but now I see!
'Twas grace that taught my heart to fear, and grace my fears relieved;
How precious did that grace appear the hour I first believed.
Through many dangers, toils, and snares, I have already come;
'Tis grace hath brought me safe thus far, and grace will lead me home.
---
MORNING TIDE ANNOUNCEMENTS
St. Paul United Church of Christ, Taylor – September 27, 2020
WELCOME TO ALL WORSHIPING WITH US ON SITE OR THROUGH FACEBOOK.  At worship's close we rededicate our memorial garden.
On site services need ushers.  To volunteer please speak with a deacon or call the church office (313-291-1221).  Morning offerings can be placed in the standing box at edge of the tent, mailed to the church from home, or delivered electronically.  For more information about the electronic option, call St. Paul treasurer Dan Case.
COMMUNION WILL BE OFFERED NEXT SUNDAY.  Individually wrapped wafers and cups will be provided by ushers when you first arrive.  Those worshiping via Facebook are encouraged to use bread and juice from your own kitchen, which will be consecrated with other communion elements by our pastors.
OUR CONDOLENCES TO MILES CHURCH AND FAMILY on the unexpected passing of Irene Church and to MAGGIE HALL AND FAMILY on the passing of husband and father Benny Hall.
TUESDAY MORNING 'PARTY LINE' BIBLE STUDY GROUP meets Tuesday, September 29, at church, 10:30 a.m., We mask and maintain social distancing.  More information: call Pastor Geoff Drutchas (313-291-1221).   
THE ANNUAL ST. PAUL WOMEN'S RETREAT on "Women of the Bible" is fully enrolled for next Saturday, October 3, 9 am-1 p.m. (includes lunch).  St. Paul women are looking forward a great half day of fellowship, learning, and reflection.  Thank you planning team for organizing this year's retreat.
SUNDAY SCHOOL MEETS THIS MORNING with classes held in Fellowship Hall.  Please speak with Pastor Cheryl Schalm this morning to register your child or grandchild after completing the Sunday School Covenant which can be fund online through the St. Paul Church website, Christian Education tab.  Today's Sunday School lesson, "All About Love—Our Greatest Commandment," will be recapped online for children not able to participate in our Church School.  Children attending our on-site class will be decorating their own three layered "fruit of the spirit" face mask.
25 CHILDREN, YOUTH, AND YOUNG ADULTS HAVE ADOPTED A ST. PAUL GRANDPARENT.  Adopted grandparents receive monthly several letters, drawings or cards, providing great intergenerational connection. Interested in participating too?  Contact Pastor Schalm (313-291-1221).
TODAY'S HUROC PARK NATURE WALK FOR ST. PAUL YOUTH begins 1 p.m. at Pastor Schalm's house.  A quick Bible study precedes our hike.  Pack lunch, wear layered clothes, comfortable shoes and a face mask.
ARE YOU GETTING DAILY EXERCISE as a part of your daily routine and stewardship of your personal health?  You're invited to take a hike or join in a daily activity with fellow St. Paul members as a part of a shared journey taking us all the way to Three Kings Day 2021.  For more info on how you can participate, contact Parish Nurse Kathy Williams or check out the St. Paul web posting.
YOUR HALLOWEEN ATTIRE PHOTO NEEDED for our all-church private Facebook group Halloween video. Send pictures of your goblins, fairies, princesses, angels, and super heroes to Pastor Schalm by October 24th.
UNDER RECOMMENDATIONS MODIFIED BY THE ST. PAUL COUNCIL this past week, church members and friends traveling domestically (out of state) or internationally are asked to quarantine or self-isolate for 7 days before resuming church activities—all in keeping with CDC and State of Michigan recommendations. 
FELLOWSHIP OF CONCERN:  Sue Spears, Shirlen Powell, Debbie Case, Bert Thompson, George Koster, Yvonne Koster, Beverly Sitz, Nora Kronemann, Jennifer Lee, Paula Block, Darlene Babin, Bert Thompson, Gerri Lynn King, Doris Hilliker, Lin Hogan, Oren Forsyth, Kyle Hard, Glen Sigman, Al Wierzvicki, Helen St. Louis, Marcie Bolen, Marion Bolen, Ciera Mack, Neil MacEachern, Judy Nieman, Morgan Schalm, Sheryl Schwab, Cassidy Congelierre, Bob Weigel, Darlene Wangbickler, Richard Janztsen, Joe Coffee, and Jennifer Lee.
REMEMBER THOSE PROVIDING EMERGENCY 'FRONTLINE' SERVICES: Tricia Nault, Kim Arndt, Wendi Wioncek Ashby, Rick Barnosky, Jennifer Babin, Rhonda Wioncek Berndt, Dana Wioncek Barlage, Chelsey Eisenga, Josh Eisenga, James Hubert, Debbie Lyles, Amy McGahey, Jarod MacZink, Marcie Magnuson, Sam Martin, Lexi Mellin, Michelle Mellin, Brenda Murphy, Inez Kurtsel Ogonowski, Amber Ostrowski, Rebecca Ostrowski, Samantha Pedersen, Eric Poet, Trudy Clark Schiller, Rachel Tank, Emily Wangbickler Baggett, Jillian Wangbickler, and Sarah Wangbickler.
---