ORDER OF SERVICE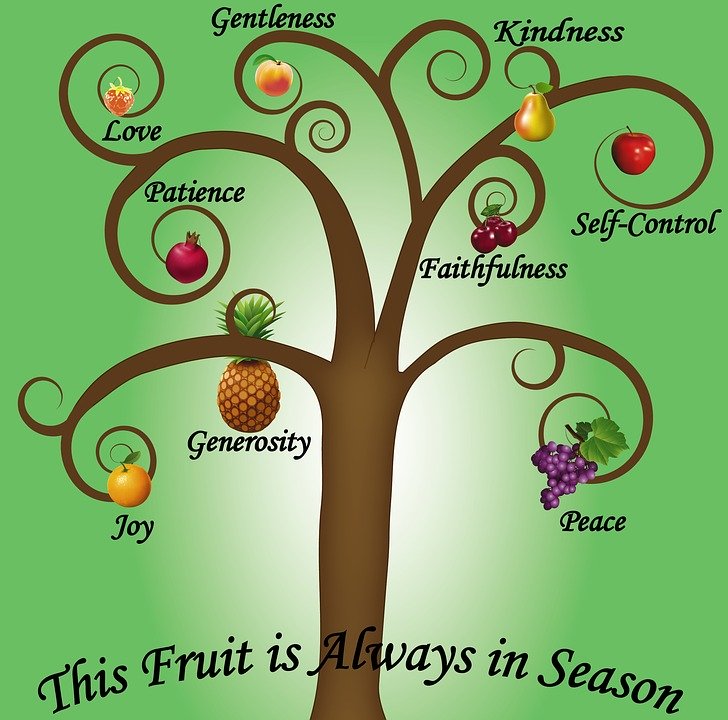 "But the fruit of the Spirit is love, joy, peace, forbearance, kindness, goodness, faithfulness, gentleness and self-control. Against such things there is no law."
~ Galatians 5:22-23
Livestreamed and Tabernacled Worship
St. Paul United Church of Christ, Taylor, Michigan
September 13, 2020
PRELUDE   Organist, Sally Sigman
WELCOME TO FACEBOOK LIVESTREAMING
CALL TO WORSHIP / PASSING OF THE PEACE
Pastor: The peace of Christ be with you.
   Congregation: And also with you!
OPENING PRAYER  Pastor Cheryl Schalm
ANNOUNCEMENTS  Pastor Geoffrey Drutchas
ANTHEM  "Jesus Loves the Little Children" Tracy Hoffman, Music Director
WELCOME BACK TO THE TROOPS Children's Story, Nebuchadnezzar Grows Wiser
MORNING SCRIPTURE    Daniel 4:1-3 & Galatians 5:13-15, 22-26
MESSAGE  "The Writing On The Wall And A Man's Fall," Pastor Schalm
INSTALLATION OF TEACHERS  Pastors Schalm and Drutchas
MORNING PRAYER
LORD'S PRAYER (debts, debtors)
CLOSING ANTHEM "They'll Know We Are Christians By Our Love," Soloist
BENEDICTION / POSTLUDE
They'll Know We Are Christians
We are one in the Spirit, we are one in the Lord, we are one in the Spirit, we are one in the Lord,
And we pray that all unity may one day be restored: 
R: And they'll know we are Christians by our love, by our love,
Yes, they'll know we are Christians by our love. 
We will walk with each other, we will walk hand in hand, we will walk with each other,
we will walk hand in hand, and we'll guard each one's dignity and save each one's pride R
We will work with each other, we will work side by side, we will work with each other,
we will work side by side, and we'll guard each one's dignity and save each one's pride. R
All praise to the Father, from whom all things come, and all praise to Christ Jesus, God's only Son,
and all praise to the Spirit, who makes us one. R
---
MORNING TIDE ANNOUNCEMENTS
St. Paul United Church of Christ, Taylor – September 13, 2020
WELCOME! OUR UPCOMING SEPTEMBER SUNDAY SERVICES WILL BE OUTDOORS UNDER AN OPEN TENT, weather-permitting.  Please bring a lawn chair, maintain social distancing, and wear a mask for mutual benefit and safety.  Facebook livestreamed services continue.  Ushers are needed for Sunday services.  To volunteer please speak with a deacon or call the church office (313-291-1221).
PLEASE PRAY for church members & friends:  Debbie Case, Paula Block, Darlene Babin, Shirley Koths, Doris Hilliker, Lin Hogan, Kren Family, Ken Kaszubowski, Sue Spears, Oren Forsyth, Kyle Hard, Glen Sigman, Al Wierzbicki, Helen St. Louis, Marcie Bolen, Marion Bolen, Ciera Mack, Shirlen Powell,  Neil MacEachern, Judy Nieman, Morgan Schalm, Sheryl Schwab, Cassidy Congelierre, Bob Weigel, Darlene Wangbickler, Richard Janztsen, Joe Coffee, John Poet, and Nicole Gardner.
THIS MORNING'S SUNDAY SCHOOL LESSON IS INCLUDED IN OUR WORSHIP time together in lieu of the usual Sunday School online blog.
RALLY SUNDAY TODAY!  It's time to rally the troops as we prepare to begin another year of Sunday school.  Following today's worship service all pre-registered families have the opportunity to partake in a scavenger hunt in a roped off area designated just for their family.  Please remain in your seats at the end of the morning service for further instructions!
THE ANNUAL ST. PAUL WOMEN'S RETREAT on "Women of the Bible" is fully enrolled for Saturday, October 3.  St. Paul women are looking forward a great half day of fellowship, learning, and reflection.  Thank you planning team for organizing this year's retreat.
CONFIRMATION CLASS BEGINS this coming Wednesday, September 16, 7 p.m. with a zoom orientation for parents and confirmands.  Please contact the church office (313-291-1221) for information on joining the zoom call.  Our 8th and 9th graders will be meeting for confirmation class with Pastor Geoff Drutchas in the upstairs West Room set for up social distancing.  We will also be masking and taking all our health precautions.
ST PAUL YOUTH WILL BE ENJOYING A NATURE WALK AND PICNIC at Huroc Park, September 26. Pack and bring a sack lunch and mask. Afterwards we'll walk to Dairy Queen for dessert.  Please RSVP with Pastor Schalm by September 19.
'WORSHIP WEDNESDAY' YOUNG ADULT BIBLE STUDY MEETS this coming Wednesday, 7 p.m. at Pastor Schalm's home.  All post high-schoolers are welcome and encouraged to join with social distancing precautions maintained. The group is planning a 'Fall Food & Fire' Bible Study, Wednesday, September 23, 7 p.m. with an outdoors bonfire, hot dogs (each will cook his/her own), bagged chips and pre-packaged s'mores.
OUR TUESDAY MORNING 'PARTY LINE' BIBLE STUDY GROUP will be next meeting this coming Tuesday, September 15, at church, 10:30 a.m., reading and discussing Paul's Letter to the Romans. We mask and maintain social distancing precautions.  For more information, call Pastor Geoff Drutchas (313-291-1221).
THE RE-LANDSCAPED ST. PAUL MEMORIAL GARDEN WILL BE DEDICATED on Sunday, September 27, during and after the 10 a.m. worship service.  Please plan on being present for this special occasion.
LET'S CONTINUE TO REMEMBER WITH THANKS THOSE PROVIDING EMERGENCY 'FRONTLINE' SERVICES: Tricia Nault, Kim Arndt, Wendi Wioncek Ashby, Rick Barnosky, Jennifer Babin, Rhonda Wioncek Berndt, Dana Wioncek Barlage, Chelsey Eisenga, Josh Eisenga, James Hubert, Debbie Lyles, Amy McGahey, Jarod MacZink, Marcie Magnuson, Sam Martin, Michelle Mellin, Brenda Murphy, Inez Kurtsel Ogonowski, Amber Ostrowski, Rebecca Ostrowski, Samantha Pedersen, Eric Poet, Trudy Clark Schiller, Rachel Tank, Emily Wangbickler Baggett, Jillian Wangbickler, and Sarah Wangbickler.
---