ORDER OF SERVICE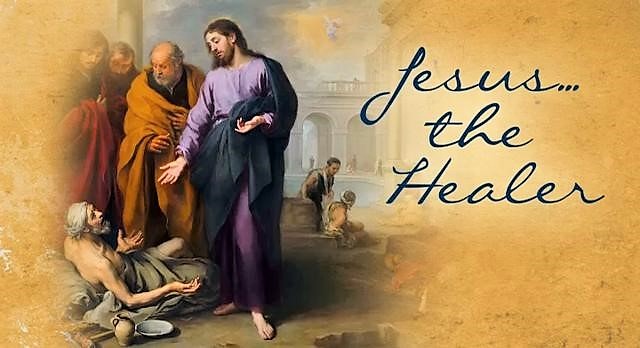 Healing Sunday/ Twentieth Sunday of Pentecost
Livestreamed and Tabernacled Worship
St. Paul United Church of Christ, Taylor, Michigan
October 11, 2020
PRELUDE  Organist Sally Sigman
CALL TO WORSHIP / PASSING OF THE PEACE
OPENING PRAYER  Reverend Dr. Geoffrey Drutchas
ANNOUNCEMENTS
MORNING SCRIPTURE  Mark 1:21-45  Pastor Drutchas and Parish Nurse Kathy Williams
ANTHEM  "He Touched Me," Tracy Hoffman
MESSAGE  "Jesus, Our Healer" Pastor Drutchas
INTERLUDE  "If You Will Trust in God to Guide You"
CANDLES OF HOPE  *Loneliness * Depression * Grief * Anxiety * Fear * Anger * Doubt
LORD'S PRAYER (debts, debtors)
ANTHEM  "It Is Well with My Soul," Tracy Hoffman
BENEDICTION  Pastor Drutchas
It is Well with My Soul
When peace like a river, attendeth my way; when sorrows like sea billows roll;
whatever my lot, thou hast taught me to say, it is well, it is well, with my soul. R.
 Though Satan should buffet, though trials shall come, let this blest assurance control,
that Christ has regarded my helpless estate, and hath shed his own blood for my soul! R.
May God haste the day when my faith shall be sight, the clouds be rolled back as a scroll;
The trump shall resound, and the Lord shall descend, even so, it is well with my soul! R.
R: It is well, with my soul, it is well, it is well with my soul!
---
MORNING TIDE ANNOUNCEMENTS
St. Paul United Church of Christ, Taylor – October 11, 2020
WELCOME TO ALL WORSHIPING WITH US ON SITE OR THROUGH FACEBOOK.  Although worshiping in different places we share in a deeper unity made possible through the loving spirit of Jesus Christ.
OUR ON SITE SERVICES are in need of additional ushers.  To volunteer please speak with a deacon or call the church office (313-291-1221).  Morning offerings can be placed in the standing tithe-box as you enter worship, mailed to the church from home, or delivered electronically.  For more information about the electronic option, call St. Paul treasurer Dan Case.
TUESDAY MORNING 'PARTY LINE' BIBLE STUDY GROUP meets Tuesday, October 13, at church, 10:30 a.m., indoors in the West Room, reading and discussing together the Apostle Paul's Letter to the Romans, Chapter 4.  We mask and maintain social distancing.  More information: call Pastor Geoff Drutchas (313-291-1221).  
SUNDAY SCHOOL MEETS THIS MORNING with classes held in Fellowship Hall.  Please speak with Pastor Cheryl Schalm this morning to register your child or grandchild after completing the Sunday School Covenant which can be found online through the St. Paul Church website, Christian Education tab. Today's lesson: "The Spirit of Peace," speaking to how we can know peace despite a world of chaos.  Children attending in class will be making their very own "sailboat." Today's "Spirit of Peace" lesson will be recapped online for children not able to participate in our Church School.
ONE-DAY FALL YOUTH RETREAT ALL SET FOR SATURDAY, NOVEMBER 7th.  Our Youth Retreat theme: "Finding Hope When All Things Fall."  Participants will begin their day with a bagged breakfast in Fellowship Hall followed by a morning devotion.  The group will then head to Cass Social Services where we will spend the day (our group only) volunteering. Boxed lunches will be provided during our afternoon devotion. Afterwards, the group returns to Pastor Schalm's for a boxed dinner, bonfire and evening discussion.  All interested should confirm their participation by October 18th.  Mask and social distancing will be required and monitored.
25 CHILDREN, YOUTH, AND YOUNG ADULTS HAVE ADOPTED A ST. PAUL GRANDPARENT.  Adopted grandparents receive monthly several letters, drawings or cards, providing great intergenerational connection. Interested in participating too?  Contact Pastor Schalm (313-291-1221).
ARE YOU GETTING DAILY EXERCISE?  Exercise class starts up again at St. Paul on Wednesday, October 14, 2-3:15 p.m. with Delissa Hampton returning as instructor.  A face mask or shield is necessary to participate, whether outside (weather permitting) or Fellowship Hall.
FAITH & FITNESS STARTS OCTOBER 1st, CONTINUING THROUGH 3 KINGS DAY, JANUARY 6th.  Recommended exercise goal: 150 minutes of physical activity weekly.  But participants can start at their comfort level.  A computerized system through our St. Paul web site helps track your progress: just (1) click on What's Happening, (2) scroll to Faith & FITness Fun to 2021, (3) click again to choose your goal and enter weekly data.  Not online?  Speak with Parish Nurse Kathy Williams on how you can still participate.
YOUR HALLOWEEN ATTIRE PHOTO NEEDED for our all-church private Facebook group Halloween video. Send pictures of your goblins, fairies, princesses, angels, and superheroes to Pastor Schalm by October 24th.
FELLOWSHIP OF CONCERN:  Sue Spears, Shirlen Powell (Beaumont-Taylor), Shirley Koths (Heartland-Allen Park), Debbie Case, Drew Dykowski, Wyatt Hribik, Bert Thompson, George Koster, Yvonne Koster, Rosemarie Laslo, Beverly Sitz, Nora Kronemann, Paula Block, Darlene Babin, Bert Thompson, Gerri Lynn King, Doris Hilliker, Lin Hogan, Oren Forsyth, Kyle Hard, Helen St. Louis, Marcie Bolen, Marion Bolen, Ciera Mack, Neil MacEachern, Judy Nieman, Morgan Schalm, Sheryl Schwab, Bonnie Isaacs, Cassidy Congelierre, Bob Weigel, Darlene Wangbickler, Richard Janztsen, and Joe Coffee
REMEMBER THOSE PROVIDING EMERGENCY 'FRONTLINE' SERVICES: Tricia Nault, Rick Barnosky, Sam Martin, Chelsey Eisenga, Josh Eisenga, Michelle Mellin, Lexi Mellin, Brenda Murphy, Amber Ostrowski, Rebecca Ostrowski, Samantha Pedersen, Eric Poet, James Hubert, Debbie Lyles, Amy McGahey, Jarod MacZink, Kim Arndt, Jennifer Babin, Wendi Wioncek Ashby, Marcie Magnuson, Inez Kurtsel Ogonowski, Trudy Clark Schiller, Rachel Tank, Emily Wangbickler Baggett, Jillian Wangbickler, and Sarah Wangbickler, Rhonda Wioncek Berndt, Dana Wioncek Barlage
THIS MORNING WE ALSO CONTINUE WITH PRAYERS FOR ALL BESET WITH ILLNESS DUE TO COVID-19, including President Donald and Melania Trump, national legislators, journalists, and recent White House visitors.  Let us also keep close to heart all individuals and families who have lost family members and friends due to Covid-19, inviting both healing of body and spirit through the grace of Jesus Christ.
A WORD FROM THE SUCCESSFUL ST. PAUL'S WOMEN'S RETREAT: "Thank you to all the ladies who attended last Saturday's retreat.  A total of 16 attendees (including our leadership team) enjoyed learning about Women of the Bible while sharing fellowship and a meal.  Thank you all for sharing your morning with us and making this a successful event!  Peace and blessings to each of you." – Michele McNeely, Council President and Retreat Planning Team  
UNDER RECOMMENDATIONS MODIFIED BY THE ST. PAUL COUNCIL, church members and friends traveling domestically (out of state) or internationally are asked to quarantine or self-isolate for 7 days before resuming church activities—all in keeping with CDC and State of Michigan recommendations.
---