'FOUR POINTS SERVICE'
Twentieth Sunday of Pentecost
St. Paul United Church of Christ
Taylor, Michigan
October 3, 2021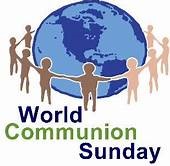 PRELUDE "There's A Wideness in God's Mercy,"
Guest Organist:  Tracy Hoffman
RINGING OF THE TOWER BELL / WELCOME / CALL TO WORSHIP
CONGREGATIONAL SINGING No. 95 "Jesus Shall Reign Where'er the Sun"
INVOCATION Rev. Dr. Geoffrey Drutchas, Senior Pastor
PASSING OF PEACE  The peace of Christ be with you… And also with you!
ANNOUNCEMENTS
ANTHEM  "My Faith Looks Up to Thee,"  Chancel Choir, Tracy Hoffman, Music Director
MORNING SCRIPTURE  Romans 10:10-17; Mark 16:14-18
CONGREGATIONAL SINGING No. 687 "In Christ There Is No East or West
MORNING PRAYER / TRIPLE AMEN  Amen, Amen, Amen.
MESSAGE  "Global Reach," Pastor Drutchas
CONGREGATIONAL SINGING No. 408 "Come, Share the Lord"
PRAYERS OF CONFESSSION & CONSECRATION FOR COMMUNION
AFFIRMATION OF UNITY IN CHRIST
One bread, one body, one Lord of all; one cup of blessing which we bless.
And we, thou many, throughout the earth, we are one body in this one Lord!
SACRAMENT OF COMMUNION Pastors Drutchas and Schalm
LORD'S PRAYER (debts, debtors) / DOXOLOGY - Congregation Standing
  Praise God from whom all blessings flow; praise him all creatures here below;
  Praise him above ye heavenly host; praise Father, Son, and Holy Ghost.  Amen. 
BENEDICTION/ POSTLUDE "Christ for the World We Sing!"
THANK YOU FOR WORSHPPING WITH US onsite or via Facebook livestreamed.  Our 10 a.m. service will also be posted on the St. Paul church web site under "Sermons, Bulletins, and Audio Services."  As we worship today, let's all seek to social distance, giving each other lots of space without congregating in the aisle, narthex, or vestibule.  Our congregation's goal is to keep everyone healthy and safe.  Thanks!
---
ST. PAUL MORNING TIDE ANNOUNCEMENTS – October 03, 2021
OUR CONGREGATION SHARES IN 'OPEN COMMUNION' THIS MORNING, welcoming all adult or confirmed baptized Christians to share in the sacramental meal Jesus began in an upper Jerusalem room with his apostles.  Individual sealed wafer-and-juice kits are available from the elders welcoming you to our sanctuary service this morning.  Those participating in the livestreamed service are invited to make use of bread and juice from home kitchens which will be consecrated with prayer as the sacred meal begins.  May we each commit ourselves through this sacrament to walk more closely with Jesus Christ along with fellow Christians across the globe.
HAVE YOU SIGNED UP FOR YOUR PICTORIAL DIRECTORY PORTRAIT?  If not, please speak with co-coordinator Dan Case in the Parlor this morning to make arrange-ments or answer any questions.  Online sign-up is available through www.ucdir.com, entering church code "mi1410", password is "photos". 
DUE TO RUMMAGE SALE SET UP IN BOTH FELLOWSHIP HALL AND WEST ROOM THERE IS NO COFFEE HOUR this morning.  However, coffee and refreshments are available in the church kitchen for those remaining after church to assist with rummage sale set-up.           
THE FALL YOUTH RETREAT is set for Saturday, October 9, 8:30 at church followed by an outing to the Plymouth Cider Mill.  Please sign up on the youth board in the upstairs West Lobby.
TRUNK OR TREAT is Saturday, October 30, 11 a.m. in the church's circular drive.  All interested in decorating a trunk, please contact Pastor Schalm or Sheri Herkimer.  Families have an opportunity to partake in a hayride, select a pumpkin for home carving, and take a photo in the pumpkin carriage. Contact Pastor Schalm to confirm participation.  Donations of wrapped candy can be left in the church office or brought to the Christian Education Welcome Desk located upstairs.                                                                                                 
RUMMAGE SALE DONATIONS may be dropped off at the church through Monday, 10:00 a.m.-1:30 p.m. and by advance appointment at other times.  Please call the church office by cell phone when you arrive for drop-off
VOLUNTEERS ARE NEEDED FOR THE FALL RUMMGAGE SALE scheduled, Thursday, 9 a.m., through Saturday, 11 a.m., October 7-9, to assist with the final sorting of donations, sales, and clean-up.  Please speak with Trustee Toni Hill or contact the church office to volunteer (313-291-1221).
OUR NEIGHBORS IN NEED (NIN) MISSION OFFERING will be received on all Sundays throughout the month of October. It assists UCC American Indian Ministries and supports education, justice, peace, and the rights of the poor and needy. Information about the NIN Offering, and an envelope, are in the October Tidings. You will also find NIN envelopes in the pew racks. On behalf of the Stewardship of St. Paul, please give as generously as you are able, to those in need. Thank you. 
DON'T MISS THESE UPCOMING (AND INSPIRING) SUNDAY MORNING WORSHIP SERVICES:  "A Little Peace" Service (with Children's Small Talk), October 10; "Grateful to be Healed" Service, October 17; "Holy Halloween?" Service, October 24; and "Reformation Sunday: Here I Stand!" Service, October 31.  All sanctuary and livestreamed services are at 10 a.m.        
PULPIT ROSE honors the birth of Alena Lynn Newton to Daniel Newton and Jamie Pattison.
FELLOWSHIP OF CONCERN: Sally Sigman, Jamie Pattison, Loretta Kurtsel, Wayne Jones, Tom Tank, Dennis Schmoekel, Laverne Roe, Harold Fick, Dennis and Alice Nagy, Michelle Matney, Hannah Dowell, Jeff and Maria MacZink, Bob Robinson  Joe Hill, Margo Charette, Gunther Berndl, Sherrill Berndl, John Caufield, Sue Spears, Don Mack, Kyle Hard, Diane Wickline, Bob Smarr, Eleanor Rossi, Carrie Hill, Neil McEachern, Tyler Staten, Bert Thompson, Robert Gaither, Charles Burgess, Ronald and Myrna Matthews, Kim Chichowicz, Yvonne Koster, Dale Rose and Leon Kroeger.
---