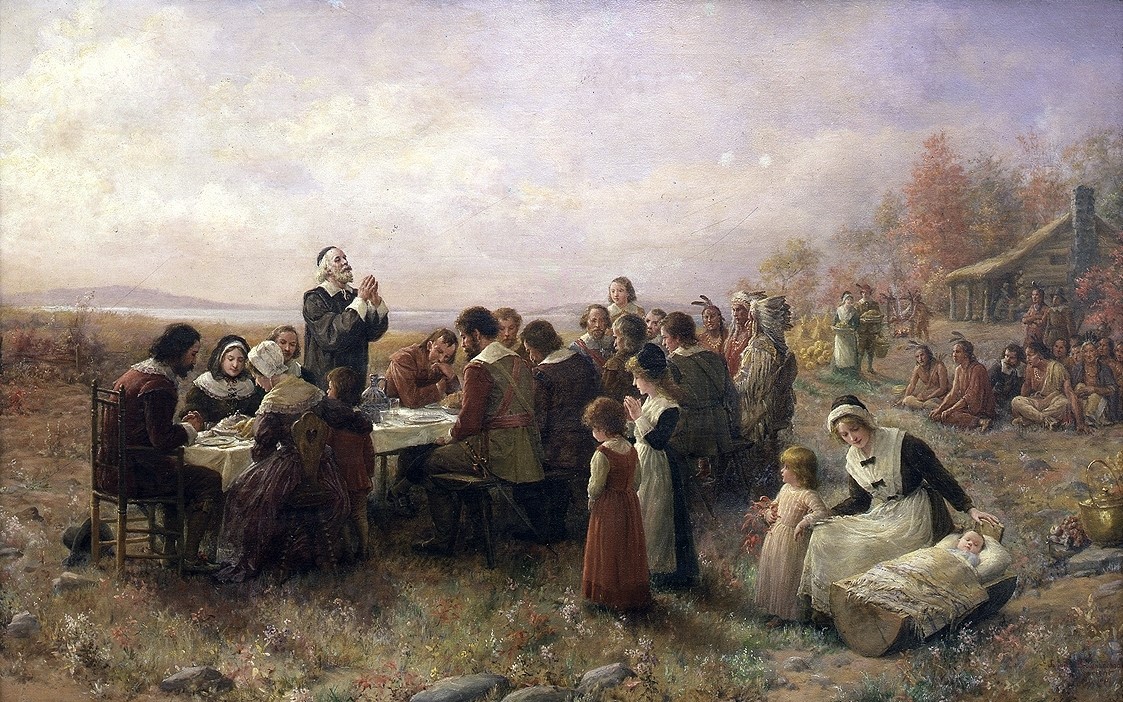 Jennie Augusta Brownscombe, 'The First Thanksgiving at Plymouth' (1914)
Livestreamed Worship
St. Paul United Church of Christ, Taylor, Michigan
November 22, 2020
PRELUDE  "My Country, 'Tis of Thee," Organist, Sally Sigman
WELCOME TO FACEBOOK LIVESTREAMING
CALL TO WORSHIP / PASSING OF THE PEACE
Pastor: The peace of Christ be with you.
   Congregation: And also with you!
OPENING PRAYER  Rev. Dr. Geoffrey G. Drutchas
ANNOUNCEMENTS
ANTHEM  "Come, Ye Thankful People, Come"  Eileen Vernor and Pastor Drutchas
MORNING SCRIPTURE  Hebrews 11:7-15; John 6:8-14
RESPONSE "We Limit Not the Truth of God"
MESSAGE  "Our Pilgrim Journey," Pastor Drutchas
MORNING PRAYER
LORD'S PRAYER (debts, debtors)
CLOSING ANTHEM "Ours the Journey," Eileen Vernor and Pastor Drutchas
BENEDICTION / POSTLUDE
- Ours the Journey -
In the midst of new dimensions, in the face of changing ways,
who will lead the pilgrim peoples wandering their separate ways?
Refrain: God of rainbow, fiery pillar, leading where the eagles soar, we your people,
 ours the journey, now and ever more!
Through the flood of starving peoples, warring factions and despair,
who will lift the olive branches? Who will light the flame of care? R.
Though we reach the highest heavens, holding worlds at our command,
we are yet a desert people searching for the promise land. R.
Should the threats of dire predictions cause us to withdraw in pain,
may your blazing phoenix spirit resurrect the church again.  R.
---
MORNING TIDE ANNOUNCEMENTS
St. Paul United Church of Christ, Taylor
November 22, 2020
WELCOME TO ALL WORSHIPING WITH US THROUGH FACEBOOK LIVESTREAMING.  Although worshiping in different places we share in a deeper unity made possible through the loving spirit of Jesus Christ.  For today and the next two Sundays, onsite worship services have been suspended due to a Covid-19 surge across Michigan.  All other on-site activities at church are always suspended for the time-being.  Our own congregation is committed to helping everyone remain safe and healthy.  We encourage everyone to do their part to help ensure a healthier tomorrow.
OUR LIVESTEAMED SERVICE ON FACEBOOK on Sunday mornings at 10 a.m. can be viewed at other times as well.  We encourage church members and friends to take advantage of the opportunity for Facebook viewing.  If you don't have a Facebook account and would like to establish one in order to follow St. Paul worship services via social media, please contact the church office (313-291-1221) for assistance.  Also, an audio version of the service is posted each week online and printed copies of the Sunday sermon can be downloaded from the St. Paul Church web site.
ZOOM AT NOON - SUNDAY SCHOOL GOES COMPLETELY ONLINE AGAIN after meeting in the open spaces of Fellowship Hall for the past several weeks.  Our online multi-age lessons for children and youth continue to focus on growing in the fruits of the spirit--this week, self-control.  Participating children and youth will receive a zoon invite Sunday morning from Pastor Cheryl Schalm.  Please contact the church office (313-291-1221) or Pastor Schalm directly if your child would like a zoom invite.
BLOOD DONATIONS REMAIN A CRITICAL NEED.  So far the fall Red Cross blood drive is still on schedule for St. Paul Fellowship Hall, Tuesday, November 24, 1-6:45 p.m. with masking and social distancing maintained.  Sign up now at https//www.redcrossblood.org/give.html/find-drive to secure your "rapid pass" which will shorten any waiting time that day.  Parish Nurse Kathy Williams can help you schedule your donation time online.  Those donating blood will be used the west lobby entrance.
OPPORTUNITIES TO HELP THE LESS FORTUNATE and to serve as an "earthly angel".  All interested: (1) contact Pastor Schalm to purchase a Christmas gift for a child in need through the Salvation Army Angel Program.  Child sponsors receive by pick-up or mailing an enveloped gift tag identifying the child's gender/age, a suggested gift list, plus instructions for gift drop-off.  Additionally, (2) your donations of hats, gloves, and underwear for those in need (all ages) can be dropped off at the west side office entrance to the church, deposited in Christmas Drive Hat & Glove Tote.  In lieu of in a shoe box ministry this year, (3) your donations to Fish & Loaves and ChristNet are invited and encouraged.  Questions? Contact Pastor Schalm or the church office (313-291-1221).
ADVENT FOR LADIES, scheduled for December 6th has been cancelled due to the Covid-19 surge.  However, dozens of photos from previous years of "Advent by Candlelight" will soon be posted and shared online via the St. Paul UCC website, offering a stroll down memory lane and a visual reminder about what Advent and Christmas are really about.  Check it out!
ARE YOU GETTING DAILY EXERCISE?  Our Faith & Fitness program continues through 3 Kings Day, January 6th with opportunities to track your weekly exercise minutes on our church website under "What's Happening."
OUR ST. PAUL BIBLE GROUPS CONTINUE TO MEET TELEPHONICALLY OR VIA ZOOM.  For more information on how you can participate in the Tuesday Morning Bible Study, 10:30-11:30 a.m., please contact Pastor Geoff Drutchas.  For the Young Adult Bible Study on Wednesday nights at 7 p.m. call Pastor Cheryl Schalm as our "witness to the Word" continues!
STEWARDSHIP FAITH COMMITMENT CARDS AND GIFTS continue to be received this morning and may be deposited in the tithe box in the narthex or returned to the church by mail.  All faith commitment cards are confidential and reflect your plan of giving for the coming year.  Thanks for your cards and gifts in support of our church and its ministry throughout the year.
FELLOWSHIP OF CONCERN: Margot Charette, Gerri Lynn King, Maggie Hall, John Caufield, Arnold Knofske, Shirleen Powell, Darlene Babin, Kirk Blanchard, Jim Nault, Marion Bolen, Doris Hilliker, Ollie Hilliker, Liz Bechtol, Carrie Hill, Wayne Jones, Sue Spears, Debbie Case, Diane Sturgeon, George Koster, Bert Thompson, Lin Hogan, Kyle Hard, Helen St. Louis, Neil MacEachern, Judy Nieman, Morgan Schalm, Sheryl Schwab, Darlene Wangbickler, Richard Janztsen, Marcie Bolen, Loretta Kurtsel, Paul Bachran (Leonard), Dawn Sturgeon Anderson.
DEEPEST CONDOLENCES to David and Elaine Cowper and family on the passing of their grandson, Grant Finch.
REMEMBER THOSE PROVIDING EMERGENCY 'FRONTLINE' SERVICES: Tricia Nault, Rick Barnosky, Sam Martin, Chelsey Eisenga, Josh Eisenga, Michelle Mellin, Lexi Mellin, Brenda Murphy, Amber Ostrowski, Rebecca Ostrowski, Samantha Pedersen, Eric Poet, James Hubert, Debbie Lyles, Amy McGahey, Jarod MacZink, Kim Arndt, Jennifer Babin, Wendi Wioncek Ashby, Marcie Magnuson, Inez Kurtsel Ogonowski, Trudy Clark Schiller, Rachel Tank, Emily Wangbickler Baggett, Jillian Wangbickler, and Sarah Wangbickler, Rhonda Wioncek Berndt, Dana Wioncek Barlage.
---