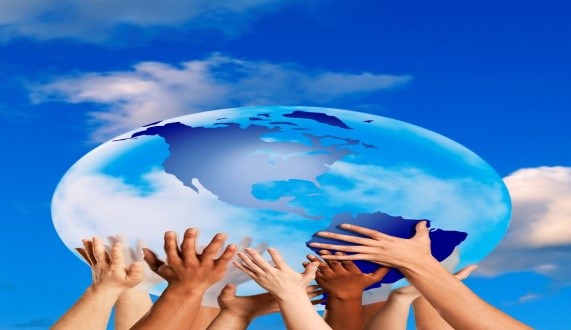 Instead, speaking the truth in love, we will grow to become in every respect the mature body of him who is the head, that is, Christ. From him the whole body, joined and held together by every supporting ligament, grows and builds itself up in love, as each part does its work.
~Ephesians 4:15-16
 
Livestreamed and Sanctuary Worship
St. Paul United Church of Christ, Taylor, Michigan
November 15, 2020
PRELUDE   Organist, Sally Sigman
WELCOME TO FACEBOOK LIVESTREAMING
CALL TO WORSHIP / PASSING OF THE PEACE
Pastor: The peace of Christ be with you.
   Congregation: And also with you!
OPENING PRAYER  Pastor Cheryl Schalm
ANNOUNCEMENTS
ANTHEM  "Stand up, Stand up for Jesus," Tracy Hoffman, Music Director
MORNING SCRIPTURE  Genesis 25:22-23, 26; 27:36; 32:24-29 & Hebrews 4:12-13
MESSAGE  "Privilege, Power and Prayer," Pastor Cheryl Schalm
MORNING PRAYER
LORD'S PRAYER (debts, debtors)
CLOSING ANTHEM "I Have Decided to Follow Jesus," Soloist, Tracy Hoffman
BENEDICTION / POSTLUDE
Stand Up, Stand Up for Jesus
Stand up, stand up for Jesus, Ye soldiers of the cross; lift high his royal banner,
it must not suffer loss: from vict'ry unto vict'ry his army shall he lead,
till every foe is vanquished, and Christ is Lord indeed.
Stand up, stand up for Jesus, stand in his strength alone;
the arm of flesh will fail you; ye dare not trust your own:
put on the gospel armor, each piece put on with prayer;
where duty calls or danger, be never wanting there.
---
MORNING TIDE ANNOUNCEMENTS
St. Paul United Church of Christ, Taylor
November 15, 2020
WELCOME TO ALL WORSHIPING WITH US ON SITE OR THROUGH FACEBOOK.  Although worshiping in different places we share in a deeper unity made possible through the loving spirit of Jesus Christ.  For onsite worship we both mask and social distance.  Thank you for helping to keep everyone safer with your cooperation and support.  We continue need the assistance of ushers.  To volunteer please speak with this morning presiding deacon Teri Staffeld or call the church office (313-291-1221).
'ADVENT FOR LADIES' COMING, December 6th, 2 p.m., to the St. Paul Sanctuary with guest presenter Cathy Hendricks offering a very special program spiritually preparing us for this year's Advent and Christmas.  Space is limited to 50 with masking and social distancing.  RSVP early (letting us if family members will be sitting with you) by contacting Debbie Case debbiecase@aol.com or the church office (313-291-1221).
STEWARDSHIP FAITH COMMITMENT CARDS AND GIFTS continue to be received this morning and may be deposited in the tithe box in the narthex or returned to the church by mail.  All faith commitment cards are confidential and reflect your plan of giving for the coming year.  Thanks for your cards and gifts in support of our church and its ministry throughout the year.
SUNDAY SCHOOL MEETS THIS MORNING in Fellowship Hall where our children will continue to learn and explore ways to grow in the fruits of the spirit with a lesson on gentleness.  In-house Sunday School children will be making gentle word jars. The lesson will be posted to the Christian Education Blog.  All interested in attending in house Sunday School should complete the Sunday School covenant that can be found on the St. Paul UCC website.
SIGN UP ONLINE NOW FOR FALL BLOOD DRIVE, St. Paul Fellowship Hall, Tuesday, November 24, 1-6:45 p.m.
OUR ST. PAUL YOUNG ADULT BIBLE GROUP continues to meet at Pastor Schalm's on Wednesday evenings at 7:00 p.m.  The group is currently reading and discussing the Epistles, letters written to the early Christian churches.  All post-High School young adults are welcomed and encouraged to join.
OPPORTUNITIES TO HELP THE LESS FORTUNATE and to serve as another's earthly angel begin next week.  All interested: (1) contact Pastor Schalm to purchase a Christmas gift for a child in need through the Salvation Army Angel Program.  Child sponsors receive by pick-up or mailing an enveloped gift tag identifying the child's gender/age, a suggested gift list, plus instructions for gift drop-off.  Additionally, (2) your donations of hats, gloves, and underwear for those in need (all ages) can be dropped off in the designated narthex Christmas Drive Hat & Glove Tote.  In lieu of in a shoe box ministry this year, (3) your donations to Fish & Loaves and ChristNet are invited and encouraged.  Questions? Contact Pastor Schalm or the church office (313-291-1221).
INTERESTED IN GATHERING FOR THE WORD?  The St. Paul Tuesday Bible Study group meet Tuesdays, 10:30-11:30 a.m., West Room, with Pastor Drutchas, reading Paul's Letter to the Romans, Chapter 9.  The weekly chapter lessons are provided as a hand-out.  We mask and social distance for study sessions.  All welcome!
ARE YOU GETTING DAILY EXERCISE?  Our Faith & Fitness program continues through 3 Kings Day, January 6th with opportunities to track your weekly exercise minutes through the St. Paul Church website under "What's Happening."  Check it out!
FELLOWSHIP OF CONCERN: Gerri Lynn King (Beaumont-Trenton Hospital), John Caufield (VA Hospital-Ann Arbor), Shirleen Powell, Kirk Blanchard, Arnold Knofske (Henry Ford Hospital-Wyandotte), Jim Nault, Marion Bolen, Ruth Kenosian, Velma McGee, Ollie Hilliker, Wayne Jones, Shirley Koths, Sue Spears, Debbie Case, George Koster, Brenda Tank, Bert Thompson Lin Hogan, Kyle Hard, Liz Bechtol, Carrie Hill, Helen St. Louis, Neil MacEachern, Judy Nieman, Morgan Schalm, Sheryl Schwab, Darlene Wangbickler, Richard Janztsen, Marcie Bolen, Loretta Kurtsel, Paul Bachran (Leonard)  Happy Birthdays to Velma McGee who turned 91 and John Caufield who turned 80, both this past Monday!  Congrats to Brenda Tank, great-grandmother to newborn Margaret Delaney. 
REMEMBER THOSE PROVIDING EMERGENCY 'FRONTLINE' SERVICES: Tricia Nault, Rick Barnosky, Sam Martin, Chelsey Eisenga, Josh Eisenga, Michelle Mellin, Lexi Mellin, Brenda Murphy, Amber Ostrowski, Rebecca Ostrowski, Samantha Pedersen, Eric Poet, James Hubert, Debbie Lyles, Amy McGahey, Jarod MacZink, Kim Arndt, Jennifer Babin, Wendi Wioncek Ashby, Marcie Magnuson, Inez Kurtsel Ogonowski, Trudy Clark Schiller, Rachel Tank, Emily Wangbickler Baggett, Jillian Wangbickler, and Sarah Wangbickler, Rhonda Wioncek Berndt, Dana Wioncek Barlage.
---