Livestreamed and Sanctuary Worship
St. Paul United Church of Christ, Taylor, Michigan
Stewardship Sunday - Twenty-Sixth Sunday of Pentecost
November 14, 2021
PRELUDE "To God Be the Glory," Sally Sigman, Organ
WELCOME TO FACEBOOK LIVESTREAMING
CALL TO WORSHIP / PASSING OF THE PEACE
   The peace of Christ be with you…And also with you!
OPENING PRAYER  Reverend Dr. Geoffrey Drutchas
HYMN No. 16  "Come, Thou Font of Every Blessing"
ANNOUNCEMENTS
PRAISE ANTHEM  "Offertory," Chancel Choir; Tracy Hoffman, Music Director
MORNING SCRIPTURE  1 Timothy 6:6-10; Luke 16:1-13
DOXOLOGY
  Praise God from whom all blessings flow;
  Praise Him all creatures here below;
  Praise Him above ye heavenly host;
  Praise Father, Son, and Holy Ghost!  Amen.
MORNING PRAYER
HYMN No. 59  "This is My Father's World" 
MESSAGE "The Life That is True Life," Pastor Drutchas
PRAYER FOR FAITHFUL STEWARSHIP/ LORD'S PRAYER (debts, debtors)
HYMN  No. 274  "I Love Your Church, O God"
BENEDICTION
POSTLUDE  "My Hope is Built," Sally Sigman
---
THANK YOU FOR WORSHPING WITH US onsite or via Facebook livestreamed.
Our 10 a.m. service will also be posted on the St. Paul church web site under "Sermons, Bulletins, and Audio Services."  As we worship today, let's all seek to social distance, giving each other lots of space without congregating in the aisle, narthex, or vestibule.  Our congregation's goal is to keep everyone healthy and safe.  Thanks!
ST. PAUL MORNING TIDE ANNOUNCEMENTS – November 07, 2021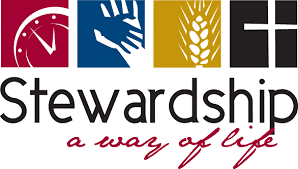 TODAY IS STEWARDSHIP SUNDAY when we reflect upon God's blessings and his call to be faithful stewards of the resources he makes possible for us for our needs, as well as to share through the ministry of church.  Everyone is encouraged to complete a Faith Commitment card and return it with their offering at the start of Sunday's sanctuary service or forward by mail to the church. 
WE WELCOME BACK to morning worship Organist Sally Sigman with flowers in her honor.
FELLOWSHIP HOUR will be held today in Fellowship Hall with coffee and donuts served.  All welcome!
OUR CONGEGATION'S CHRISTNET HOST WEEK is coming up Sunday, November 28-Saturday, December 4.  Volunteers will be preparing suppers for two dozen homeless guests being locally moteled. Please contact the church office (313-291-1221) or speak with Pastor Drutchas to help prepare meals on one or more nights.  It's a great opportunity to do some hands-on caring and sharing during that first Advent season week.
SUNDAY SCHOOL CHILDREN in today's upstairs lesson, "Should I Stay or Should I Go?" will be learning about the prophet Elijah and talking about the temptation to run, quit or to drop out when things don't go our way or when things get scary. 
OPERATION CHRISTMAS CHILD NOW UNDERWAY! Pre-wrapped shoe boxes, complete with instructions, can be picked up during coffee hour. Your filled shoe box will be sent to a child across the globe in need of Christmas cheer with a message of Christ's Love. A huge thank you to Jane Dykowski for wrapping and preparing all the shoe boxes!  All shoe boxes are due back no later than Sunday, November 21.
THE 'ANGEL TREE' IS COMING SOON TO FELLOWSHIP HALL with an opportunity to provide a Christmas gift to a child in need locally in Michigan.  Angel Tags on the tree identify the age and gender of each child.  Please add your name to the numbered roster as you take a tag.  You may also contact Pastor Cheryl Schalm to request an Angel Tag.  Additionally, tubs would be placed at the rear of Fellowship Hall and at the upstairs Sunday School Welcome area lobby for donations of hats, gloves, scarves and undergarments. All items will be delivered to the Salvation Army so that they can be included in their Family in Need Gift Shop.
CHRISTMAS POINSETTIAS FOR DISPLAY IN THE CHURCH SANCTUARY will be available for order at $8 each, beginning Sunday, November 21.  Your order with payment should include the name(s) of those whom you would like to honor or remember for acknowledgement in a Poinsettia Roster for the Christmas Eve bulletin.  Your poinsettia can also be picked up after services that night.
ST. PAUL'S EXERCISE CLASS meets Wednesday, November 17, 10:30 a.m. in the West Room. For more information: Parish Nurse Kathy Williams.
HOSTESS SIGN-UP FOR 'ADVENT BY CANDELIGHT' continues today in Fellowship Hall with informational packets provided.  This annual women's event, sponsored by our Christian Education ministry and all set for Sunday, December 5, 6:45-8:45 p.m., helps participants attune themselves to the true spirit of Advent and Christmas.   Each hostess invites seven other women to join her at a Christmas-themed table for a wonderful program, plus fellowship and dessert. Hostesses, as well as individuals wishing to join a table, can also sign up by directly contacting Debbie Case (debbiescase@aol.com).  Deadline for all sign-ups is Sunday, November 21 with final participant count shared by Friday, November 26.  Our Fellowship Hall table arrangements are based on the order of hostess sign up.
THE ANNUAL SCRAPBOOK CROP returns on Saturday, February 5, 2022, 9 a.m.- 7 p.m.  The $40 cost for the event includes your cropping space and three meals, as well as snacks and beverages all day.  Vendors, make-and-takes, demos, and raffles add to the excitement.  Non-scrapbookers are also invited to check out the vendors on hand that day. New vendors to the event are always welcomed: please let us know if you have any vendors to recommend for invitation.  Also appreciated by our CROP coordinators are donated raffle and door prizes, plus volunteers to help host the event. This is a big fundraiser for BOF and the Christian Education Ministries. Please contact Debbie Case (debbiescase@aol.com) for more information.
FELLOWSHIP OF CONCERN: Beverly Sitz, Wayne Jones, Frankie Patterson, Bob Robinson, Glen Sigman, Jeff MacZink, Margo Charette, Megan Barnosky, Jerry Rossi Richard Parks, Fred Block, Bill Pattenaude, Anthony Staten, Glen Sigman, Jerry Rossi, Jeff Natzke, Larry Kurtsel, Loretta Kurtsel, Dennis Schmoekel, Harold Fick, Laverne Roe, Anne Schmoekel, Yvonne Koster, Elisha Ajulu, Alice Nagy, Michelle Matney, Maria MacZink, Joe Hill, Gunther Berndl, Sherrill Berndl, Earl Shutt, John Caufield, Sue Spears, Don Mack, Sandi Rose, Kyle Hard, Eleanor Rossi, Carrie Hill, Neil McEachern, Tyler Staten, Bert Thompson, Cody Van Hulle, Al Petri, Elizabeth Alexander, Robert Gaither, Charles Burgess, Richard Sherman, Ronald and Myrna Matthews, Lori Rose, Kim Chichowicz, and Leon Kroeger.  CONDOLENCES to Lynn Baier on the recent passing of her daughter, Heather Zeoli.
---