ORDER OF SERVICE

Totenfest / Memorial Sunday
Livestreamed and Sanctuary Worship
St. Paul United Church of Christ, Taylor, Michigan
November 1, 2020
PRELUDE  "On Eagle's Wings," Organist Sally Sigman
CALL TO WORSHIP / PASSING OF THE PEACE
OPENING PRAYER  Reverend Dr. Geoffrey Drutchas
ANNOUNCEMENTS
MORNING SCRIPTURE  Ecclesiasticus 44:1-15; Matthew 5:5-16
CHIMES  "There's Something About That Name"
MESSAGE  "We Remember Them," Pastor Drutchas
ANTHEM "Precious Lord, Take My Hand," Tracy Hoffman and Eileen Vernor Drutchas
PRAYERS OF INVITATION, CONFESSSION & CONSECRATION FOR COMMUNION 
Almighty and most merciful Father, we have erred and strayed from your ways like lost sheep.  We have followed too much the devices and desires of our own hearts.  We have offended against your holy laws.  We have left undone those things which ought to be done, and we have done those things which we ought not to have done.  But you, O Lord, are merciful.  Spare us, O God, as we confess our faults.  Restore us in our penitence according to your promises declared unto humankind in Christ Jesus our Lord.  And grant, O most merciful God, for Jesus' sake, that we may hereafter live a godly, righteous, and sober life to the glory of your holy name.  Amen.  
SACRAMENT OF COMMUNION Pastors Drutchas and Schalm with Elders
LORD'S PRAYER (debts, debtors) / MEMORIAL PRAYER / DOXOLOGY
Praise God from whom all blessings flow; praise him all creatures here below;
Praise him above ye heavenly host; praise Father, Son, and Holy Ghost.  Amen.
MEMORIAL ACCLAMATION / TOLLING OF BELL  A Resurrection Faith (1 Corinthians 15)
BENEDICTION  Pastor Drutchas
Precious Lord, Take My Hand
Precious Lord, take my hand, lead me on, let me stand, I am tired, I am weak, I am worn;
Through the storm, through the night, lead me on to the light: Take my hand,
precious Lord, lead me home.
When my way grows drear, precious Lord, linger near, when my life is almost gone,
Hear my cry, hear my call, hold my hand lest I fall: Take my hand, precious Lord, lead me home.
When the darkness appears and the night draws near, and the day is past and gone,
At the river I stand, guide my feet, hold my hand: Take my hand, precious Lord, lead me home!
---
MORNING TIDE ANNOUNCEMENTS
St. Paul United Church of Christ, Taylor
November 1, 2020
WELCOME TO ALL WORSHIPING WITH US ON SITE OR THROUGH FACEBOOK.  Although worshiping in different places we share in a deeper unity made possible through the loving spirit of Jesus Christ.  For onsite worship we both mask and social distance.  Thank you for helping to keep everyone safer with your cooperation and support.  We continue need the assistance of ushers.  To volunteer please speak with this morning presiding deacon Dee Salsbury or call the church office (313-291-1221).  Morning offerings can be placed in the standing tithe-box as you enter worship, mailed to the church from home, or delivered electronically.  For more information about the electronic option, call St. Paul treasurer Dan Case.
OUR LIT ALTAR CANDLES ARE IN REMEMBRANCE OF THOSE WHO HAVE PASSED AWAY since last November.  Our historic church bell will be individually tolled for them.  OUR LARGE CHANCEL CANDLE is lit this morning in memory of all who have died due to Covid-19.  We keep in prayer their families, as well those currently ill with the corona virus.
OUR CONGREGATION SHARES THIS MORNING IN THE COMMUNION SACRAMENT.  We observe an "open communion"—you do not have to be a church member to participate if confirmed in faith or of adult age.  If you are communing with us at home, please use bread and juice available to you, which will be consecrated by prayer with our sanctuary communion elements.  May we partake of all elements with deep reverence for Christ.
SUNDAY SCHOOL MEETS THIS MORNING in Fellowship Hall where our children will be learning about God's Goodness and how they are called to model and to share it with others.  The lesson will be posted to the Christian Education Blog for all who were unable to attend in-house.  All interested in attending in house Sunday School should complete the Sunday School covenant that can be found on the St. Paul UCC website.
ONE-DAY FALL 'FINDING HOPE WHEN ALL THINGS FALL' YOUTH RETREAT IS ALL SET FOR NEXT SATURDAY, NOVEMBER 7th.  Participants begin their day with a bagged breakfast in Fellowship Hall followed by morning devotions, then head for a volunteering day to Cass Social Services (our group only, lunch provided).  Later, we return to Pastor Schalm's for a boxed supper, bonfire and evening discussion.  All interested should confirm participation today for necessary project planning.  Masking and social distancing required and monitored.
BIBLE STUDY GROUPS meet Tuesdays at church, 10:30 a.m., West Room, with Pastor Drutchas, reading Paul's Letter to the Romans, Chapter 7, and for post-high school young adults, on Wednesdays, 7 p.m., Pastor Schalm's house, also reading the New Testament epistles.  We mask and social distance for study sessions.
ARE YOU GETTING DAILY EXERCISE?  Our St. Paul exercise class meets on Wednesday, November 4, 2-3:15 p.m. with Delissa Hampton, instructor.  A face mask or shield is necessary to participate in Fellowship Hall.
FAITH & FITNESS UP & RUNNING CONTINUES T0 3 KINGS DAY, JANUARY 6th.  Recommended exercise goal: 150 minutes weekly but start at your own comfort level.  Our St. Paul web site program helps track your progress: click on What's Happening, scroll to Faith & FITness Fun to 2021, (3) choose your goal or enter weekly data.  Not online?  Speak with Parish Nurse Kathy Williams to still participate.
SIGN UP ONLINE NOW FOR FALL BLOOD DRIVE, St. Paul Fellowship Hall, Tuesday, November 24, 1-6:45 p.m., and a Medicare informational program, this Wednesday, November 4, 7:30 p.m., West Room (in person).
FELLOWSHIP OF CONCERN:  Ollie and Doris Hilliker, David Cowper, Marion and Marcie Bolen, Shirlen Powell, Dave (Providence Hospital-Novi) and Pam Badarak, Velma McGee (Beaumont-Taylor) Shirley Koths, John Dykowski, Sue Spears, Debbie Case, Barb Schultz, Daisy Stedman, George and Yvonne Koster, Nora Kronemann, Darlene Babin, Bert Thompson, Gerri Lynn King, Lin Hogan, Oren Forsyth, Kyle Hard, Helen St. Louis, Neil MacEachern, Judy Nieman, Morgan Schalm, Sheryl Schwab, Cassidy Congelierre, Darlene Wangbickler, Richard Janztsen, Joe Coffee, and friend of Brenda Rossi.
REMEMBER THOSE PROVIDING EMERGENCY 'FRONTLINE' SERVICES: Tricia Nault, Rick Barnosky, Sam Martin, Chelsey Eisenga, Josh Eisenga, Michelle Mellin, Lexi Mellin, Brenda Murphy, Amber Ostrowski, Rebecca Ostrowski, Samantha Pedersen, Eric Poet, James Hubert, Debbie Lyles, Amy McGahey, Jarod MacZink, Kim Arndt, Jennifer Babin, Wendi Wioncek Ashby, Marcie Magnuson, Inez Kurtsel Ogonowski, Trudy Clark Schiller, Rachel Tank, Emily Wangbickler Baggett, Jillian Wangbickler, and Sarah Wangbickler, Rhonda Wioncek Berndt, Dana Wioncek Barlage.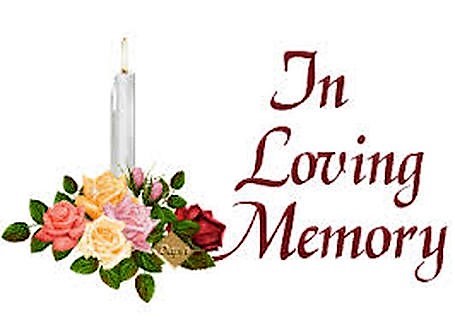 "Those who believe in me,
even though they die, will live."
  --John 11:25 
Let us remember in prayer the following members and friends of our church whose funeral and memorial services have been held since Memorial Sunday, November 3, 2019:
Carol Komathy, November 30, 2019 at the age of 76 years.
Robert L. Harry, December 30, 2019 at the age of 81 years.
Paul Tetreau, January 30, 2020 at the age of 57 years.
Gail Louise Holland, March 6, 2020 at the age of 69 years.
Eric Dubke, March 16, 2020 at the age of 55 years.
Nancy Koszalka, April 7, 2020 at the age of 67 years.
Rebecca Havenstein-Coughlin, April 8, 2020 at the age of 63 years.
Betty Steinhauer, May 3, 2020 at the age of 93 years.
Richard Wagner, May 21, 2020 at the age of 77 years.
Gertrude Hagen, May 24, 2020 at the age of 96 years.
Scott William Caldwell, May 30, 2020 at the age of 45 years.
Diane Anderson, June 17, 2020, at the age of 64 years.
Bettie Slusher, July 27, 2020 at the age of 88 years.
Harriet McDonald, September 3, 2020 at the age of 74 years.
John S.  Poet, September 16, 2020 at the age 71 years.
Irene Church, September 21, 2020 at the age of 83 years.
Benny Hall, September 23, 2020 at the age of 73 years.
Richard Hinze, October 20, 2020 at the age of 91 years.
---