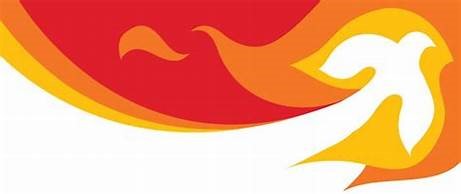 PENTECOST SUNDAY – ORDER OF SERVICE
St. Paul United Church of Christ, Taylor
May 31, 2020
PRELUDE / WELCOME TO FACEBOOK LIVE STREAMING
CALL TO WORSHIP/ PASSING OF THE PEACE
   Pastor: "God's peace be with you."
   Congregation: "And also with you!"           
OPENING PRAYER  Reverend Dr. Geoffrey Drutchas
ANNOUNCEMENTS
PENTECOST ANTHEM (A capella) "Fill the World with Love," Tracy Hoffman and Barbara Schultz
MORNING SCRIPTURE  Acts 2:1-4, 12-18, 38-42, Pastor Cheryl Schalm
MESSAGE  "God's Word is Still Love," Pastor Drutchas
HOLY COMMUNION
PRAYERS FOR THE FAITHFUL / LORD'S PRAYER (debts, debtors)
DOXOLOGY  Praise God, from whom all blessings; praise him all creatures here below.  Praise him above ye heavenly host; praise Father, Son, and Holy Ghost.  Amen!
BENEDICTION / POSTLUDE  "The Gift of Love," Tracy Hoffman
___________________
'Fill the World with Love' (Please join with the refrain)
With the vision in our minds of how the world could be, and the fullness of our hearts from the suffering we see, when we make all that we are and have part of God's destiny, (R) we can fill the world with love, we can fill the world with love.
All the people in this world living live of pain and fear, and crying out to the night, won'dring when someone will hear, while there are so many others having so much they can share,
(R) can we fill the world with love, can we fill the world with love?
We whose spirits long to share, long to comfort and to heal, know that when we act alone, hope is difficult to fee; but together as we labor God's compassion to reveal
 (R) we will fill the world with love, we will fill the world with love.
Let us hesitate no longer in our doubt and our dismay, there's a pow'r at work within us that has promised a new day.  And the time will surely come, it will not be long delayed
(R) when God fills the world with love, when God fills the world with love!
---

MORNING TIDE ANNOUNCEMENTS
 A 'ROAD RALLY' SERVICE THIS SUNDAY MORNING KICKS OFF THE NEW PENTECOST SEASON for our St. Paul congregation.  Although Sunday morning service is still being Facebook live streamed for ready home viewing, church members can alternatively join a 'Road Rally' for worship together in our west side church parking lot.   Those parking in the church lot for the service can tune in to the service on their car radio at Station 105.5 or watch the live streamed version (30 seconds delayed) on their phones.  For communion this morning, those worshiping at home or in their vehicles are simply encouraged to use bread and juice from their own kitchen for communion which Pastors Geoff Drutchas and Cheryl Schalm will consecrate through chancel prayers.  However, for those present in the parking lot, Pastors Schalm and Drutchas, joined by the elders, will be distributing sealed communion kits car-to-car.  Look for the Christian flag in the parking lot procession that morning and just "honk for Jesus" if our pastors or elders inadvertently overlook your vehicle.  Since the traditional color for Pentecost is red, church members are asked to wear something red that morning, as well as festoon cars for the Road Rally with a red ribbon, large or small.
PAUL CHURCH WILL BE OPENING FOR SANCTUARY WORSHIP on Sunday, June 14th—that's the second Sunday of next month. Our church's reopening will be proceeding with considerable precautions and care. The June 14th worship will be one of three "pilot" services during June that will give us experience with new guidelines to keep us all safe and well. Attendance at these services will be capped at 40-50 persons.  Only the main doors will be used for coming and going.   Beyond the sanctuary, the rest of our church will remained closed to activity.  On these Sunday mornings there will be designated seating throughout the sanctuary to maintain requisite and consistent social distancing even as we come together with usher seating and dismissing worshipers.  Couples and family members who arrive together will be seated together.  Ushers will be on hand to direct proper, safe seating.  All attendees should bring masks and hand-sanitizer for personal use, as well as everyone's greater benefit.  Sanctuary windows will be all open to enhance ventilation.  To make sure that everyone is informed and oriented about the safety procedures we will be using, we invite church members and friends who would like to attend the June 14 service to "volunteer" in advance by contacting the church office (313-291-1221) before Thursday noon, June 11th.  The upcoming "pilot" services are very much in keeping with how many churches across the state and nation are thoughtfully seeking to reopen their doors to our shared life in Jesus Christ.  Please keep our congregation and our ministry leadership in your prayers as we look ahead and move forward as faithfully, safely, and creatively as possible.
YOUR ANNUAL 'STRENGTHEN THE CHURCH' OFFERING is invited and will be welcomed throughout the month of June.  This offering helps our wider United Church of Christ family provide assistance to struggling sister congregations.  During the current pandemic the national body of the United Church of Christ has provided our own congregation with important informational resources that have helped us navigate both health-related and financial concerns.  Your 'Strengthen the Church" can be mailed to our church office and will be recorded as your gift.
A POPULAR QUESTION FOR THOSE ACCUSTOMED TO A MORNING OFFERING PLATE:  How do I make sure that St. Paul Church receives the tithes and offerings that I want to share?  In these complex times, the answer remains simple.  Either drop your check made out to St. Paul Church in the U.S. Mail or sign up for electronic giving following the straight-forward guide you'll find on the St. Paul Church web site.  Although postal delivery has somewhat slowed, everything sent still finds it way to its destination.  If you have any questions about donations, please call the church office, Monday through Friday.  As we maintain our church ministry in this difficult time for us all, all your prayers and financial support are appreciated.  At St. Paul we are simply encouraged to give and share as we are able. Thank you.
TOMORROW, JUNE 1, IS CHURCH MEMBER LINDLEY HOGAN's 100th BIRTHDAY.  To help Lin celebrate, the City of Lincoln Park will be honoring him with a "drive-by" parade of municipal vehicles at 2 p.m.  Your birthday cards to Lin are appreciated.  Lin served as St. Paul Council president in 1971, almost fifty years ago, and continued to be active in the Men's Fellowship and other church activities until his late 80s.
OUR DAILY BREAD DEVOTIONALS FOR JUNE-AUGUST 2020 are now available to St. Church members.  Please contact the church office (313-291-1221) to make arrangements to pick up a copy.  Pastor Drutchas and Parish Nurse Kathy Williams can also drop off this most recent devotional offering scripture readings and daily prayer for use at home.
THE LATEST SUNDAY SCHOOL BLOG can be found on our website under the Christian Education Corner - Blog menu.  Today's lesson is about inside a smelly belly!  Pastor Schalm will be leading class today via Zoom at 11:00 a.m.  All parents/Sunday School children interested in participating should contact Pastor Schalm by 10:45 a.m. (following our live stream Sunday Service) for information on joining.
OUR CONGREGATION'S BOOK BUDDY AND ADOPT-A-GRANDPARENT PROGRAMS will continue through June. If your child would like to participate, please contact Pastor Cheryl Schalm.
PASTOR SCHALM WOULD LIKE TO THANK EVERYONE who sent their "Red Hot" photos for inclusion in the all-church video.  This latest video collage can be viewed on the Rock Hard in Faith Facebook group following this morning's worship service.  Next week's video will honor graduates who, due to the pandemic, are foregoing many traditional graduation activities.  However, to add a little fun to the mix and have us guessing who is who, we are inviting all church members from whatever graduation year to share with us their commencement photos.  They will be posted along with those of our 2020 graduates in the upcoming video  For video collage inclusion, all photos should be texted to Pastor Schalm by  Thursday, June 4th.
OUR TUESDAY MORNING 'PARTY LINE' BIBLE STUDY GROUP, a group of fourteen led by Pastor Drutchas, continues to share in the gospel word about Jesus' post-resurrection ministry to his apostles and disciples.  This coming Tuesday, June 2, at 10:30 p.m., the study group will be joining in a conference call to read and discuss the portion of the Book of the Acts of the Apostles, Chapter 16, using the Bibles we have in our own households.  If you would like to join this group, please contact Pastor Drutchas at the church office (313-291-1221).
CHURCH MEMBERS AND FRIENDS INTERESTED IN PARTICIPATING IN A NEW BIBLE STUDY START-UP via telephone conferencing are encouraged to contact Pastor Geoff Drutchas.  Presently contemplated are a Men's Bible Study, as well as a couples study group with a cap on group size at 12 participants—the same number as Jesus' apostles.  You can notify Pastor Drutchas of your interest by calling the church office (313-291-1221).
HAVE YOUR ORDERED YOUR ST. PAUL LOGO T-SHIRT OR HOODIE?   Keeping it all simple, both clothing items are blue with white logos.  Order forms are available on our website under "What's Happening".  All purchased items will be distributed at the St. Paul Church picnic on July 26.  All proceeds above expenses support the Dorcas Society's retreat fund.
DO YOU NEED A MASK?  One of the best ways that we can protect one another from the spread of Covid-19 is through personal masking.  Along with regular hand-washing and social distancing of six feet, masking will continue to be important as our local community opens up to more daily activity.  Most home-sewn masks reduce the possibility of viral spread through coughing and sneezing by at least 60 per cent which provides a significant, even if not perfect foil, for the Covid-19 virus.  Every time we halt viral spread in its tracks it's a victory for public health and our mutual well-being.  Several St. Paul Church members have put their talents as seamstresses and seamsters to work for the benefit of others.  Both Patrick Ferguson and Sharon Leonard have made masks available for Pastor Geoff Drutchas to distribute.  Are you in need of a mask?  Please contact the church office to arrange a mask drop-off at your front door.
THROUGHOUT THE CORONAVIRUS OUTBREAK OUR MINISTRY TOGETHER CONTINUES.  Although Pastors Drutchas and Schalm and Parish Nurse Kathy Williams are not able to visit hospitals and nursing homes as we usually do because of precautionary lock-downs at all medical and rehab facilities, we are delivering masks and other items to households as needed on a front-porch, drop-off basis.  Day-by-day we also remain in touch with our congregation through Facebook, the church web site, and one-on-one telephone calls.  Please let your pastoral staff know by telephone, text, or email about any specials needs that have arisen for yourself or your family where your church family can be helpful.  Pastor Geoff continues at his church office every day and can be reached there on the church telephone line.  If he's on another call at that moment, he will return your call at his earlier opportunity.  Meanwhile, as part of our ministry together, you are also encouraged to reach out to fellow church members through personal phone calls and mailed cards.  It is important that we remind each other that we are not alone but part of true network and care-ring of faith.
PROVIDING 24/7 SERVICES TO HOMELESS MEN AND WOMEN DURING THE PANDEMIC, ChristNet needs your help in preparing  breakfasts, lunches, and snacks for 30+ ChristNet guests.  Individually wrapped breakfast, lunch, and snack items, including breakfast cereal boxes and bowls, muffins or pastries, puddings, juice boxes, and small cans of soda, are especially appreciated.   Also donations of liquid Tide are welcomed: guests launder their clothes on site using an available washer and dryer.  All donations can be dropped off at the rear of Fellowship Hall for delivery to the ChristNet center.  Please contact Pastor Drutchas at the church office (33-291-1221) to drop off items.
THE FISH & LOAVES PANTRY IS STILL IN NEED OF YOUNGER VOLUNTEERS who can help with client enrollment and food distribution, particularly on Mondays.  Due to the pandemic, all food is being individually packed for clients and distributed on a drive-thru basis only with all social distancing precautions taken.  Also, new client enrollment and appointment scheduling is by telephone only.  To volunteer, please contact the Fish & Loaves via web site or by calling 313-992-6284. For more information, you may also call Pastor Geoff Drutchas at the church office (313-291-1221).
CONDOLENCES AND PRAYERS ASKED FOR THE HAGEN AND WAGNER FAMILIES on the passing of Gertrude Hagen and Richard Wagner.  Sympathy cards for Gertrude Hagen may be sent to daughters Ida Black and April Clark and son Larry Hagen who are each listed in our church directory.  Cards in remembrance of Richard Wagner can be sent to Ada and Leah Wagner, also listed in the directory. Please keep both St. Paul families in your prayers for this coming week.
MAY WE ALSO KEEP IN PRAYER the following church members and friends: Frank Patterson, Morgan Schalm, Paula Block, Bettie Slusher, Shirley Koths, Shirlen Powell, Harold Fick, Doris Hilliker, Judy Nieman, John Smith, Loretta Kurtsel, Kirk Blanchard, Neil MacEachern, Sheryl Schwab, Kyle Hard, John Sharp, Bob Smarr, Doreen Thompson, and Kari Cappello (anticipating the arrival of a second child in June).
LET US FURTHER PRAY FOR THOSE PROVIDING EMERGENCY 'FRONTLINE' SERVICES as police officers, nurses, and EMS workers during the ongoing pandemic.  We want to especially remember church members and friends: Kim Arndt, Wendi Wioncek Ashby, Rick Barnosky, Jennifer Babin, Rhonda Wioncek Berndt, Dana Wioncek Barlage, Chelsea Eisenga, Josh Eisenga, James Hubert, Debbie Lyles, Amy McGahey, Ciera Mack, Marcie Magnuson, Sam Martin, Michelle Mellin, Brenda Murphy, Inez Kurtsel Ogonowski, Amber Ostrowski, Samantha Pedersen, Eric Poet, Trudy Clark Schiller, Rachel Tank, Emily Wangbickler Baggett, Jillian Wangbickler, and Sarah Wangbickler.
---