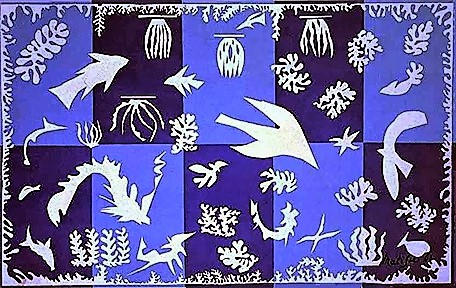 All God's Creation - A Cut-Out Collage – Henri Matisse
Order of Service
St. Paul United Church of Christ, Taylor
Fourth Sunday of Easter
May 3, 2020
PRLUDE
WELCOME TO FACEBOOK LIVE STREAMING
CALL TO WORSHIP/ PASSING OF THE PEACE
   Pastor: "Peace be with you."
   At-Home Congregation: "And also with you!"                 
OPENING PRAYER  Pastor Geoffrey Drutchas
ANNOUNCEMENTS
MORNING SCRIPTURE  Psalms 61:1-4; John 8:31-36
A CAPELLA ANTHEM  "Faith of Our Fathers and Mothers"
MESSAGE  "Prison Ministry?" Pastor Drutchas
PRAYERS FOR OUR CONGREGATION, COMMUNITY NATION AND WORLD
LORD'S PRAYER (debts, debtors)
BENEDICTION
---
"Faith of Our Fathers and Mothers"
Faith of our fathers, living still, in spite of dungeon, fire and sword,
Oh, how our hearts beat high with joy when-e'er we hear that glorious word!
Refrain (R): Faith of our fathers, holy faith, we will be true to you till death.
The martyrs bound in prison chains were still in heart and conscience free,
And bless'd would be their children's fate, if they like them, should live for thee! R
 Faith of our mothers, we will love, both friend and foe in all our strife,
And preach thee, too, as love knows how, by saving word and faithful life! R
---
MORNING TIDE ANNOUNCEMENTS
MAY 3, 2020
HAVE YOU CHECKED OUT THE ST. PAUL WEB SITE THIS WEEK?  Updates and other great features, including this morning Sunday's worship bulletin, are regularly added to keep you informed about what's happening for our congregation.  This past week one of our members turned to our St. Paul web site for prayers and scriptural meditations while she was waiting for her husband to be admitted to the hospital because of a medical emergency.  She was grateful for our ready-access website: it provided comfort and encouragement in her great time of need.  Our St. Paul Church web site with latest news and updates about our congregation's ongoing ministry, as well as other important resources, can keep us all better informed and grounded.  Check it out!
TECHNOLOGY IS GREAT BUT THERE CAN BE GLITCHES TOO—as everyone from big cable networks down to congregations like our own periodically discover anew.  Last week the start-up of our Sunday morning service was delayed by an unforeseeable laptop problem.  But our St. Paul tech-team—Michael Isaacs, Gary Peters, and Dan Case—was able to correct the problem and get us back on the air.  Thank you for your patience with the delayed broadcast.  Whatever happens, as we do our best to bring you the Sunday 10 a.m. worship, the full service after Facebook delivery is posted on the St. Paul web under "Weekly Sermons, Bulletins, and Audio Services," providing video and audio versions.  A printed copy of the day's sermon can also be downloaded to share with family and neighbors.  That same web site page also offers a big, behind-the-scenes reveal about how our tech team does what it does, complete with photos.
THE LATEST SUNDAY SCHOOL BLOG can be found on the stpaulucctaylor.org website under the Christian Education-Blog menu.  Today's lesson is about a mysterious voice and a man named Eli who helps to solve the mystery.  Pastor Schalm will be leading class today via Zoom at 1:00 p.m.  All parents/Sunday School children interested in participating should contact Pastor Schalm by noon for information on joining.
OUR CONGREGATION'S BOOK BUDDY program currently has 15 children participating.  This week's story speaks to the importance of working together and being kind.  If your child would like to participate please contact Pastor Cheryl Schalm.
TWENTY-SIX ST. PAUL CHILDREN/YOUTH/YOUNG ADULT HAVE NOW ADOPTED A GRANDPARENT (aka a wonderful St. Paul senior).  If you are interested in participating in this cross-generational program please contact Pastor Schalm.
PASTOR SCHALM WOULD LIKE TO THANK everyone who sent their "May Flowers" and Special Day/Event Celebration photos for inclusion in the all-church video.  This latest video collage can be viewed on the Rock Hard in Faith Facebook group following this morning's worship service.  Next week's video will be in honor of Mother's Day.  Church members are encouraged to send a video of their mother (living or deceased) to Pastor Schalm by Thursday, May 7th.
OUR TUESDAY MORNING 'PARTY LINE' BIBLE STUDY GROUP, a group of fourteen women led by Pastor Drutchas, continues to share in the gospel word about Jesus' post-resurrection ministry to his apostles and disciples.  This coming Tuesday, May 5, 10:30 p.m., the study group will be joining in a conferencing call via call-in telephoning to read and discuss the Apostle Peter's commission to "take care of my sheep" in the Gospel according to John, Chapter 21:15-25, as well as a summarizing account of Jesus' appearances and his ascension as found in Luke 24:36-52.  If you like to join this group, please contact Pastor Drutchas at the church office (313-291-1221).
CHURCH MEMBERS AND FRIENDS INTERESTED IN PARTICIPATING IN A NEW BIBLE STUDY START-UP via telephone conferencing are encouraged to contact Pastor Geoff Drutchas.  Presently contemplated are a Men's Bible Study, as well as a couples study group with a cap on group size at 12 participants—the same number as Jesus' apostles.  You can notify Pastor Drutchas of your interest by calling the church office (313-291-1221).
OUR ST. PAUL CHURCH COUNCIL HAS CONTINUED TO MEET at its usual scheduled time on the second Tuesday evening of each month, 7 p.m.  If there are concerns that you wish to share with the Church Council, please notify Council president Michele McNeely before Tuesday, May 5, when the Executive Committee, composed of Council officers, prepares the Council meeting agenda for the following week.
OUR CHURCH CABINET, bringing together representatives of all church organizations, will be joining in a tele-conferencing call on Tuesday evening, May 19, 7 p.m.  The purpose of the shared call is to update organizations about summer planning.  More information will be sent to all organizational representatives as the May 19 date approaches.
OUR CHURCH GROUNDS ARE LOOKING SPIFFIER FOR SPRING.  With a partial lifting of state-wide restrictions on outdoor activities, St. Paul Groundskeeper Harold Fick was able to mow our church green space and trim bushes this past week.  Out back and front, Harold has been able to maintain all requisite social distancing: it's just him, a tractor, the great outdoors, and God amid his creation.
THROUGHOUT THE CORONAVIRUS OUTBREAK OUR MINISTRY TOGETHER CONTINUES.  Although Pastors Drutchas and Schalm and Parish Nurse Kathy Williams are not able to visit hospitals and nursing homes as we usually do because of precautionary lock-downs at all medical and rehab facilities, we are delivering masks and other items to households as needed on a front-porch, drop-off basis.  Day-by-day we also remain in touch with our congregation through Facebook, the church web site, and one-on-one telephone calls.  Please let your pastoral staff know by telephone, text, or email about any specials needs that have arisen for yourself or your family where your church family can be helpful.  Pastor Geoff continues at his church office every day and can be reached there on the church telephone line.  If he's on another call at that moment, he will return your call at his earlier opportunity.  Meanwhile, as part of our ministry together. you are also encouraged to reach out to fellow church members through personal phone calls and mailed cards.  It is important that we remind each other that we are not alone but part of true network and care-ring of faith.
A POPULAR QUESTION AMONG CHURCH MEMBERS ACCUSTOMED TO SIMPLY ADDING THEIR SUNDAY MORNING OFFERING TO THE PLATE PASSED THROUGH THE PEWS: How do I make sure that St. Paul Church receives the tithes and offerings that I want to share?  In these complex times, the answer remains simple.  Either drop your check made out to St. Paul Church in the U.S. Mail or sign up for electronic giving following the straight-forward guide you'll find on the St. Paul Church web site.  Although postal delivery has somewhat slowed, everything sent still finds it way to its destination.  If you have any questions about donations, please call the church office, Monday through Friday.  As we maintain our church ministry in this difficult time for us all, all your prayers and financial support are appreciated.  At St. Paul we are simply encouraged to give and share as we are able. Thank you.
AS AN EXPRESSION OF OUR CHURCH'S PROPHETIC MINISTRY AND OUR HEART FOR OTHERS, no congregation in our Downriver communities has done more than our congregation to ensure emergency services in ordinary times and a safety net for all in need for such a time as this.  Both ChristNet and Fish & Loaves Community Food Pantry, which our congregation has been so instrumental in launching and sustaining, have continued to provide emergency services during the ongoing pandemic.  Due to church closures across the Downriver area, ChristNet has moved to a more ample school space rented from the Roman Catholic Archdiocese of Detroit with the support and assistance of Wayne Metro Community Action Agency and a federal grant.  ChristNet will continue to provide 24/7 service to the homeless right through the summer months.  Help is needed in providing breakfasts, lunches, and snacks for 30+ ChristNet guests.  Individually wrapped breakfast, lunch, and snack items, including breakfast cereal boxes and bowls, muffins or pastries, puddings and jellos, juice boxes, and small cans of soda, are especially appreciated.  All donations can be dropped off at the rear of Fellowship Hall for delivery to the ChristNet center.  Please contact Pastor Drutchas at the church office (33-291-1221) to drop off items.
THE FISH & LOAVES PANTRY IS STILL IN NEED OF YOUNGER VOLUNTEERS who can help with client enrollment and food distribution on Monday-Wednesday and Friday.  Due to the pandemic, all food is being individually packed for clients and distributed on a drive-thru basis only with all social distancing precautions taken.  Also, new client enrollment and appointment scheduling is by telephone only.  To volunteer, please contact the Fish & Loaves via web site or by calling 313-992-6284. For more information, you may also call Pastor Geoff Drutchas at the church office (313-291-1221).
FOUR ST. PAUL CHURCH MEMBERS DIAGNOSED WITH COVID-19 are now recovered or recovering.  A fifth church member in nursing home care continues to hold her own with more minor symptoms.  Other church members have tested negative for the coronavirus.  However, within our extended church family there has been Covid-19 related deaths for the son and nephew of St. Paul members, underscoring how serious and dangerous the virus can be.  As state-mandated restrictions loosen, it remains important to continue with masking, hand-washing, and appropriate social distancing as part of our mutual caring and commitment to each other's well-being.
THANKS AND KUDOS TO ST. PAUL CHURCH MEMBER PATRICK FERGUSON and Karen DePriest, daughter of Janet and Julius Enesey, who have donated home-sewn masks for distribution by Pastor Drutchas.  Patrick Ferguson who, along with his late wife Sharon, used to own a crafts store in Florida, has provided two dozen particularly colorful cloth masks, in some cases with fabric emblazoned with Red Wings, Detroit Tigers, U.S. Army, University of Michigan, and Michigan State logos.  A design for home-made masks has been posted on the St. Paul Church web site.  Also, St. Paul Sew 'n Sews coordinator Sharon Leonard has been developing other innovative designs for cloth masks and is glad to share her insights and experience with others.
MAY WE KEEP IN OUR PRAYERS the following church members and friends:  Gertrude Hagen (Imperial Rehab Center, Dearborn Heights), Bettie Slusher (St. Joseph Mercy Hospital, Ann Arbor), Betty Steinhauer, Jim Poet, Shirley Koths, Russell Walker, Randy Smart, Nancy Walker, Shirlen Powell, Harold Fick, Doris Hilliker, Murl and Judy Nieman, John Smith, Loretta Kurtsel, Shirley Drobil, Kirk Blanchard, Neil MacEachern, Bill McGahey, Sheryl Schwab, Kyle Hard, Helen St. Louis, Doreen Thompson, Ron Bolen, Dianne Sturgeon, Tracy Spears, and Ron Hinzman.
REMEMBER ALSO FOR PRAYER EXTENDED FAMILY MEMBERS: Bob Smarr, Lisa Collins, Darlene Spence, Jonathan Milatz, Talama Braba, and John Sharp.
LET US FURTHER PRAY FOR THOSE PROVIDING EMERGENCY 'FRONTLINE' SERVICES as police officers, nurses, and EMS workers during the ongoing pandemic.  We want to especially remember church members and friends: Kim Arndt, Wendi Wioncek Ashby, Rick Barnosky, Jennifer Babin, Rhonda Wioncek Berndt, Dana Wioncek Barlage, Chelsey Eisenga, Josh Eisenga, James Hubert, Debbie Lyles, Ciera Mack, Marcie Magnuson, Sam Martin, Michelle Mellin, Brenda Murphy, Inez Kurtsel Ogonowski, Amber Ostrowski, Samantha Pedersen, Eric Poet, Trudy Clark Schiller, Rachel Tank, Emily Wangbickler Baggett, Jillian Wangbickler, and Sarah Wangbickler.
SYMPATHIES AND CONDOLENCES GO OUT TODAY to Marguerite "June" Dolan on the passing of her brother Doyle Forth in California one week ago.