A LITURGY FOR HOME DEVOTIONS
 MAUNDY THURSDAY & GOOD FRIDAY
St. Paul United Church of Christ, Taylor
This Maundy Thursday and Good Friday (God's Friday), the need for 'social distancing' compels us to remain at home.  Yet in this time apart from each other we need not keep distant from God or from his son, Jesus, who shared a last supper with his apostles, prayed for us in the Garden of Gethsemane, and then suffered for our salvation the anguish and passion of the cross.  On Maundy Thursday evening or on Good Friday at noon, you are invited to pause for meditation and reflection at home, making use in part or whole of the praise and worship liturgy that follows.  You may want to make use all of the liturgy at once or one part of it on Maundy Thursday (Opening prayer and Apostles' Creed) and then resume and finish on Good Friday (all or selected 'Life of Christ' readings, followed by the Lord's Prayer).  Alternatively, this liturgy may inspire you to turn to other devotional readings that are faith-deepening and meaningful as we prepare for Easter.  Whatever your preference, may you feel God's presence and blessing as you draw closer to him in solemn thoughtfulness and prayer.
A PRAYER FOR MAUNDY THURSDAY & GOOD FRIDAY
 O God, in these sacred, hallowed hours of Maundy Thursday and Good Friday, we pause in reverent prayer to honor the final day that Jesus spent on earth--supping with his apostles, praying for us sinners, enduring torture from those who mocked him, and, finally, undergoing the passion and anguish of Calvary's cross.  Keep us mindful of Jesus' love and sacrifice for us and all that he sought to teach us in life, as well as impart to us by his death.  Through the grace of the Holy Spirit open our hearts and minds that we might follow his perfect example and draw ever closer to him in truly loving discipleship.  Amen.
APOSTLES' CREED
 I believe in God the Father Almighty, maker of heaven and earth, and in Jesus Christ his only Son our Lord, who was conceived by the Holy Ghost, born of the Virgin Mary, suffered under Pontius Pilate, was crucified, dead and buried.  He descended into hell; the third day he rose again from the dead; he ascended into heaven, and sitteth on the right hand of the God the Father Almighty.  From thence he shall come to judge the quick and the dead.  I believe in the Holy Christ, the holy catholic church, the communion of saints, the forgiveness of sins, and resurrection of the body, and the life everlasting, Amen.
'LIFE OF CHRIST' SCRIPTURE READINGS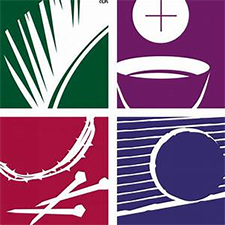 The Birth of Jesus: Luke 2:1-7, Matthew 2:1-2, 9b-11
The Boyhood of Jesus: Matthew 2:13-15, 19-23; Luke 2:41-52
His Ministry Begins: Luke 3:21-23; 4:14-15; Matthew 9:35-38
Jesus Heals: John 9:1-7; Matthew 15:21-28
Jesus' Last Night: Matthew 26:1-5, 14-30
The Way to Golgotha: Matthew 27:1-2, 27-31, 33-40
Christ Gave His Life for Us: Luke 23:39-43; Matthew 27:45-54
Jesus Entombed: Matthew 27:55-60
O God, we thank you for the gift of your son and your love for us revealed through every moment of his life even unto death on a cross.  We pray now as your son taught us to pray… "Our Father, who art in heaven, hallowed be thy name.  Thy kingdom come, thy will be done, on earth as it is in heaven.  Give us this day our daily bread and forgive our debts, as we forgive our debtors, and lead us not into temptation, but deliver us from evil.  For thine is the kingdom, the power, and the glory, for ever and ever. Amen."