Livestreamed and Sanctuary Worship
St. Paul United Church of Christ, Taylor, Michigan
March 14, 2021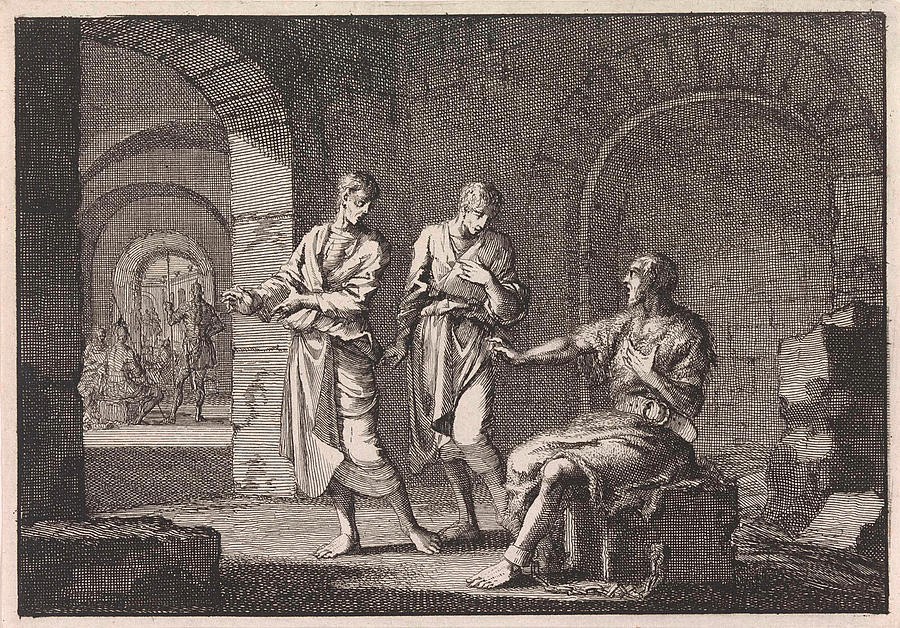 John the Baptist in Prison, Artists: Jan Luyken, Pieter Mortier
PRELUDE  "On Jordan's Bank the Baptist's Cry," Organist, Sally Sigman
WELCOME TO FACEBOOK LIVESTREAMING
CALL TO WORSHIP / PASSING OF THE PEACE
Pastor: The peace of Christ be with you.  Congregation: And also with you!
OPENING PRAYER  Reverend Dr. Geoffrey G. Drutchas
ANNOUNCEMENTS
ANTHEM "Come Thou Fount of Every Blessing" Tracy Hoffman, Music Director
MORNING SCRIPTURE  Isaiah 35:1-10; Matthew 11:2-15
TRIPLE AMEN
MESSAGE  "Looking Out for the Messiah," Pastor Drutchas
MORNING PRAYER / MEMORIAL PRAYER / LORD'S PRAYER (debts, debtors)
CLOSING ANTHEM "Because He Lives," Tracy Hoffman
BENEDICTION / POSTLUDE "God Be with You 'Til We Meet Again"
Because He Lives
God sent his son, they called him Jesus; he came to love, heal, and forgive;
He lived and died to buy my pardon, an empty grave is there to prove my Savior lives.
Refrain: Because he lives, I can face tomorrow; because he lives all fear is gone;
 because I know he holds the future, and life is worth the living just because he lives.
 How sweet to hold a new-born baby, and feel the pride and joy that gives;
 but greater still the calm assurance, this child can face uncertain days because he lives. R.
And then one day I'll cross the river; I'll fight life's final war with pain;
 and then as death gives way to victory, I'll see the lights of glory and I'll know he reigns.  R.
---
MORNING TIDE ANNOUNCEMENTS
St. Paul United Church of Christ, Taylor – March 14, 2021
THANK YOU FOR WORSHPING WITH US onsite or from home via Facebook.  Our livestreamed service can be viewed at later times on Facebook. 
THIS LENTEN SEASON OUR 'JERUSALEM WALK' CONTINUES with emailed devotionals offering scripture, prayers, and fitness advice to keep healthy and active in this time when we're more homebound than usual and not getting our usual exercise.  There will additionally be a Wednesday evening "Faith & Fitness" zoom series, 7- 8 p.m., based on the "Jerusalem Walk" devotionals.   It's a great way to connect, fellowship, and grow in faith with fellow St. Paul members throughout the six week Lenten season.  Watch for upcoming Lenten devotionals every Sunday and Wednesday.
'WALK IN HIS SHOES' SUNDAY SCHOOL MEETS THIS MORNING IN FELLOWSHIP HALL with masking and social distancing for safety. This morning Sunday School children again walk in the shoes of Jesus as they play games, witness a live drama on "The Parable of the Foolish Rich Man" and engage in hands-on activities to include making a piggy-bank. Today's lesson has also been posted to the St. Paul website Christian Education Blog.
YOUR HELP IS NEEDED FOR OUR DRIVE-THRU LENTEN FISH SUPPERS Drive-Thru on Fridays, March 19, and 26; and April 2.  Masks, gloves, and social distancing will be maintained for all of these activities to keep us safe.  Call the office or speak with First Vice President Jim Poet to volunteer.  
OUR 'ONE GREAT HOUR OF SHARING' UCC OFFERINGS are welcomed during March, supporting global mission through health, educational, and agricultural programs, plus disaster and refugee relief.  Gifts can be made via your March Tidings envelope or at www.stpaulucctaylor.org/giving. Just click the blue Online Giving button, scroll through "Donations" listings to UCC – One Great Hour of Sharing and enter your donation amount.  Thank you!
OUR YOUTH FELLOWSHIP & YOUNG ADULT MINISTRY GROUPS ARE EMBARKING ON A LENTEN 'HAPPINESS CHALLENGE' seeking to alter the joy level of a hundred people over the next 40 days.  We will intentionally put into practice the "love one another" commandments, taking extra time to pray for people, serve more, practice patience, and bring the best out in people.  Each participant is encouraged to keep a journal describing the encounters and what they did.  At the end of 40 days, we will evaluate how we and our little piece of the world are now different. It's not too late to partake!  Join the Happiness Challenge this week.
ROCK HARD IN FAITH YOUTH FELLOWSHIP AND OUR YOUNG ADULTS MINISTRY took part in the "2021" Thirty Hour Famine this past weekend.  In addition to self-reflection, the group volunteered at Cass Social Services, went on a shopping spree to benefit Fish & Loaves and gathered 6 feet apart to learn more about world hunger.  All interested in making a donation or making a pledge are asked to do so by March 28th.  All donations will be sent to World Vision on March 29th.  Please mark all checks "World Vision."
FELLOWSHIP OF CONCERN: Gary Peters, Judy Nieman, Bob Smarr, Peggy Tunesi, Shirley Gratrix, Glen Sigman, Norma Medrano-Kane, Dave Lange, Gerri Lyn King, Melissa Winter, John Caufield, Dan Newton, Bob Robinson, Lil Roscoe, Jeffrey Britt, Valencia Britt, Kim Beyar, John Smith, Rose Marie Laslo, Eleanor Rossi, Neil MacEachern, Margo Charette, Maria MacZink, Sheryl Schwab, Christie Smart, Shirley Havenstein, Bob Barley, Kyle Hard, Joseph Smith, Bill McGahey, Wayne Jones, Oren Forsyth, Carrie Hill, Sue Spears, Bert Thompson,  Loretta Kurtsel, Bob Wright, James Natzke, Michael DePugh, Carol Casmer.  Pulpit Rose honors the February 25th birth of Lula Pearl Blanchard, daughter of Kelsey Blanchard.  St. Paul grandparents: Anne and Kirk Blanchard.
YOUNG ADULT BIBLE STUDY MEETS THIS WEDNESDAY, March 17, 7 p.m. at Pastor Cheryl Schalm's house. All post-High School young adults are invited and encouraged to join. 
---