Third Sunday of Pentecost
June 6, 2021
St. Paul United Church of Christ,
 Taylor, Michigan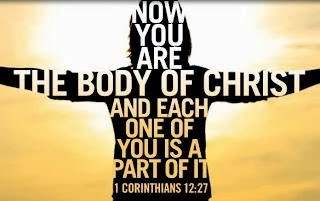 PRELUDE "Softly and Tenderly, Jesus is Calling"
Organist, Sally   Sigman
WELCOME TO FACEBOOK LIVESTREAMING
CALL TO WORSHIP / PASSING OF PEACE  - The peace of Christ be with you… And also with you!
OPENING PRAYER / TRIPLE AMEN  Reverend Dr. Geoffrey Drutchas
ANNOUNCEMENTS  Pastor Drutchas
MORNING PRAYER  (Fellowship of Concern – see back cover)
INTROIT FOR THE WORD  "Surely, the Presence of the Lord," Mark Ennis, Elder
MORNING SCRIPTURE  Mark 13:1-2; Matthew 18:18-20; Ephesians 2:19-22
ANTHEM "Shall We Gather at the River?" Mark Ennis, Elder
MESSAGE "We Are the Body of Christ," Pastor Drutchas
CONGREGATIONAL SINGING  "Standing on the Promises" (see back cover)

PRAYERS OF INVITATION, CONFESSSION & CONSECRATION FOR COMMUNION
  Almighty and most merciful Father, we have erred and strayed from your ways like lost sheep.    
  We have followed too much the devices and desires of our own hearts.  We have offended  
  against your holy laws.  We have left undone those things which ought to be done, and we  
  have done those  things which we ought not to have done.  But you, O Lord, are merciful. 
  Spare us, O God, as we confess our faults.  Restore us in our penitence according to your  
  promises declared unto humankind in Christ Jesus our Lord.  And grant, O most merciful God,
  for Jesus' sake, that we may hereafter live a godly, righteous, and sober life to the glory of your
  holy name.  Amen.   
AFFIRMATION OF UNITY IN CHRIST 
  One bread, one body, one Lord of all; one cup of blessing which we bless.
  And we, thou many, throughout the earth, we are one body in this one Lord! 
SACRAMENT OF COMMUNION Pastors Drutchas and Schalm
LORD'S PRAYER (debts, debtors) / DOXOLOGY - Congregation Standing
  Praise God from whom all blessings flow; praise him all creatures here below;
  Praise him above ye heavenly host; praise Father, Son, and Holy Ghost.  Amen.
BENEDICTION/ POSTLUDE  
---
ST PAUL MORNING TIDE ANNOUNCEMENTS – June 6, 2021
THANK YOU FOR WORSHPING WITH US onsite or via Facebook livestreamed Sunday, 10 a.m. Services are later posted on the St. Paul church web site under "Sermons, Bulletins, and Audio Services."  If worshiping indoors, please wait for ushers to dismiss you from your pews. However, weather permitting, we will worship outdoors under the tent with social distancing. Masks do not need to worn once you're seated, but please re-mask as you rise and circulate. Thanks!
AN 'OPEN COMMUNION' IS SHARED TODAY, welcoming all adult baptized men and women of faith who seek to walk more closely with Jesus Christ as Lord and Savior.  Bread and juice from home kitchens used by those following our service on Facebook will be consecrated along with communion 'kits' distributed to those present for onsite worship. Wherever we partake of the Communion elements may we be united in the loving spirit of Jesus Christ!
TOILETRIES AND PERSONAL HYGEINE ITEMS are needed for hospitalized and outpatient Veterans.  Items can be dropped off in the bin at the entrance to our outdoor tent or sanctuary.
SUNDAY SCHOOL RESUMES THIS MORNING in Fellowship Hall, 10 a.m. Sharing games, drama, and hands-on activities with their morning lesson, our children will continue to explore how Jesus is the ultimate and true 'super power,' decorating superpower capes to be worn at the upcoming June 13th Spring Program.
YOUNG ADULT BIBLE STUDY FOR ALL POST-HIGH SCHOOL GRADS MEETS WEDNESDAYS, 7 p.m. at Pastor Schalm's home, studying and discussing scripture on ways to confront chaos and anxiety.  Come join for discussion, fellowship and refreshments.  NO prior knowledge of scripture needed.  We all learn and grow together. 
TUESDAY MORNING BIBLE STUDY MEETS THIS COMING WEEK, June 8, under the outdoor tent, reading and studying Second Letter Corinthians. Lesson provided. All welcome.
YOUTH MISSION WEEK IS SET FOR JUNE 13-20, beginning with the Spring Youth Program at church.  Afterwards, we head to the Cinemark Theater for a movie in reserved group space. On Monday evening our youth prepare a meal for homeless ChristNet guests, following this up with mission outreach and devotional activities throughout the week.  On schedule for Saturday: a fun outing to Cedar Point. All youth must confirm participation.
GRADUATE NAMES NEEDED FOR OUR PRINTED ROSTER on Baccalaureate/Youth Sunday Service, June 13.  To add your graduate to the roster, please complete and return a biography form (available online or from Sunday morning usher) to the church office by Tuesday, June 8.
ST. PAUL IS HOSTING MEALS FOR CHRISTNET HOMELESS, June 13-19. Teams are needed to prepare meals for delivery to 'moteled' guests. Please volunteer with Pastor Geoff Drutchas.
ST. PAUL VACATION BIBLE SCHOOL UPCOMING JULY 21-25. Plan now for the return of in-house VBS. Watch future Morning Tide bulletins for more information.
CHANCEL FLOWER VASE HONORS 90th BIRTHDAY OF HELEN ST. LOUIS.  Please join in wishing her a happy birthday and healthy year ahead.    
FELLOWSHIP OF CONCERN: Tracy Hoffman, Kyle Hard, Joseph Cappello, Frank Wolfram, Diane Wickline, Beverly Goodell, Arlene Wolfram, John Caufield, Pam Foresta, Gary Peters, Bob Smarr, Brenda Tank, Kathy Williams, Jim Koths, Fred Block, Doreen Thompson, Maria MacZink, Shirley Robinson, Dave Lange, Linda Tank, Arnold Knofske, Sherrill Berndl, Wayne Jones, Eleanor Rossi, Shirley Gratrix, Sheryl Schwab, Rosemarie Laslo, Bob Barley, Don Mack, Glen Sigman, Neil MacEachern, Carol Wioncek, Christie Smart, Bill McGahey, Carrie Hill, Sue Spears, Tyler Staten, Bert Thompson, Beverly Jean Lloyd, Loretta Kurtsel, Bob Wright, Michael DePugh, Samantha Surre, Maggie Harikumar

Standing on the Promises
Standing on the promises of Christ, my king, through eternal ages
let his praises ring; glory in the highest, I will shout and sing,
standing on the promises of God.
Refrain: Standing, standing, standing on the promise of God my Savior;
standing, standing, I'm standing on the promises of God!
Standing on the promises that cannot fail, when the howling storms of doubt
and fear assail, by the living Word of God I shall prevail,
standing on the promises of God. (R)
Standing on the promises of Christ the Lord, bound to him eternally
by love's strong cord, overcoming daily with the Spirit's sword,
standing on the promises of God. (R)
Standing on the promises I cannot fail, listening every moment
to the spirit's call, resting in my Savior as my all in all,
standing on the promises of God. (R)
---