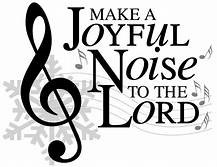 "Seven Songs of Faith"
Music Sunday
Fifth Sunday of Pentecost
St. Paul United Church of Christ
Taylor, Michigan
June 20, 2021
RINGING OF CHURCH BELL
INTROIT  "Seek Ye First," Chancel Choir – Tracy Hoffman, Music Director
CALL TO WORSHIP  Revelation 14: 2-3; 21:1-4
PRELUDE  "An Upward Look—A Medley," Organist, Sally Sigman
  He the Pearly Gates Will Open * When We All Get to Heaven * When the Roll is Called Up Yonder
WELCOME TO FACEBOOK LIVESTREAMING
OPENING PRAYER / PASSING OF THE PEACE
Pastor: The peace of Christ be with you.
   Congregation: And also with you!
SOLO RESPONSE "O Sing a New Song to God" (Psalm 96)
ANNOUNCEMENTS  Reverend Dr. Geoffrey G. Drutchas
DUET "Ivory Palaces," Barraclough - Mark and Sandy Ennis
RESPONSIVE READING
Leader:  Let us rejoice in the splendor of the King, clothed in majesty.
Congregation: Let all the Earth rejoice, let all the Earth rejoice!                                        Leader:  The Godhead, three in one—Father, Spirit, Son.
Congregation: The lion lies with the lamb; the lamb with the lion.
All: How great is our God!  Sing with me in your heart.  How great is our God!
ANTHEM  "Rise Again," Holm - Tracy Hoffman,Soloist
MORNING SCRIPTURE  Psalms 23, 33:2-3; Ephesians 5:19
ORGAN SOLO  "Angels Watching," O'Neill – Sally Sigman
MESSAGE  "The Psalms Were Songs," Pastor Drutchas
ANTHEM "One Song," Choplin - Chancel Choir
MORNING PRAYER / LORD'S PRAYER (debts, debtors)
CONGREGATIONAL SINGING  "I'm So Glad, Jesus Lifted Me"  (see back cover)
SPOKEN AND CHORAL BENEDICTION  "Go Now in Peace," Eilers - Chancel Choir
POSTLUDE  "O That Will Be Glory," Sally Sigman
---
ST.PAUL MORNING TIDE ANNOUNCEMENTS – June 20, 2021
THANK YOU FOR WORSHPING WITH US onsite or via Facebook livestreamed Sunday, 10 a.m. Services are later posted on the St. Paul church web site under "Sermons, Bulletins, and Audio Services."  In worshiping indoors, please continue to mask and at the service's close wait for ushers to dismiss you from your pew.  Next week, weather permitting, we will return to worship outdoors under the tent with social distancing but with masking optional.  Our congregation's goal is to keep everyone healthy and safe.  Thanks!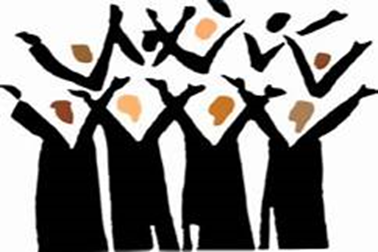 THIS MORNING IS 'MUSIC SUNDAY' with our Chancel Choir performing for the first time since the onset of the COVID pandemic in March 2020.  Both the CDC and State of Michigan health authorities have indicated that choirs may now gather safely if vaccinated.  Our participating worship leaders and choir members are vaccinated.  We hope that the St. Paul congregation will enjoy the joy of our choir's reunion as they offer 'Seven Songs of Faith' and more!
OUR CONGREGATION CELEBRATES FATHER'S DAY THIS MORNING with 'Donuts for Dad.'
Dads are invited to enjoy that special donut reserved for them at the coffee station set up on the back patio outside the West Room.  Coffee and donuts are also available for the rest of the congregation.  Bring a folding chair to enjoy a breeze under the tent or on the green. 
SUNDAY SCHOOL MEETS THIS MORNING in our air-conditioned upstairs classroom, 10 a.m., sharing games, drama, and hands-on activities with their morning lesson.
YOUNG ADULT BIBLE STUDY FOR ALL POST-HIGH SCHOOL GRADS MEETS WEDNESDAYS, 7 p.m. at Pastor Schalm's home, studying and discussing scripture on ways to confront chaos and anxiety.  Come join for discussion, fellowship and refreshments.  NO prior knowledge of scripture needed.  We all learn and grow together.
TUESDAY MORNING BIBLE STUDY MEETS THIS COMING WEEK, June 23, 10:30-12 noon, under the outdoor tent, reading and studying Second Letter Corinthians. Lesson provided-all welcome.
THE SEMI-ANNUAL MEETING OF THE ST. PAUL CONGREGATION will be held on the second Sunday of next month, July 11, 10 a.m.
ST. PAUL VACATION BIBLE SCHOOL UPCOMING JULY 21-25. Plan now for the return of in-house VBS. Watch future Morning Tide bulletins for more information.   
TOILETRIES AND PERSONAL HYGEINE ITEMS are needed for hospitalized and outpatient Veterans.  Items can be dropped off in the bin at the entrance to our outdoor tent or sanctuary.
YOUTH MISSION WEEK FINISHED with our youth preparing three nights of ChristNet meals and performing mission outreach locally at Cass Community Services in Detroit.  In their dedication to Christian service our youth offer a shining example for us all.  Thank you, St. Paul youth!  Thanks also to Pastor Cheryl Schalm and her outstanding leadership throughout this past week.
YOUTH AND ADULT MISSION TEAMS provided meals for homeless ChristNet guests throughout this past week.  105 kitchen-cooked dinners were catered by St. Paul members and delivered each night at 6 p.m.  All of our volunteers, young and older alike, served as our congregation's 'ambassadors for Christ' (2 Corinthians 5:20).
MORE THAN A HALF-DOZEN PARTICIPANTS completed CPR training conducted this past week in Fellowship Hall by Parish Nurse Kathy Williams.  Thank you, Kathy for your leadership in imparting this life-saving training.
ST. PAUL'S EXERCISE CLASS BEGINS on Wednesday, June 30, 10:30 a.m., outdoors, weather permitting. For more information: Parish Nurse Kathy Williams
THE ST. PAUL CHURCH OFFICE IS NOW OPEN on Tuesdays, Wednesdays, and Thursdays, 11:30 a.m.-1 p.m.  Drop-offs and deliveries can also be made on other days by advance call and arrangement.  However, the church office will be closed Monday, July 5th, due to the national holiday.
FELLOWSHIP OF CONCERN: Sue Spears, Arlene Wolfram, Frank Wolfram, Kyle Hard, Glen Sigman, Russell Walker, Nancy Raab, Joseph Cappello, Shirley Drobil, Diane Wickline, Beverly Goodell, Bob Smarr, Brenda Tank, Kathy Williams, Doreen Thompson, Don Mack, Maria MacZink, Shirley Robinson, Dave Lange, Linda Tank, Arnold Knofske, Wayne Jones, Eleanor Rossi, Shirley Gratrix, Sheryl Schwab, Neil MacEachern, Bill McGahey, Carrie Hill, Tyler Staten, Bert Thompson, Loretta Kurtsel.  Condolences: Family of late Alfretta Linnert, who passed away Thursday, June 17th.  Happy Birthdays: Jack Burchard and Harold Foley.
I'm So Glad, Jesus Lifted Me
I'm so glad, Jesus lifted me, I'm so glad, Jesus lifted me,
I'm so glad, Jesus lifted me, singing glory, hallelujah! Jesus lifted me.
Satan had me bound, Jesus lifted me, Satan had me bound, Jesus lifted me,
Satan had me bound, Jesus lifted, singing glory, hallelujah!  Jesus lifted me.
When I was in trouble, Jesus lifted me, when I was in trouble, Jesus lifted me,
When I was in trouble, Jesus lifted me, Jesus lifted me, singing glory hallelujah! Jesus lifted me!
---