Seventh Sunday of Pentecost
St. Paul United Church of Christ
Taylor, Michigan – July 4, 2021
PRELUDE "My Country 'Tis of Thee,"
Guest Keyboardist, Mary Manier
WELCOME TO FACEBOOK LIVESTREAMING
CALL TO WORSHIP / PASSING OF PEACE
The peace of Christ be with you… And also with you!
OPENING PRAYER / TRIPLE AMEN  Reverend Dr. Geoffrey Drutchas
ANNOUNCEMENTS  / A SALUTE TO OUR FLAGS
CONGREGATIONAL SINGING  "Mine Eyes Have Seen the Glory"
A RECITAL OF THE ISRAEL'S HOLY COVENANT (Ten Commandments)
A PRAYER FOR OUR COMMUNITY, STATE, AND NATION
COGREGATIONAL SINGING  "God Bless America"
MORNING SCRIPTURE Luke 2:22-35; 1 Peter 2:9-10
ANTHEM  "O God of Every Nation," Eileen Vernor Drutchas
MESSAGE  "God First," Pastor Drutchas
CONGREGATIONAL SINGING  "O Beautiful for Spacious Skies"
PRAYERS OF INVITATION, CONFESSSION & CONSECRATION FOR COMMUNION
Almighty and most merciful Father, we have erred and strayed from your ways like lost sheep. We have followed too much the devices and desires of our own hearts.  We have offended against your holy laws.  We have left undone those things which ought to be done, and we have done those things which we ought not to have done.  But you, O Lord, are merciful.  Spare us, O God, as we confess our faults.  Restore us in our penitence according to your promises declared unto humankind in Christ Jesus our Lord.  And grant, O most merciful God, for Jesus' sake, that we may hereafter live a godly, righteous, and sober life to the glory of your holy name.  Amen.    
AFFIRMATION OF UNITY IN CHRIST
One bread, one body, one Lord of all; one cup of blessing which we bless.
And we, thou many, throughout the earth, we are one body in this one Lord! 
SACRAMENT OF COMMUNION Pastors Drutchas and Schalm
LORD'S PRAYER (debts, debtors) / DOXOLOGY - Congregation Standing 
  Praise God from whom all blessings flow; praise him all creatures here below;
  Praise him above ye heavenly host; praise Father, Son, and Holy Ghost.  Amen.
BENEDICTION/ POSTLUDE "In Christ There is No East or West"

MINE EYES HAVE SEEN THE GLORY
Mine eyes have seen the glory of the coming of the Lord;
He is trampling out the vintage where the grapes of wrath are stored;
He hath loosed the fateful lightning of his terrible swift sword;
His truth is marching on. (R)
Refrain:  Glory! Glory! Hallelujah!  Glory! Glory! Hallelujah!
Glory! Glory! Hallelujah!  His truth is marching on.
I have seen him in the watch-fires of a hundred circling camps;
They have builded him an altar in the evening dews and damps;
I can read his righteous sentence by the dim and flaring lamps,
His day is marching on. (R)
He has sounded forth the trumpet that shall never call retreat;
He is sifting out the hearts of men before his judgment seat;
O be swift, my soul, to answer him; be jubilant, my feet!
Our God is marching on. (R)
In the beauty of the lilies Christ was born across the sea,
With a glory in his bosom that transfigure you and me;
As he died to make men holy, let us die to make men free!
While God is marching on. (R)

GOD BLESS AMERICA!
God bless America, land that I love, stand beside her and guide her,
through the night with the light from above.
From the mountains, to the prairies, to the oceans white with foam,
God bless America, my home, sweet home;
God bless America, my home sweet home!
O BEAUTIFUL FOR SPACIOUS SKIES
O beautiful for spacious skies, for amber waves of grain,
for purple mountains majesties above the fruited plain!
America! America! God shed full grace on thee,
and crown thy good with servanthood from sea to shining sea.
O beautiful for heroes proved in liberating strife,
who more than self their country loved, and mercy more than life!
America!  America! May God thy gold refine,
till all success be nobleness and every gain divine.
O beautiful for patriot dream that sees beyond the years,
thine alabaster cities gleam, undimmed by human fears!
America1 America! God mend thine every flaw,
confirm thy soul in self-control, thy liberty in law.
---
ST.PAUL MORNING TIDE ANNOUNCEMENTS – July 04, 2021 

THANK YOU FOR WORSHPING WITH US onsite or via Facebook livestreamed Sunday, 10 a.m. Services are later posted on the St. Paul church web site under "Sermons, Bulletins, and Audio Services."  In worshiping indoors, please continue to mask if not vaccinated and at the service's close wait for ushers to dismiss you from your pew.  Weather permitting, we worship outdoors under the tent with social distancing but with masking optional.  Our congregation's goal is to keep everyone healthy and safe.  Thanks! 
THIS MORNING WE SHARE IN THE COMMUNION.  At St. Paul Church we observe an "open" sacrament, welcoming all adult baptized Christians, who are one with us in the household of God.  Thus, membership in this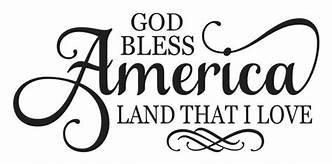 congregation is not required to partake of the bread and cup.  What is asked of all of us is that we commit ourselves through sharing in this sacred meal to walk more closely and faithfully with Jesus Christ as Lord and Savior.  Those worshiping with us at home are invited to make use of bread and juice from their own kitchens which will be consecrated and blessed through communion prayer. 
A COFFEE HOUR IMMEDIATELY FOLLOWS THIS THIS MORNING'S SERVICE.  Coffee, donuts, and other refreshments are served from the coffee station set up on the back patio outside the West Room.  Enjoy coffee and conversation this morning with your fellow worshippers.
SUMMER SUNDAY SCHOOL MEETS THIS MORNING in our air-conditioned upstairs classroom, 10 a.m., sharing games, drama, and hands-on activities with their morning lesson.
YOUNG ADULT BIBLE STUDY FOR ALL POST-HIGH SCHOOL GRADS MEETS WEDNESDAYS, 7 p.m. at Pastor Schalm's home, studying and discussing scripture on ways to confront chaos and anxiety.  Come join for discussion, fellowship and refreshments.  No prior knowledge of scripture needed.  We all learn and grow together.
TUESDAY MORNING BIBLE STUDY MEETS THIS COMING WEEK, July 6, 10:30-12 noon, under the outdoor tent, reading and studying Second Letter Corinthians. Lesson provided-all welcome.
THE SEMI-ANNUAL MEETING OF THE ST. PAUL CONGREGATION will be held next Sunday, July 11, immediately after the 10 a.m. worship service.
ST. PAUL VACATION BIBLE SCHOOL UPCOMING JULY 19-22, 6:30-8:30 p.m.. Plan now for the return of in-house VBS. Watch future Morning Tide bulletins for more information.   
TOILETRIES AND PERSONAL HYGEINE ITEMS are needed for hospitalized and outpatient Veterans.  Items can be dropped off in the bin at the entrance to our outdoor tent or sanctuary.
USHERS NEEDED FOR SUNDAY MORNING SERVICES.  To volunteer, speak with Deacons Jim Nault, Terri Staffeld, or Jernnifer Ruffner or call the church office (313-291-1221).
CALLNG FOR VOLUNTEERS FOR CPR TRAINING to help ensure the well-being of our congregation's members.  A class will be scheduled in early August. Contact Parish Nurse Kathy Williams for this life-saving training.
ST. PAUL'S EXERCISE CLASS CONTINUES on Wednesday, July 7, 10:30 a.m., outdoors, weather permitting. For more information: Parish Nurse Kathy Williams
ST. PAUL CHURCH OFFICE IS NOW OPEN on Monday through Friday, 9:30 a.m.-2 p.m. Drop-offs and deliveries can also be made on other days by advance call and arrangement. However, the church office will be closed Monday, July 5th.
FELLOWSHIP OF CONCERN: Arnold Knofske, John Caufield, Nancy Walker, Shelly Wilson, Sue Spears, Arlene Felske, Kyle Hard, Glen Sigman, Russell Walker, Jim Fraser, Shirley Drobil, Diane Wickline, Bob Smarr, Brenda Tank, Kathy Williams, Doreen Thompson, Don Mack, Maria MacZink, Shirley Robinson, Dave Lange, Linda Tank, Wayne Jones, Eleanor Rossi, Sheryl Schwab, Neil MacEachern, Carrie Hill, Tyler Staten, Joe Hill, Bert Thompson, Loretta Kurtsel, Eric Hagen.
A Prayer for Our Nation
Gracious God,
As the pandemic recedes and more customary life revives across America,
help us to look ahead hopefully and to build constructively
a new future for our community, state, and nation.
Mindful of the recent sorrows and struggles for many,
lend us patience and give us a heart of compassion and understanding
for those who are not in step with us and may seem to lag behind
or move more slowly than we do.
On the occasion of our national holiday,
commemorating the birth of this country we love and cherish,
renew us in a devotion to your purposes that we might emerge from this time
a better, more civil, faithful, and righteous people.
In the name of Jesus,
 Amen.
---