Order Of Service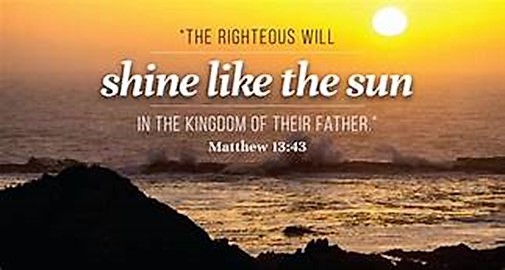 Ninth Sunday of Pentecost
Livestreamed and Outdoor Worship
St. Paul United Church of Christ, Taylor, Michigan
July 26, 2020
PRELUDE  Organist Sally Sigman
WELCOME TO FACEBOOK LIVESTREAMING
CALL TO WORSHIP / PASSING OF THE PEACE  The peace of Christ be with you… And also with you!
OPENING PRAYER  Reverend Dr. Geoffrey Drutchas
ANNOUNCEMENTS
OPENING OF THE SEMI-ANNUAL MEETING  Michele McNeely, President
ANTHEM  "I Love To Tell the Story" Tracy Hoffman, Music Director, and Tricia Nault
APOSTLES' CREED 
I believe in God the Father Almighty, maker of heaven and earth, and in Jesus Christ his only Son our Lord, who was conceived by the Holy Ghost, born of the Virgin Mary, suffered under Pontius Pilate, was crucified, dead and buried.  He descended into hell; the third day he rose again from the dead; he ascended into heaven, and sitteth on the right hand of God the Father Almighty. From thence he shall come to judge the quick and the dead.  I believe in the Holy Ghost, the holy catholic church, the communion of saints, and the forgiveness of sins, the resurrection of the body, and the life everlasting.  Amen.
MORNING SCRIPTURE  Matthew 23:20-28; 10:26
DOXOLOGY
Praise God from whom all blessings flow; praise Him all creatures here below.
Praise Him above ye heavenly host; praise Father, Son, and Holy Ghost!  Amen.  
MESSAGE  "True Colors," Pastor Drutchas
PRAYER FOR HEALING/ LORD'S PRAYER (debts, debtors)
SONG OF ASSURANCE  "There's Something About that Name," Tracy Hoffman
BENEDICTION / POSTLUDE/ RE-OPENING SEMI-ANNUAL MEETING

I Love To Tell the Story
I love to tell the story of unseen things above, of Jesus and his glory, of Jesus and his love.  I love to tell the story, for some have never heard the message of salvation from God's own Holy Word.
R: I love to tell the story, 'twill be my theme in glory, to tell the old, old story of Jesus and his love!
I love to tell the story; 'tis pleasant to repeat what seems each time I tell it more wonderfully sweet.  I love to tell the story, for some have never heard the message of salvation from God's own Holy Word. R.
I love to tell the story, for those who know it best seem hungering and thirsting to hear it like the rest.  And when in scenes of glory, I sing the old, old song, 'twill be the old, old story that I have loved so long.  R.
---
Morning Tide Announcements
WELCOME TO CONTINUING SANCTUARY SERVICES!  As Facebook livestreamed services continue, so do on-site services—whether in the sanctuary or outdoors.  However, for everyone's safety we maintain all health-safe precautions, including masking, social distancing, and ushering.
OUR CONGREGATION'S SEMI-ANNUAL MEETING will be held outdoors on this Sunday morning, weather-permitting.   After its opening and roll call near the start of worship, the meeting will be suspended until after worship finishes.  The agenda is brief but will include a review of current church programs and finances, plus a vote on bylaw changes presented at the annual meeting in January 2020.  All members are encouraged to participate and vote.  In case of rain and necessary cancellation, the semi-annual meeting will be held on Sunday, September 20.
OUR TAILGATE PICNIC immediately follows our morning worship and semi-annual meeting.  DJ Russ Walker will be providing music for our picnic event.  As church members and friends enjoy a picnic lunch brought from home around their tailgates, you are asked to maintain safe physical distancing, as well as masking where safe six-foot distancing is not possible.  We want everyone to have a healthy picnic as we socialize and fellowship together.  Ice cream treats—all individually wrapped—will be provided.  If you have any questions about tailgate picnic parking or health precautions, please speak with one of the St. Paul Council members on hand that morning or call the church office (313-291-1221) in advance.
THE COMMUNION SACRAMENT will be offered next Sunday during 10 a.m. worship.  Church members have three options: (1) sanctuary communion, using pre-wrapped wafer and cup, distributed upon arrival; (2) parking lot communion with elements distributed by the elders to individual cars, following the service via Facebook or radio (FM 105.5); or (3) home communion with bread and juice from our own kitchens.  All elements will be consecrated by pastoral prayer in worship.
OUR TUESDAY MORNING 'PARTY LINE' BIBLE STUDY GROUP will be meeting at church this week at 10:30 a.m., reading and discussing the Book of Acts of the Apostles, Chapter 23.  If you would like to join this group, please contact Pastor Drutchas at the church office (313-291-1221).
DUE TO TODAY'S TAILGATE PICNIC there will be no zoomed Sunday School lesson this morning.  However, next week, lessons will resume.  Stay tuned!
VIRTUAL VBS - In order to allow for more participation, "Breaking Free," the 2020 VBS program has been rescheduled for the week of July 27th – July 30th.  If you are interested in enrolling your child/ren please contact Pastor Schalm by July 22nd.
PASTOR SCHALM WOULD LIKE TO THANK everyone who has sent pictures for inclusion in our weekly themed all-church videos.  While we are unable to hold our traditional church picnic and VBS program, we can enjoy and share recent memories of both. 
YOUNG ADULT BIBLE STUDY MEETS on Wednesday, 7 p.m. at Pastor Schalm's home.  All post high-schoolers are welcome and encouraged to join
PLEASE PRAY for church members and friends Elaine Cowper, Ken Kaszubowski, Sue Spears, Tracy Spears, Kyle Hard, Glen Sigman, Marcie Bolen, Marion Bolen, Diana Wickline,  Darlene Babin, Ann Schmoekel, Bettie Slusher, Tom Williams,  Shirlen Powell, Loretta Kurtsel, Neil MacEachern, Judy Nieman, Morgan Schalm, Harold Fick,  Sheryl Schwab, Bob Smarr, Doreen Thompson, Cassidy (Wangbickler) Congelierre, Darlene Wangbickler, Carol Hoffman, Toni Oliver, and Charlie Markey.
CONDOLENCES TO LUCINDA CHAVEZ on the sudden passing of her father, Leon Hawkins, in Paducah, Kentucky, and to GINA AND DANIEL HRIBIK on the passing of her step-father, John Sharp, who has been included in our congregation's prayers over many weeks.
LET'S PRAY FOR THOSE PROVIDING EMERGENCY 'FRONTLINE' SERVICES as police officers, nurses, physicians, medical staff, EMS workers, and firemen during the ongoing pandemic.  We want to especially remember church members and friends: Kim Arndt, Wendi Wioncek Ashby, Rick Barnosky, Jennifer Babin, Rhonda Wioncek Berndt, Dana Wioncek Barlage, Chelsey Eisenga, Josh Eisenga, James Hubert, Debbie Lyles, Amy McGahey, Ciera Mack, Marcie Magnuson, Sam Martin, Michelle Mellin, Brenda Murphy, Inez Kurtsel Ogonowski, Amber Ostrowski, Rebecca Ostrowski, Samantha Pedersen, Eric Poet, Trudy Clark Schiller, Rachel Tank, Emily Wangbickler Baggett, Jillian Wangbickler, and Sarah Wangbickler.
---