Livestreamed and Sanctuary Worship with Annual Meeting
St. Paul United Church of Christ, Taylor, Michigan
January 16, 2022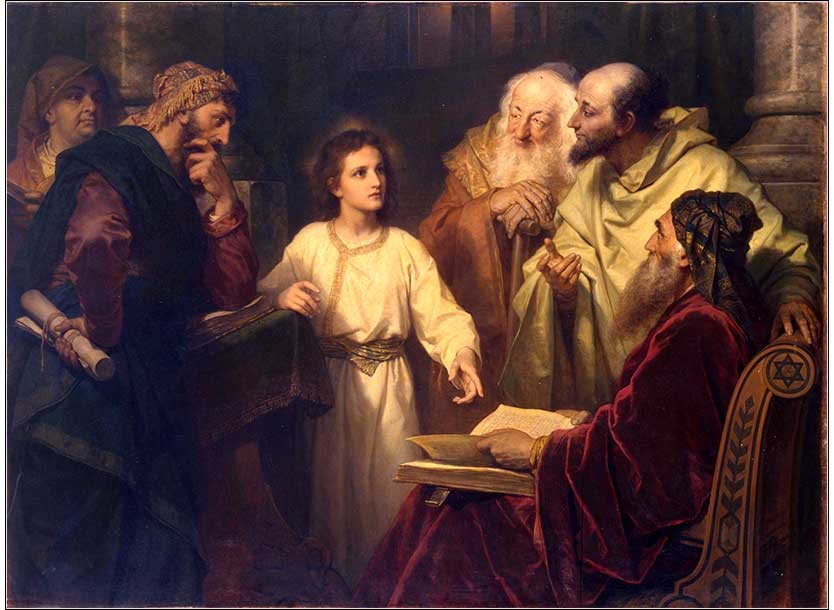 Jesus in the Temple – Artist: Heinrich Hofman, c. 1881
PRELUDE  "The Church's One Foundation," Organist, Sally Sigman
WELCOME / RINGING OF CHURCH BELL
INTROIT "There's a Sweet, Sweet Spirit in This Place," Chancel Choir
OPENING PRAYER  Reverend Dr. Geoffrey G. Drutchas
PASSING OF THE PEACE
Pastor: The peace of Christ be with you. / Congregation: And also with you!
ANNOUNCEMENTS
OPENING OF ANNUAL MEETING  President Tim Ruffner
*HYMN No. 274 "I Love Your Church, O God"
TEMPLE MOMENTS Luke 2:21-40
ANTHEM "One Song," Chancel Choir, Tracy Hoffman, Music Director
TEMPLE MOMENTS  Luke 2:41-52
*DOXOLOGY
Praise God from whom all blessings flow; praise Him all creatures here below.
Praise Him above ye heavenly host; praise Father, Son, and Holy Ghost.  Amen.
MESSAGE  "The Star Still Shines!" Pastor Drutchas
MORNING PRAYER / LORD'S PRAYER (debts, debtors)
*HYMN No. 458 "Ours the Journey," (Verses 1,2,4)
BENEDICTION / REOPENING OF ANNUAL MEETING
---
ST. PAUL MORNING TIDE ANNOUNCEMENTS – January 16, 2022
WELCOME TO ALL SHARING TODAY'S SERVICE IN OUR SANCTUARY OR THROUGH FACEBOOK LIVESTREAMING.  Our livestreamed 10 a.m. service can be viewed on Facebook at other times as well.  The recorded video is posted on our church website by Sunday afternoon along with an Order of Service, Morning Tide Announcements and the pastor's message.
TODAY'S SERVICE COINCIDES WITH OUR CONGREGATION'S ANNUAL MEETING.  Please add your name to the attendance roster in the narthex if you had not already done so.  For all voting members ushers have copies of the annual report, including today's agenda and the 2022 unified budget proposal.  The meeting will be convened at the start of today's worship and then resume at the service's end.  Your presence and participation are essential and appreciated!
OUR SUNDAY SCHOOL TOPIC this morning is "Puppy Power versus God's Power."  Through song, skit, and story, the children will be learning about God's mighty strength and His eternal love for them.  Regardless of vaccination status, all children and adults are asked to mask up in our upstairs classrooms.
IN LIEU OF THE WINTER WONDERLAND FAMILY FUN NIGHT, scheduled for Friday, January 28th, the Sunday School will be holding a Winter Blast Party during the Sunday School hour, January 30.  During the hour, children will decorate cookies, enjoy Smores, and make a winter craft to take home.  Children are invited to wear their favorite winter attire for a winter picture next to the gigantic snowman.  All children must wear a mask and will have their own personal supply of items needed for all activities.
A SOUP, BREAD, AND COOKIE SALE IS COMING. Hosted by St.  Paul's Rock Hard in Faith Youth Fellowship, this important youth group fundraiser takes the place of past years' Superbowl Sub sales.  To order your pint of homemade chicken noodle or broccoli soup, a ½ dozen homemade rolls, and ½ dozen cookies contact Pastor Schalm by February 6th (734) 255-0935 or cschalm@stpaulucctaylor.org.  All orders will be available for pick-up or delivery on February 13th.  Soup: $6.00; Rolls: $4.00; Cookies: $3.00.
DUE TO THE COVID SURGE that is swamping local hospitals, our congregation will be joining other churches asking members to mask during sanctuary worship services where social distancing is more difficult to maintain.  The masking request will continue through February 6 with a monthly review by the St. Paul Safety and Security team and Church Council.  The goal is to keep everyone safe and well during the Christmas and Epiphany seasons.  No masking is necessary for church activities where children are not present and social distancing is possible.  Your support and cooperation are appreciated.  Disposable masks are available from the deacons if you do not remember to bring one.
THERE IS NO FELLOWSHIP HOUR TODAY. Fellowship period resumes next Sunday, January 23. All are welcome!
THE YOUNG ADULT BIBLE STUDY meets tomorrow, January 17, 7 p.m. at Pastor Schalm's home.  While all current Bible Study members are vaccinated, the group masks up for everyone's safety and well-being. All post-High School young adults are welcome and encouraged to join.
TUESDAY MORNING BIBLE STUDY continues telephonically, Tuesday, January 18, 10:30 – 12 noon.  All welcome to call in.  Please speak with Pastor Geoff Drutchas for call-in information.
ST. PAUL'S EXERCISE CLASS meets Wednesday, January 19, 10:30 a.m. in the West Room.
For more information, please contact the church office.
ANNUAL SCRAPBOOK CROP is rescheduled for September 10, 2022, 9 a.m. – 7 p.m.  Please mark your calendars now for the new date.  The cost is $40. This includes your cropping space, three meals, as well as snacks and beverages all day. There will be venders, make and takes, demos, and raffles. Even if you do not want to scrapbook, there will be something for everyone as you shop with our venders. If you are a vender, or know of a vender, and they might be interested, please let me know. We will be needing raffle and door prizes, as well as people to help that day. This is a big fundraiser for BOF and the Christian Education Ministries. For more information, please contact Debbie Case (debbiescase@aol.com).
FELLOWSHIP OF CONCERN: Dan Case, Brydon Stull, Lisa Childress, Lois Rice, Anthony Staten, Gunter Berndl, Diane Sturgeon, Howard Wilson, Beverly Sitz, Marion Bolen, Joseph Smith, James Block, Vicki Simon, Bill Stears, Glen Sigman, Norman and Judy Kirsch, Hayden Forsyth, Wayne Jones, Frankie Patterson, Grace Wangbickler, Jeff and Maria MacZink, Margo Charette, Mark Krause, Barb Gish, Bob Robinson, Jerry Rossi, Jeff Natzke, Harold Fick, Laverne Roe, Dave Kulhanek, Clifford Board, John Kovach, Loretta Kurtsel, Philip and Connie Linne Alberts, Bruce Vernor, Steve Matney, Sue Spears, Carrie Hill, Neil McEachern, Bert Thompson, Kristin Strawsine, Kyle Thompson Family, Earl Shutt, Richard Sherman, Jr., Tammi Sherman, Jeff Kasher, Ryan Cox, Yvonne Koster, Cody Van Hulle, Robert Gaither, Debbie Smitt, Dale Rose, Courtney Daoust, Ronald and Myrna Matthews, Jessica O'Choa, Kim Chichowicz,  Sandy Newton, and Debra Stavros.
---