Plz Fast Forward through the first 3 minutes for audio to be heard 🙂
Second Sunday of Christmas
St. Paul United Church of Christ, Taylor, Michigan
Sanctuary and Livestreamed Worship – January 3, 2021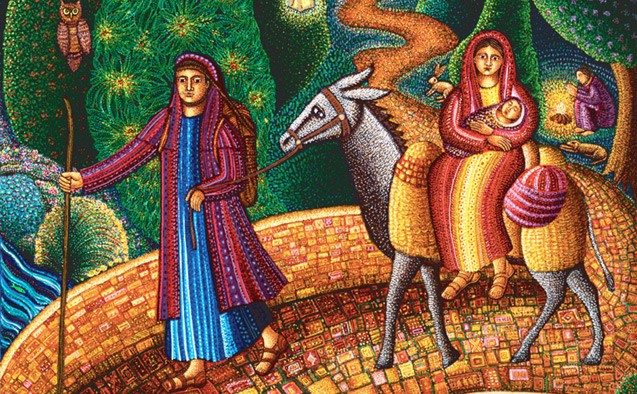 PRELUDE  "'Twas in the Moon of Wintertime," Organist, Sally Sigman
WELCOME TO FACEBOOK LIVESTREAMING / RINGING OF THE CHURCH BELL
CALL TO WORSHIP / INVOCATION/ PASSING OF THE PEACE
ANTHEM "What Child Is This," Tracy Hoffman, Music Director
ANNOUNCEMENTS  Reverend Dr. Geoffrey G. Drutchas
FIRST LESSON  "The Wise Men Come," Matthew 2:1-12
ANTHEM  "We Three Kings," Tracy Hoffman and Pastor Drutchas
SECOND LESSON  Matthew 2:13-23, "The Flight Into Egypt"
CHIME RESPONSE  "I Wonder as I Wander"
MESSAGE  "Flight--and Fight," Pastor Drutchas
MORNING PRAYER / MEMORIAL PRAYER/ LORD'S PRAYER (debts, debtors)
ANTHEM "As With Gladness," Tracy Hoffman
BENEDICTION/ POSTLUDE
AS WITH GLADNESS
As with gladness sages bold did the guiding star behold;
as with joy they hailed its light, leading onward beaming bright;
so true Morning Star, may we ever more your splendor see.
As with joyful steps they sped to that lowly manger bed,
there to bend the knee before One whom heaven and earth adore;
so may we with willing feet ever seek your mercy seat.
A they offered gifts most rare at the manger plain and bare,
so may we with holy joy, pure and free from sin's alloy,
all our costliest treasures bring, Christ, to you from whom they spring.
---
MORNING TIDE ANNOUNCEMENTS
St. Paul United Church of Christ, Taylor
January 03, 2021

THANK YOU FOR WORSHPING WITH US from home via Facebook.  Our livestreamed service can be viewed at other times on Facebook as well.  An audio version is also posted each week online. Printed copies of the Sunday order of service and sermon can be downloaded from the St. Paul Church web site.
ON SITE SERVICES IN OUR CHURCH SANCTUARY RESUME TODAY and will continue in the New Year.  Christian education classes for children and youth will meet at the same time in Fellowship Hall.  Likewise, our Confirmation Class for 8th and 9th graders, led by Pastor Drutchas, will return on site, Wednesday nights, 7-8 p.m. making use the upstairs West Room.  To help ensure everyone's safety masking, social distancing, and ushering will be maintained for all worship services and on-site activities as well.  For those unable to attend sanctuary worship, the service will continue to be livestreamed. 
OUR ANNUAL MEETING OF THE CONGREGATION IS BEING RESCHEDULED to the last Sunday of the month, January 31, immediately following the 10 a.m. worship service.  Your participation is encouraged.  A 2020 final report will be shared, and the gathered quorum will vote for a 2021 unified budget and a slate of new Council officers.  Council nominees include Dave Lange (Second Vice President); Beverly Gunther (Secretary); Barbara Schultz (Elder), Jennifer Ruffner (Deacon), and Fred Miller (Trustee).  All offices are for three-year terms.  The proposed budget was mailed to all church members with an accompanying letter from incoming president Tim Ruffner.
AS SUNDAY SCHOOL TODAY RESUMES IN PERSON CHILDREN WILL RING IN THE NEW YEAR with a lesson on "Prayer Resolutions" in Fellowship Hall.  All children are required to wear mask throughout the hour and to remain in assigned seats.  Each child will be provided their own supply kit with snacks handed out at departure for enjoyment at home.  All parents of participating children must complete, if they have not already done so, a safety covenant form, downloadable from the St. Paul UCC website.
OUR YOUNG ADULT BIBLE STUDY JOINS AGAIN FOR WEEKLY IN-PERSON MEETINGS at Pastor Cheryl Schalm's house, Wednesday, January 6, 7 p.m.  All post-high school young adults are invited.   The group will be studying scripture in correlation to John Bevere's book, The Bait of Satan.   
YOUR SUPPORTIVE GIFTS TO ST. PAUL CHURCH AND ITS MINISTRY are appreciated.  Your gifts can be deposited in the standing tithe box in the narthex or outdoors church steps, or returned to the church via mail or electronic giving. 
FELLOWSHIP OF CONCERN: Joseph Smith, Mary Fairemouth, Lin Hogan, John Smith, Dan and Kathy Galeski, Morgan Schalm, James Nault, Larry Kurtsel,  Wayne Jones, Margo Charette, Gerri Lynn King, Oren Forsyth, Bob Barley, Arnold Knofske, Dave Kulhanek, Shirlen Powell, Darlene Babin, Ciera Mack, Kirk Blanchard, Ollie Hilliker, Carrie Hill, Sue Spears, Dianne Sturgeon, George Koster, Bert Thompson, Kyle Hard, Helen St. Louis, Neil MacEachern, Judy Nieman, Sheryl Schwab, Kim Beyar, Richard Janztsen, Bruce and Pat Vernor, Marcie Bolen, Loretta Kurtsel, Dawn Sturgeon Anderson, Jeffrey and Maria MacZink, Frank Woody, Bob Wright, Rick Thie, Mike Tank family.  Condolences to families: for Mary Dubke Zilka who passed away December 31; for Shirley Rohr whose funeral service was held Tuesday.
REMEMBER THOSE PROVIDING EMERGENCY 'FRONTLINE' SERVICES: Tricia Nault, Rick Barnosky, Sam Martin, Chelsey Eisenga, Josh Eisenga, Michelle Mellin, Lexi Mellin, Brenda Murphy, Amber Ostrowski, Rebecca Ostrowski, Samantha Pedersen, Eric Poet, James Hubert, Debbie Lyles, Amy McGahey, Jarod MacZink, Natalie Mack, Kim Arndt, Jennifer Babin, Mike Erickson, Wendi Wioncek Ashby, Marcie Magnuson, Inez Kurtsel Ogonowski, Trudy Clark Schiller, Rachel Tank, Emily Wangbickler Baggett, Jillian Wangbickler, and Sarah Wangbickler, Rhonda Wioncek Berndt, Dana Wioncek Barlage
---