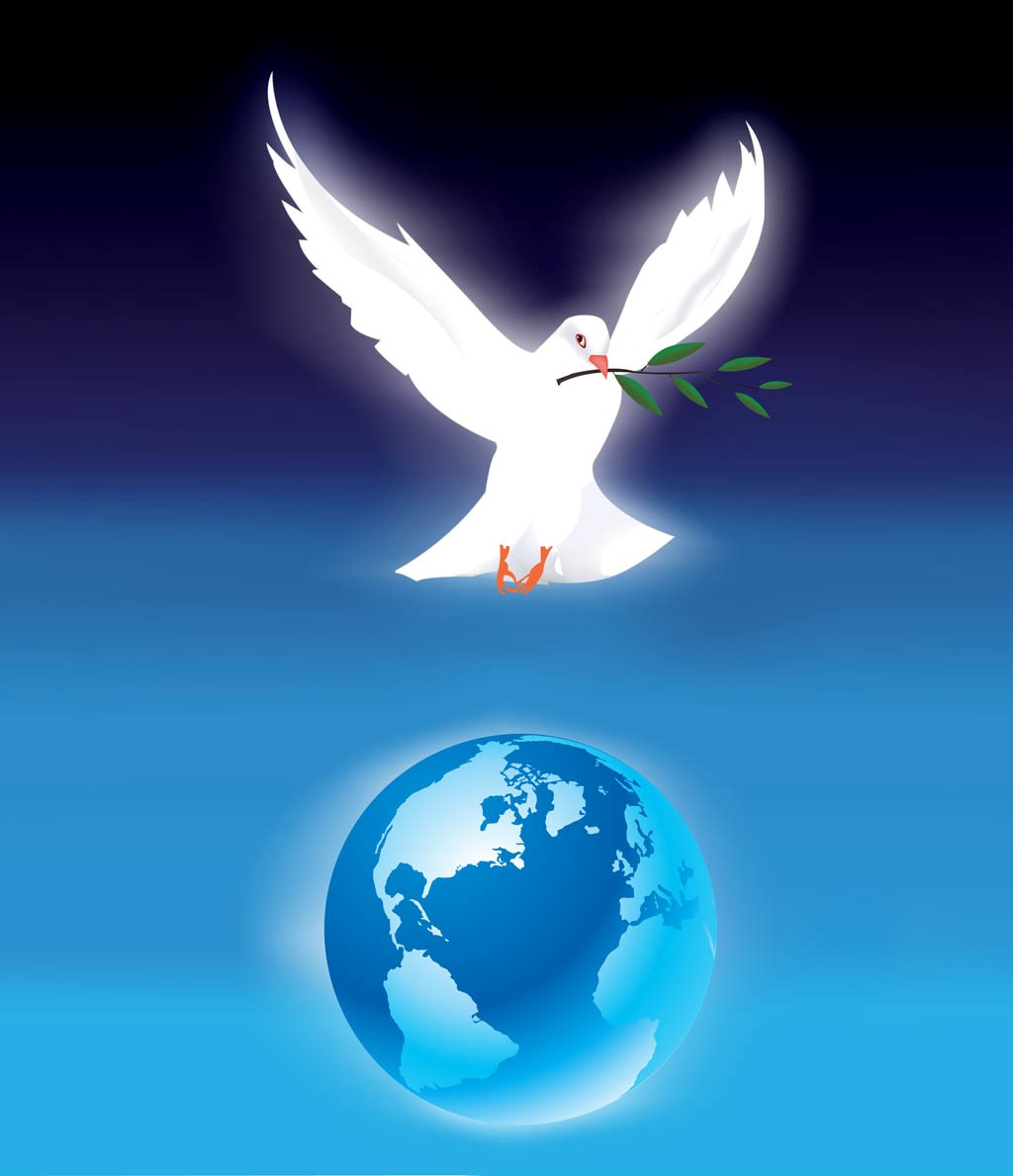 Order of Service
Sanctuary and Livestreamed Worship
St. Paul United Church of Christ, Taylor, Michigan
August 22, 2021
PRELUDE   "Word of God Speak," Mercy Me
WELCOME TO FACEBOOK LIVESTREAMING
CALL TO WORSHIP / PASSING OF THE PEACE
Pastor: The peace of Christ be with you.
   Congregation: And also with you!
UNISON INVOCATION Pastor Cheryl Schalm & Congregation
We call on You as we come to You Lord. We know You hear us when we pray. It's You we seek with all our heart and we find You in the words You say. Dispel the clouds of doubt away. Oh, speak Your promise today. Here in this place, here by Your grace, we seek Your face, O Jesus. We answer Your call. Before You we fall and surrender it all, O Jesus. All of our plans for Yours.
CONGREGATIONAL RESPONSE Amen, Amen, Amen.
OPENING PRAYER  Pastor Cheryl Schalm
HYMN "Living For Jesus," Tracy Hoffman, Music Director (Song Sheet)
ANNOUNCEMENTS Tracy Hoffman
MORNING SCRIPTURE  Micah 6:8, Romans12:2 & 9-21 Lector:  Barbara Schultz
CONGREGATIONAL RESPONSE
Thy word is a lamp unto my feet and a light unto my path.
HYMN "Take My Life,"  (Song Sheet)
MORNING PRAYER
SPECIAL MUSIC "What a Day That Will Be,"  Duet, Barbara Schultz, Tracy Hoffman
GOSPEL READING John 14:21
MESSAGE  "Just Envision!" Pastor Schalm
LORD'S PRAYER (debts, debtors)
CLOSING HYMN  "Here I Am, Lord"  (Song Sheet)
BENEDICTION / POSTLUDE  "I Can Only Imagine,"  Mercy Me
---
ST.PAUL MORNING TIDE ANNOUNCEMENTS – August 22, 2021
THANK YOU FOR WORSHPING WITH US onsite or via Facebook livestreamed Sunday, 10 a.m. Services are later posted on the St. Paul church web site under "Sermons, Bulletins, and Audio Services."  In worshiping indoors, those not vaccinated are encouraged to continue masking. At the service's close as we depart, let's all seek to social distance, giving each other lots of space without congregating in the aisle, narthex, or vestibule.  Our congregation's goal is to keep everyone healthy and safe.  Thanks!
A COFFEE HOUR IMMEDIATELY FOLLOWS THIS MORNING'S SERVICE.  After worship services, coffee, donuts, and other refreshments and fellowship move to our large Fellowship Hall with well-spaced tables at the north end of our building.  It's easy to get there but in light of a potential "trip hazard" at the front of the church from broadcasting equipment, please use the east side aisle. Continue through the arched doorway, turn left at the St. Paul sculpture courtyard and then a quick right through the open double doors to the waiting coffee and donuts.  You're invited to enjoy some good coffee and donuts and great conversation with fellow worshippers. 
SUMMER SUNDAY SCHOOL MEETS UPSTAIRS during the 10 a.m. service, in an air-conditioned classroom for a lesson titled "Running For Your Life," and a related activity.  The teacher will meet arriving young people in the West Lobby before going upstairs.  Children may be picked-up in the West Lobby as worship and Sunday School class finish.
OUR SENIOR PASTOR IS TAKING A BREAK Pastor Cheryl Schalm preaches and leads worship today.  Pastor Drutchas will be preaching and leading worship on Sunday, August 29. During Pastor Drutchas' absence, please contact Pastor Schalm, Parish Nurse Kathy Williams, or the Church Office (313.291.1221) regarding any pastoral emergency or special need.  As this past year navigating through a COVID pandemic is shown, our "ministry together" never takes a break: we're here for each other always in Jesus Christ!
YOUTH BIBLE STUDY for post-high school students meets this coming Wednesday, August 25, 7 p.m. at Pastor Schalm's home.  All youth are invited to join.  Contact Pastor Schalm for more information.
OUR ST. PAUL CONGREGATION IS LOOKING FORWARD TO A NEW PHOTO DIRECTORY with family and individual portrait sessions at church this fall.  Get your smile ready and plan on scheduling your photo session. Sign-up for the photo sessions will begin on Sunday, August 29 after the 10:00 a.m. worship service. Gary Peters and Dan Case will be in the West Room scheduling sessions.  Online sign-up begins Monday, August 30th.                                 
CHANCEL CHOIR REHEARSALS BEGIN Wednesday, September 1, 2021, 7 p.m. Rehearsals are Wednesday evenings at 7 p.m. in the West Room.  New voices are always welcome.  No auditions necessary.  For more information, please contact Music Director, Tracy Hoffman.
TOILETRIES AND PERSONAL HYGEINE ITEMS are needed for hospitalized and outpatient Veterans.  Items can be dropped off in the bin at the entrance to our sanctuary. See list of preferred items in your July-August Tidings.
USHERS NEEDED FOR SUNDAY MORNING SERVICES  To volunteer, speak with Deacons Jim Nault, Teri Staffeld, or Jennifer Ruffner or call the church office (313-291-1221). 
ST. PAUL'S EXERCISE CLASS CONTINUES on Wednesday, August 25, 10:30 a.m., outdoors, weather permitting. For more information: Parish Nurse Kathy Williams.
OUR CONGREGATION'S ANNUAL PICNIC has been scheduled this year to coincide with Rally Sunday, September 12, in order to benefit from any further lifting of Covid-related mandates.  Mark your calendars now.
ST. PAUL CHURCH OFFICE IS NOW OPEN on Monday through Friday, 9:30 a.m.-2 p.m. Drop-offs and deliveries can also be made on other days by advance call and arrangement.
FELLOWSHIP OF CONCERN
Murl Nieman, Brenda Tank, Nancy Walker, Margo Charette, John Caufield, Sue Spears, Arnold Knofske, Kyle Hard, Glen Sigman, Jim Fraser, Marion Bolen, Diane Wickline, Bob Smarr, Sue Stern, Sherrill Berndl, Gunter Berndl, Christie Smart, Don Mack, Jeff MacZink, Maria MacZink, Shirley Robinson, Dave Lange, Linda Tank, Wayne Jones, Eleanor Rossi, Carrie Hill, Neil McEachern, Tyler Staten, Dick Milatz, Doreen Thompson, Bert Thompson, Loretta Kurtsel, Patrick Ferguson, Shirley Koths, Eric Hagen, Darryl Smith, Philip Smith, Dale Rose, Nicole Wangbickler, Gunnar Theisen.
---
"Living for Jesus"
Living for Jesus a life that is true, striving to please him in all that I do; yielding allegiance, glad hearted and free, this is the pathway of blessing for me. (R)
Refrain: (R)  O Jesus, Lord and Savior, I give myself to thee, For thou in thy atonement, didst give thyself for me; I own no other master, my heart shall be thy throne, my life I give, hence-forth, O Christ, for thee alone. 
Living for Jesus who died in my place, bearing on Calvary my sin and disgrace; such love constrains me to answer his call, follow his leading and give him my all. (R)
Living for Jesus through earth's little while, my dearest treasure – the light of his smile; seeking the lost ones he died to redeem, bringing the weary to find rest in him. (R)
"Take My Life"
Take my life, and let it be consecrated, Lord, to thee. Take my moments and my days; let them flow in ceaseless praise, let them flow in ceaseless praise.
Take my hands, and let them move at the impulse of thy love.  Take my feet, and let them be swift and beautiful for thee, swift and beautiful for thee.
Take my will, and make it thine; it shall be no longer mine.  Take my heart, it is thine own; it shall be thy royal throne, it shall be thy royal throne.
Take my love; my Lord, I pour at thy feet its treasure store.  Take myself, and I will be ever, only, all for thee, ever, only, all for thee.
"Here I Am, Lord"
I, the Lord of sea and sky, I have heard my people cry.  All who dwell in deepest sin my hand will save.  I who made the stars of night, I will make their darkness bright.  Who will bear my light to them?  Whom shall I send?  (R)
Refrain:  (R)  Here I am, Lord.  Is it I, Lord?  I have heard you calling in the night.
I will go, Lord, if you lead me.  I will hold your people in my heart.
I, the Lord of snow and rain, I have borne my people's pain.  I have wept for love of them, they turn away.  I will break their hearts of stone, give them hearts for love alone.  I will speak my word to them.  Whom shall I send? (R)
I, the Lord of wind and flame, I will tend the poor and lame.  I will set a feast for them, my hand will save.  Finest bread I will provide till their hearts be satisfied.  I will give my life to them.  Whom shall I send?  (R)
---