Order of Service / Twelfth Sunday of Pentecost
Livestreamed/ Sanctuary/ Tabernacle Worship
St. Paul United Church of Christ, Taylor, Michigan
August 16, 2020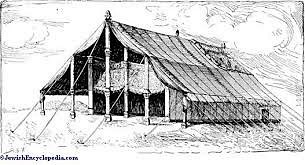 PRELUDE  "Jesus Shall Reign Where'er the Sun," Organist Sally Sigman
WELCOME / CALL TO WORSHIP (Psalm 84:10-12) / PASSING OF THE PEACE
Pastor: The peace of Christ be with you.
   Congregation: And also with you!
OPENING PRAYER  Reverend Dr. Geoffrey Drutchas
ANNOUNCEMENTS
MORNING SCRIPTURE Exodus 22:7-11; Matthew 8:18-20, Pastor Drutchas
ANTHEM  "There Is a Balm in Gilead," Kathy Williams
MESSAGE  "A Tabernacled Faith," Pastor Drutchas
MORNING PRAYER
LORD'S PRAYER (debts, debtors)
CLOSING ANTHEM "Ours the Journey," Pastor Drutchas
BENEDICTION/ POSTLUDE
"Ours the Journey"
In the midst of new dimensions, in the face of changing ways,
 who will lead the pilgrim peoples wandering their separate ways?
R: God of rainbow, fiery pillar, leading where the eagles soar,
 we your people, ours the journey, now and ever more.
Though we reach the highest heavens, holding worlds at our command,
We are yet a desert people searching for the promised land. R
---

PLEASE PRAY for church members and friends Doris Hilliker, Shirley Koths, Diane Hines, Shirley Gratrix, Elaine Cowper, Ken Kaszubowski, Sue Spears, Tracy Spears, Sue Kren, Kyle Hard, Lois Rice, Glen Sigman, Michelle Mellin, Al Wierzvicki, Bill Pattenaude, Marcie Bolen, Marion Bolen, Diana Wickline, Darlene Babin, Ciera Mack, Shirlen Powell, Frank Wolfram, Loretta Kurtsel, Neil MacEachern, Judy Nieman, Morgan Schalm, Harold Fick, Sheryl Schwab, Bob Smarr, James Natzke, Doreen Thompson, Cassidy Congelierre, Bob Wiegel, Darlene Wangbickler, Carol Hoffman, Toni Oliver, and John Poet
---
MORNING TIDE ANNOUNCEMENTS
MORNING TIDE ANNOUNCEMENTS
St. Paul United Church of Christ, Taylor – August 16, 2020
WELCOME TO CONTINUING SANCTUARY SERVICES!  As Facebook livestreamed services continue, so do on-site services—whether in the sanctuary or outdoors.  However, for everyone's safety we maintain all health-safe precautions, including masking, social distancing, and ushering.
FOR AUGUST SUNDAYS OUR SERVICES WILL BE OUTDOORS UNDER THE OPEN TENT, weather-permitting.  Please bring a lawn chair, maintain social distancing, and wear a mask for mutual benefit and safety.  At St. Paul Church our goal is to keep everyone spiritually and physically healthy.
OUR TUESDAY MORNING 'PARTY LINE' BIBLE STUDY GROUP will be meeting at church this week at 10:30 a.m., reading and discussing the Book of Acts of the Apostles, Chapter 26.
USHERS ARE NEEDED FOR SUNDAY MORNING SERVICES.  Please speak with a Deacon to volunteer or call the church office (313-291-1221).
THE LATEST SUNDAY SCHOOL BLOG can be found on the stpaulucctaylor.org website under the Christian Education tab.  Today's message is about a floating baby.  While there will be no Sunday School Zoom lesson today, children are encouraged to instead, call a friend, grandparent, or family member and share the story with them.  The story, message, craft and outreach ideas can all be found on the morning's blog.
OUR CONGREGATION'S ADOPT-A-GRANDPARENT program will continue through September.  If you are interested in participating in either of these programs, please contact Pastor Schalm.
RALLY SUNDAY UPCOMING!  It's time to rally the troops as we prepare to begin another year of Sunday school.  Our "2020 - 2021" focus will be, "nurturing the fruits of the spirit." All families are encouraged to participate in this special service of "reengagement and activation." Whether you decide to join us under the tent (weather permitting), or from your vehicle in the church parking Lot (FM Station 105.3), we hope that you will be present for this special family rally service.  Following the service all families who pre-register will have the opportunity to partake in a scavenger hunt in a roped off area designated just for their family.  All registered families will begin at the same time and once all items have been found they will text Pastor Schalm.  The 1st family done will win a gift card to Dairy Queen.  Others will receive constellation prizes.  Individually wrapped donuts and juice boxes will be handed out to all participants.  All Sunday School families should plan to register their family by September 6th.  Please contact Pastor Schalm to do so.
'WORSHIP WEDNESDAY' YOUNG ADULT BIBLE STUDY MEETS this coming Wednesday, 7 p.m. at Pastor Schalm's home.  All post high-schoolers are welcome and encouraged to join with social distancing precautions maintained.
AN ONLINE CHRONIC PAIN SUPPORT CLASS IS STARTING UP on August 27th.  The six session class on Thursdays, 10 a.m. to 12 noon, will be held via Zoom, accessible by anyone who has online access via desk PC, laptop, tablet, or phone.  An information program will be held August 20, 10-10:30 a.m. online.  You must sign up in advance.  For more info and sign-up, contact Parish Nurse Kathy Williams.
THE ANNUAL ST. PAUL WOMEN'S RETREAT is being planned for the first Saturday, October 3, with social distancing and other health precautions maintained.  Please speak with Michele McNeely if you would like to participate or would like more information.
CONGRATULATIONS to Elaine and David Cowper on their 68th wedding anniversary; to Ron and Marion Bolen on their 49th wedding anniversary; and to Grace Wangbickler on the birth of her 17th great-grandchild, Olivia.
LET'S PRAY FOR THOSE PROVIDING EMERGENCY 'FRONTLINE' SERVICES: Kim Arndt, Wendi Wioncek Ashby, Rick Barnosky, Jennifer Babin, Rhonda Wioncek Berndt, Dana Wioncek Barlage, Chelsey Eisenga, Josh Eisenga, James Hubert, Debbie Lyles, Amy McGahey, Jarod MacZink, Marcie Magnuson, Sam Martin, Michelle Mellin, Brenda Murphy, Inez Kurtsel Ogonowski, Amber Ostrowski, Rebecca Ostrowski, Samantha Pedersen, Eric Poet, Trudy Clark Schiller, Rachel Tank, Emily Wangbickler Baggett, Jillian Wangbickler, and Sarah Wangbickler.
---