Ash Wednesday - Livestreamed and Sanctuary Worship
St. Paul United Church of Christ, Taylor, Michigan
February 17, 2021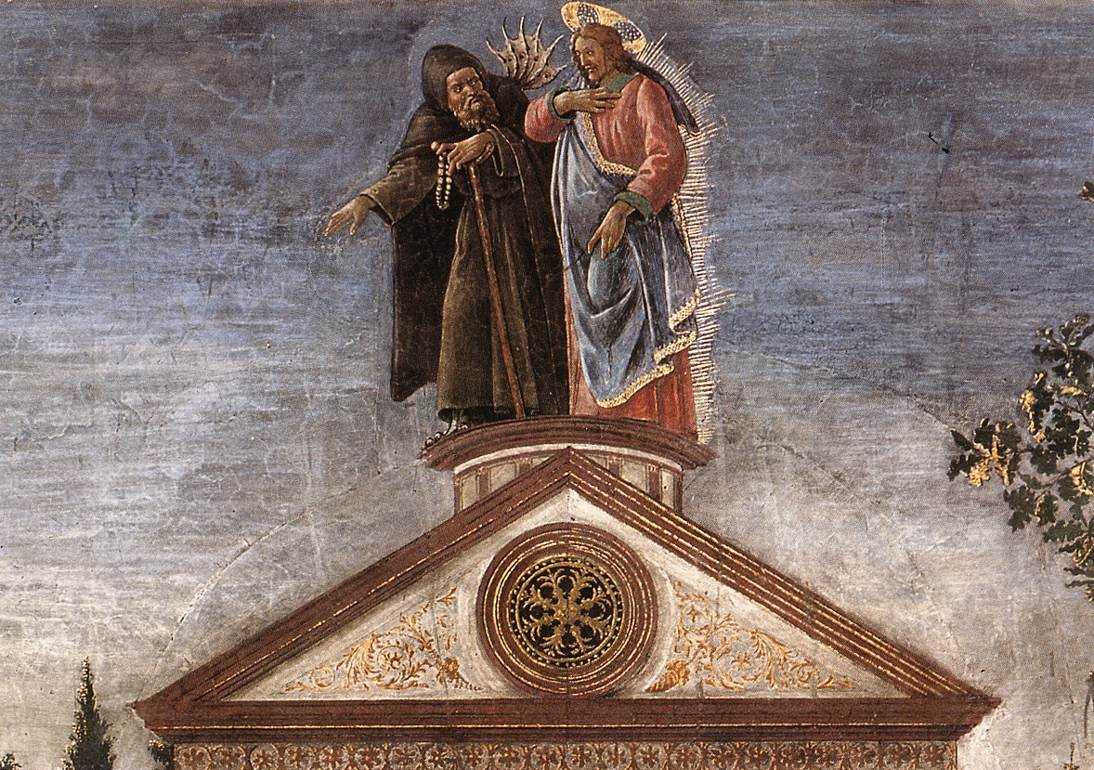 PRELUDE  "When I Survey the Wondrous Cross," Organist, Sally Sigman
WELCOME TO FACEBOOK LIVESTREAMING / RINGING OF CHURCH BELL
CALL TO WORSHIP / PASSING OF THE PEACE
Pastor: The peace of Christ be with you. / Congregation: And also with you!
OPENING PRAYER  Reverend Dr. Geoffrey G. Drutchas
ANNOUNCEMENTS
SCRIPTURE  Psalms 90:1-6; Matthew 4:1-11, Pastor Cheryl Schalm
ANTHEM "Forty Days and Forty Nights" Tracy Hoffman, Music Director
SCRIPTURE  Philippians 2:1-11, Pastor Schalm
CHIMES  "O For a Thousand Tongues to Sing"
MESSAGE  "Deeper in Faith," Pastor Drutchas
MORNING PRAYER
LORD'S PRAYER (debts, debtors)
WISDOM OF THE DESERT FATHERS
IMPOSITION OF ASHES
CLOSING ANTHEM "At the Name of Jesus," Tracy Hoffman and Pastor Drutchas
BENEDICTION
At the Name of Jesus
At the name of Jesus, every knee shall bow, every tongue confess him, King of glory now;
'Tis the Father's pleasure we should call him Lord, who from the beginning was the mighty Word!
At his voice creation sprang at once to sight, all the angel faces, all the hosts of light,
thrones and dominations, stars upon their way, all the heavenly orders in their great array.
Humbled for a season, to receive a name, from the lips of sinners, unto whom he came,
faithfully he bore it, spotless to the last, brought it back victorious when from death he passed.
Bore it up in triumph, with its human light, through all ranks of creatures, to the central height,
to the throne of Godhead, to the Father's breast; filled it with the glory of that perfect rest.
In your hearts enthrone him; there let him subdue, all that is not holy, all that is not true.
Crown him as your captain in temptation's hour, let his will enfold you in its light and power!  Amen.
---
EVENING TIDE ANNOUNCEMENTS
THANK YOU FOR WORSHPING WITH US onsite or from home via Facebook. Both the order of service and sermon can be downloaded in advance from the St. Paul Church web site.  Our livestreamed service can be viewed at later times on Facebook, or viewed online, posted Sunday afternoon.  Our regrets for last Sunday: technical difficulties prevented the service from being livestreamed as usual.  However, an audio version of the full service is posted on our St. Paul Church web site, along with a sermon which can be downloaded.
WE CELEBRATE COMMUNION NEXT SUNDAY FOR THE START OF THE LENTEN SEASON with elements distributed before worship by ushers or with bread and juice from home kitchens for worshippers participating this morning via Facebook. All elements will be consecrated by prayer.
AS THE LENTEN SEASON BEGINS A NEW 'JERUSALEM WALK' GETS UNDERWAY with emailed devotionals offering scripture, prayers, and fitness advice to keep healthy and active in this time when we're more homebound than usual and not getting our usual exercise.  There will additionally be a Wednesday evening "Faith & Fitness" zoom series, 7- 8 p.m., based on the "Jerusalem Walk" devotionals.   It's a great way to connect, fellowship, and grow in faith with fellow St. Paul members throughout the six week Lenten season.  Watch for these special upcoming Lenten devotionals prepared and shared by St. Paul "team" Pastors Geoff Drutchas and Cheryl Schalm; Parish Nurse Kathy Williams; Michele McNeely; Tim Ruffner; Dee Salsbury; Gary Peters; and Dan Case.
SUNDAY SCHOOL MEETS SUNDAY MORNING IN FELLOWSHIP HALL with masking and social distancing for safety.  Through hands-on activities and presentations our participating youth will gain a better understanding of the weekly lesson offered.  The lesson is also posted to the Christian Education Blog on our church web site.
OUR YOUNG ADULT BIBLE STUDY NEXT JOINS FOR WEEKLY IN-PERSON MEETINGS at Pastor Cheryl Schalm's house, Wednesday, February 24, 7 p.m.  All post-high school young adults are invited. 
IT'S NOT TOO LATE TO PICK UP YOUR 2021 OFFERING ENVELOPES AT CHURCH.  Please call the church office (313-291-1221) to arrange for curbside delivery at west entrance.  Your supportive gifts to St. Paul Church and our ministry together are appreciated.
YOUR HELP IS NEEDED FOR OUR SIX DRIVE-THRU LENTEN FISH SUPPERS six Drive-Thru on Fridays, February 26; March 5, 12, 19, and 26; and April 2.  Masks, gloves, and social distancing will be maintained for all of these activities to keep us safe.  Call the office or speak with First Vice President Jim Poet to volunteer. 
FELLOWSHIP OF CONCERN: Melissa Winter, Kim Beyar, Rose Marie Laslo, Eleanor Rossi, Neil MacEachern, Margo Charette, Gerri Lynn King, Shirley Havenstein, Brent Kuhn, Robert Black, Clifford Board, Jim Block, Bob Barley, Kyle Hard, Joseph Smith, Bill McGahey, John Smith, Wayne Jones, Gerri Lynn King, Oren Forsyth, Arnold Knofske, Ciera Mack, Kirk Blanchard, Carrie Hill, Sue Spears, Bert Thompson, Judy Nieman, Sheryl Schwab, Richard Janztsen, Marcie Bolen, Loretta Kurtsel, Dawn Sturgeon Anderson, Maria MacZink, Bob Wright, James Natzke.  Condolences to Shirlen Powell's family on her passing last Sunday morning.


REMEMBER THOSE PROVIDING EMERGENCY 'FRONTLINE' SERVICES: Tricia Nault, Rick Barnosky, Sam Martin, Chelsey Eisenga, Josh Eisenga, Michelle Mellin, Lexi Mellin, Brenda Murphy, Amber Ostrowski, Rebecca Ostrowski, Samantha Pedersen, Eric Poet, James Hubert, Debbie Lyles, Amy McGahey, Jarod MacZink, Natalie Mack, Kim Arndt, Jennifer Babin, Mike Erickson, Wendi Wioncek Ashby, Marcie Magnuson, Inez Kurtsel Ogonowski, Trudy Clark Schiller, Rachel Tank, Emily Wangbickler Baggett, Jillian Wangbickler, and Sarah Wangbickler, Rhonda Wioncek Berndt, Dana Wioncek Barlage.
---