GOOD FRIDAY 'SEVEN LAST WORDS' SERVICE
St. Paul United Church of Christ, Taylor – April 2, 2021, 12 Noon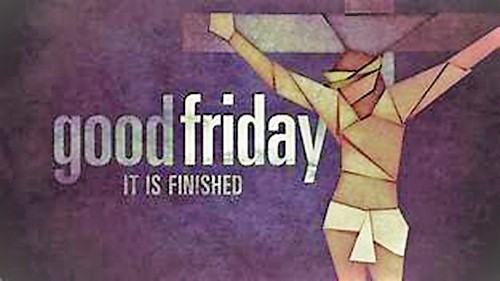 PRELUDE  "When I Survey the Wondrous Cross," Sally Sigman, Organist
OPENING PRAYER (RESPONSIVE)
Pastor: Blessed be our God, for ever and ever. Amen.
Congregation: Almighty God, we ask you to look with mercy on your family for whom our Savior Jesus Christ was willing to be betrayed, to be given over to the hands of sinners, and to suffer death on the cross.  In this noontime of worship we seek to recommit our lives and give our fullest devotion to the One who now lives and reigns with you and the Holy Spirit, one God, for ever and ever. Amen.
ANTHEM  "The Old Rugged Cross" Tracy Hoffman, Music Director
REMEMBRANCE OF THOSE CARRYING THEIR OWN CROSS
SILENT PRAYER & MEDITATION
ORGAN INTERLUDE  "Passion Chorale: O Sacred Head, Now Wounded," Sally Sigman
SEVEN LAST WORDS SERVICE  Pastors Drutchas & Schalm, Tracy Hoffman, Eileen Vernor Drutchas
Jesus Predicts His Death & Resurrection…………Mark 9:30-37
Preparations for the Passover….…………………….Mark 14:1-2, 12-16
Prophecy Concerning Judas' Betrayal…………….Mark 14:17-18; John 13:2-3, 22-29
Jesus as the Way, Truth, and Life……………………Matthew 14:22-25; John 13:33-14:7
Jesus Prays at Gethsemane…………………………….Matthew 26:36-46
Jesus is Arrested…………………………………………….Matthew 26:47-56
Peter Denies Jesus Three Times……………………..Luke 22:54-65
Jesus Faces Trial……………………………………….. …..Luke 21:66-71; Matthew 27:3-10
A Mob Calls for Crucifixion……………………………..Mark 15:1-14
King Herod & Soldiers Mock Jesus………………….Luke 23:4-10; Matthew 27:27-31
ANTHEM  "Were You There When They Crucified My Lord?" Tracy Hoffman, Pastor Drutchas, Eileen Vernor Drutchas
Jesus Carries His Cross to Golgotha……….………Luke 23:26-32; Matthew 27:33, 37
Jesus Forgives His Tormentors………………….…..Luke 23:34-36, 39-43
Jesus Commits His Spirit to God…………………….John 19:25-27; Matthew 27:46; Luke 23:46
Jesus is Buried in a Sealed Tomb……………………Matthew 27:51-66
ANTHEM "What Wondrous Love Is This"  Eileen Vernor Drutchas
RESPONSIVE READING Psalm 22 (The Psalm Jesus Invoked from the Cross)
TOLLING OF BELL
LORD'S PRAYER (debts/debtors)
DEPART IN SILENCE  (Ushers will come forth to dismiss your pew)
---
NOON TIDE ANNOUNCEMENTS
St. Paul United Church of Christ, Taylor – April 2, 2021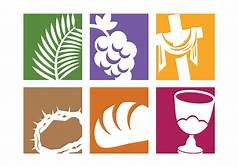 THANK YOU FOR WORSHPING WITH US onsite or from home via Facebook.  Our livestreamed service can be viewed at later times on Facebook.
NEXT SUNDAY: EASTER SERVICE AT 10 A.M. with open communion for church members and friends.  At the close  of the service the lily-adorned Easter Cross will be carried outside and set in place in front of the church as the congregation joins in a single hymn, "O For a Thousand Tongues." All are asked to remain masked and socially distanced on the front lawn.
OUR TWO NEWLY-CONFIRMED IN FAITH MEMBERS ETHAN HARD AND ANTHONY STATEN receive their first communion Easter morning.  Please remember them in your prayers.
HOLY WEEK IS OBSERVED TODAY at St. Paul Church with a noontime Good Friday "Seven Last Words' Service at 12 and a Sunday morning Easter Service at 10 a.m.  Both services will be livestreamed and posted on the St. Paul Church web site.    
YOUR HELP IS NEEDED FOR OUR FINAL DRIVE-THRU LENTEN FISH SUPPER tonight, Friday April 2, 3:30-6 p.m.  Masks, gloves, and social distancing will be maintained for all of these activities to keep us safe.  Call the office or speak with First Vice President Jim Poet to volunteer.  
IT'S CRUNCH TIME FOR THE LENTEN HAPPINESS CHALLENGE! Only a couple of days remain for our Youth Fellowship & the Young Adult Ministry groups as they meet their Challenge goals, seeking to alter the joy level of a hundred people this Lenten season.  Let kindness also abound with you in these coming days as you too challenge yourself to share the love of Christ with everyone about you. 
OUR SUNDAY SCHOOL EASTER EGG HUNT AND PARTY is coming this Sunday!  All children attending Sunday School on Easter morning are able to join in but parents are asked to pre-register them by contacting Pastor Cheryl Schalm.  All COVID protocols will be followed to ensure everyone's safety and well-being.
OUR THIRTY HOUR FAMINE PARTICIPANTS from the Rock Hard in Faith Youth Fellowship and the Young Adult Ministry wish to thank all who supported and donated monies to help eradicate world hunger. 
OUR ST. PAUL RED CROSS BLOOD DRIVE is set for Tuesday, April 27, 1-6:45 p.m. in Fellowship Hall.  Give the gift of life Register at http://ww.,redcrossblood.org/give.html.find-drive.
FELLOWSHIP OF CONCERN: Linda Tank, Ollie Hilliker, Terri Staffeld, Pat Britt, Marguerite Dolan, Harold Fick, John Caufield, Shirley Gratrix, Bob Robinson, Sheryl Schwab, Clifford Board, Don Mack, Gary Peters, Judy Nieman, Joe Smith,  Bob Smarr, Glen Sigman, Dave Lange, Gerri Lyn King, Tyler Staten, Wayne Jones, Lil Roscoe, John Smith, Rose Marie Laslo, Eleanor Rossi, Neil MacEachern, Margo Charette, Maria MacZink, Christie Smart, Shirley Havenstein, Jan Schuman, Bob Barley, Kyle Hard, Bill McGahey, Wayne Jones, Oren Forsyth, Carrie Hill, Sue Spears, Bert Thompson,  Loretta Kurtsel, Jan Schuman, Roger St. Louis, Bob Wright,  Michael DePugh

---