GREETING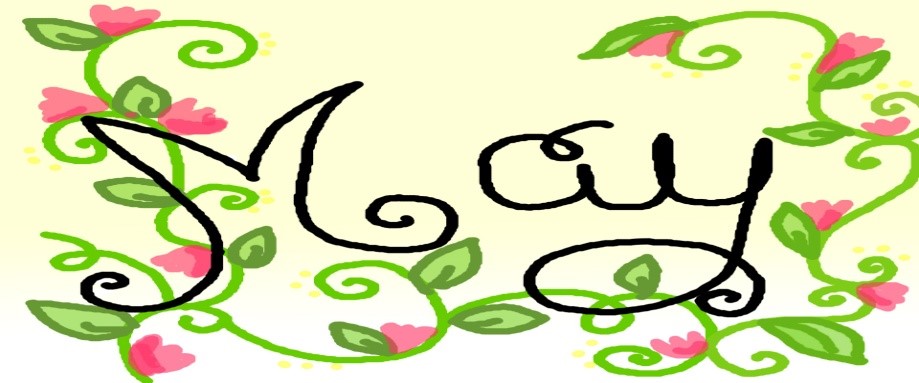 I have told you these things, so that in me you may have peace. In this world, you will have trouble.
But take heart! I have overcome the world (John 16:33)
Greetings!
I hope this day finds you and your family healthy and well. It is hard to believe that we are already through half the month of May. Even harder to believe, is that this is week eight of worshiping and doing Sunday School outside of the church building. I truly miss my church family and my church kiddos. I look forward to the day when we will all be together again.
Until that time; may we continue to walk steadfast in the truth, keep the faith and share God's love.
Peace, Blessings and Love,
Pastor Schalm
---
THE STORY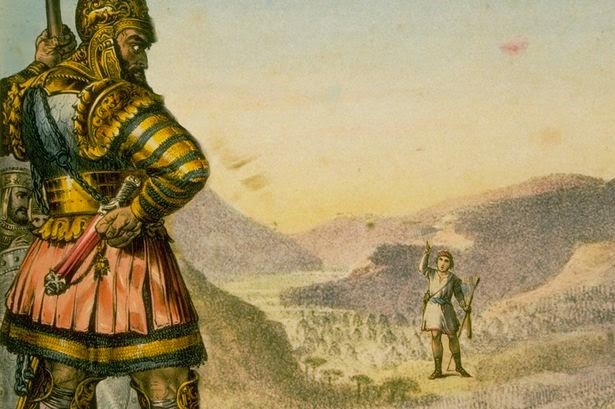 THE STONE THAT STRUCK THE GIANT
By: Gladys Nellist

Goliath was a very ugly, very scary, very big giant.  He was as tall as a house.  His eyes were as big as baseballs.  His legs were as thick as tree trunks.  Everyone was afraid of Goliath.  Everyone, that is, except little David.
Now David and Goliath were very different.  David was small: Goliath was huge.  David was quiet: Goliath was noisy.  David was kind: Goliath was mean.  David sang like a bird: Goliath roared like a lion.  David ate porridge for breakfast: Goliath ate squirrels.  But the most important difference between David and Goliath was David knew God: Goliath did not.
David knew that God was bigger than Goliath: Goliath thought he was bigger than anyone.  David knew God was strong: Goliath thought he was stronger.  David knew when it was time for him to fight that huge giant, God would be fighting with him.  Goliath thought that when it was time for him to fight that little boy, he could do it alone.
Out onto the battlefield marched Goliath.  Out onto the battlefield tiptoed David.  "I am going to squash you flat!" roared Goliath in a huge voice.
"My God is so big, so strong, and so mighty," sang David in a quiet voice.  Goliath lifted his huge sword.  David lifted his small sling.  Round and round and round David swung that small sling.  Out shot one smooth stone.  It flew through the air faster than a speeding bullet.  Kaboom! It hit Goliath right in the middle of his big forehead.  Goliath dropped his huge sword.  He rocked backwards and forwards and then fell with a mighty thump to the ground.
Little David ran happily home to have his porridge: Goliath never got to eat another squirrel.
God's Wonderful Words to You
"Do not be afraid.  I am with you." ~Isaiah 43:5
---
MESSAGE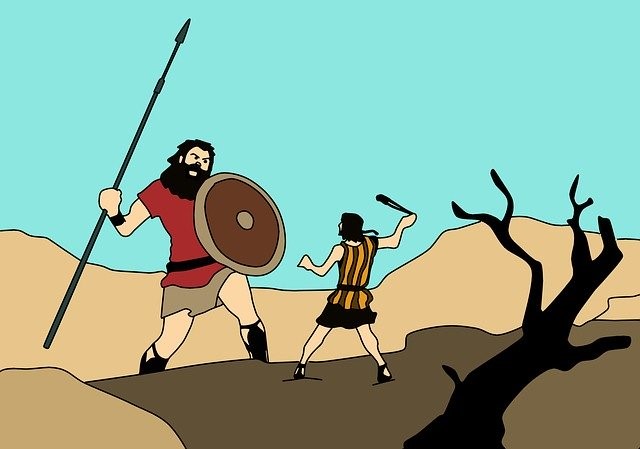 David was a shepherd.  He took care of his father's sheep.  That may not have seemed important to the soldiers and warriors who fought for the king, but it was to God.  You see God was preparing him for this day in history.  Because God had given him the power to protect the sheep he was responsible for, now David could trust God to face Goliath. Right now you are children but God can use your faith in Him to point others to Jesus.  Always be faithful with the tasks you are assigned because one day you will be able to see how God prepared you for the work He has for you as you grow older.
King Saul, the king at the time must have been impressed with David's courage and faith in God's power.  He told David it would be OK for him to fight Goliath and gave him his armor to wear.  David was unable to move around in Saul's armor though so he took it off and headed out to battle in his own clothes. With his shepherd's staff in one hand David leans down and chooses five smooth stones from a stream and places them in his shepherd's bag.
Goliath mocks David who is coming out to fight him.  David is trusting God's power though and isn't afraid.  David wanted Goliath and everyone who was watching to know that he was fighting in God's power so that they would know that God is the Only True God.  It is important to share our faith in Jesus with others.
Well, we know what happened next! Goliath came forward to meet David and as he did, David reached into his shepherd's bag and took one smooth stone and placed it in his sling.  He wound up the sling and as the sling sailed through the air, God guided that stone with speed and accuracy and it hit Goliath smack in the middle of his forehead. The giant who dared defy God and His army fell flat on his face and was defeated.
David was willing to trust God and His power and God used him to fight against this ungodly enemy.  From time to time we all face some kind of enemy that either causes us to be afraid, sad, angry etc.  Just as God gave David power to fight his enemy, the Holy Spirit living in your heart will give you power to fight whatever battles that come into your life.
Review Questions:
Why was David not afraid of Goliath?  (He knew that God was on his side)
How did God prepare David to fight Goliath?  (When he was a shepherd God gave him power to fight off animals that tried to hurt the sheep)
How did David fight with Goliath? (with the Lord's power)
Name something that can be an enemy in our lives? (sin, jealousy, pride, fear, anger, hatred, etc.)
How will God help us fight our enemies? (With His power living inside us)
---
LOVE LETTER FROM GOD
Dear ___________________,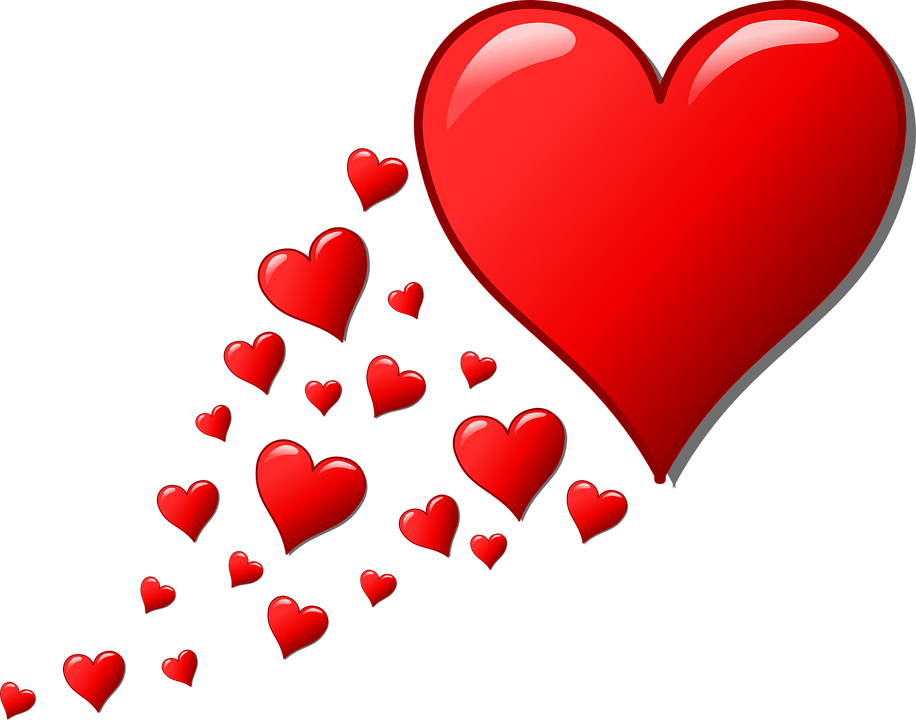 I have something very special to tell you: No giant is bigger than me!  No giant, is stronger than me!
So do not be afraid of giant things in your life that might frighten you.  Never forget, I am bigger and stronger than anything you might be scared of.  So try to be like David – do not be afraid.  Remember, I am always with you.
Your Big Strong Heavenly Father,
With All My Love,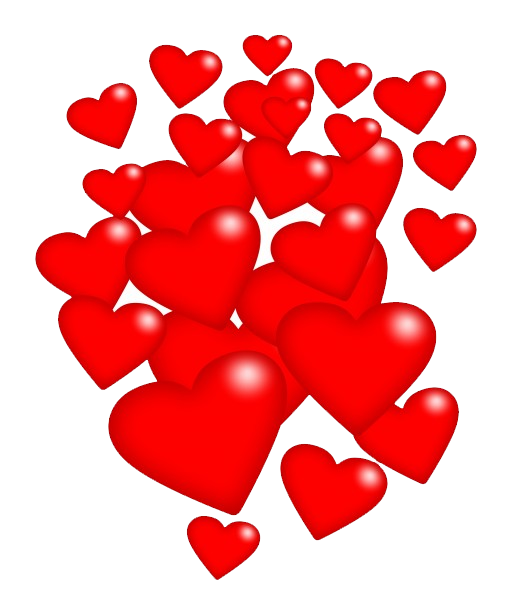 God  
---
ACTIVITY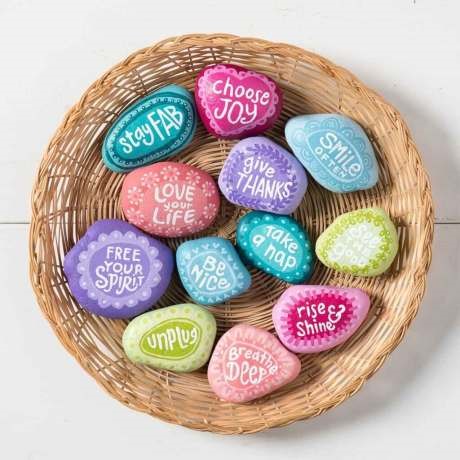 Learning Activity: Have your child/ren choose a small stone/rock and decorate it with paint (they can put a Bible reference on it) or permanent markers.  The stone is something they can keep in their pocket or a place that they will see regularly to remember that God's power enabled David to defeat Goliath and His power will enable them to overcome difficulty as well.  They can decorate a second stone/rock and place it somewhere for someone else to find and discover; by doing so they will be sharing the message of God.
---
WEEK'S CHALLENGE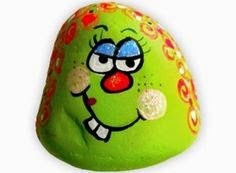 GOD IS MY ROCK  Decorate rocks/stones and write "God is My Rock" or "Keep the Faith" or "God is Love" on them and place them around your neighborhood or give them to someone who could use a reminder.
 GOD ROCKS POSTER Make a poster of a huge rock and write on it why God is your rock.  Why do trust and believe in Him?
 ADOPT A GRANDPARENT  Write a letter, or color a picture to one of our elderly church members twice a month.  That's all you have to do to brighten someone's day.  Have mom or dad email, call or text me for a name and address.
We can all do something to lighten the load of others during this time.  Be creative and share your ideas!
Pastor Schalm (734) 255-0935  / cschalm@stpaulucctaylor.org
---
CLOSING PRAYER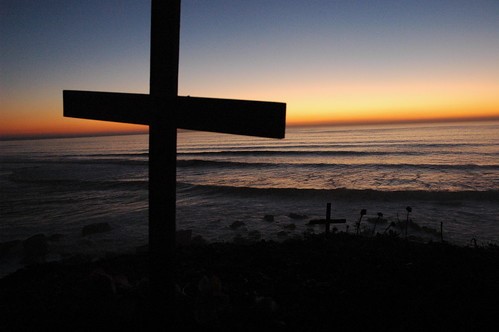 Dear Heavenly Father,
Thank you for your promise to always be with me and for giving me the gift of faith.  Please help me God to use this gift when I become afraid, sad, mad or angry.  Remind me always that I can do all things when You are with me.  Please be with us and watch over us during these uncertain times and give me the courage to be the kid you want me to be.  ~ Amen.
---