GREETING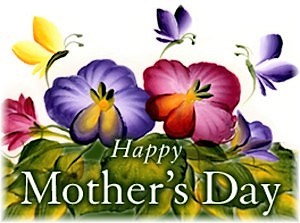 "For where your treasure is, there your heart will be also."
~Matthew 6:21
Greetings!
Happy Mother's Day!  I hope you and the family are doing well.    Void of the pandemic, we would be celebrating Mother's Day with a "Muffins for Mom" continental breakfast and the youth annual flower sale this morning.  While the pandemic may have made this impossible, it is powerless over the reason for the celebration.  Not even a global pandemic can stop the boundless and limitless love shared between a mother and her child/ren.  The celebration will forever go on within the hearts and homes of children and their mothers.
Whether a mother, father, grandparent, sibling or otherwise, may your day be filled with love, kindness, joy, and peace.  Take some time today to celebrate the women in your life who have served to bless your life.  I hope you have a blessed week full of beautiful things.
I miss you and look forward to the day when we will all be together again.
Peace, Blessings and Love,
Pastor Schalm
---
THE STORY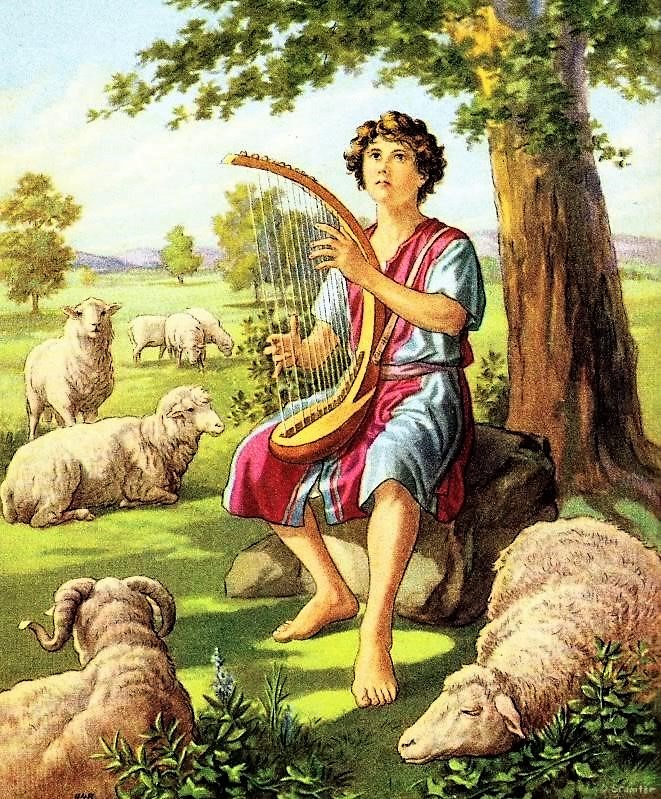 DAVID'S DAY
By: Gladys Nellist
            When Samuel was all grown up, God had a very special job for him to do.  "Samuel," God said, "I want you to go to Jesse's house and ask to see his eight sons.  I have chosen one of them to be the next king.  When you find him, pour some oil on his head to anoint him, so that everyone will know he is the one I have chosen."
"That's easy," Samuel thought to himself.  "I will know the new king right away.  He's sure to be tall and handsome, strong and smart.  He'll probably be wearing fine, beautiful clothes.  I know what a king looks like!"
Sure enough, when Samuel arrived at Jesse's house, out strode Eliab, the eldest son, looking exactly like Samuel had imagined.  He was tall and handsome, strong and smart, and he was wearing beautiful clothes that looked like a king's!  But just as Samuel was about to anoint Eliab, God gently whispered in Samuel's ear, "no Samuel, he is not the one."  Now Samuel was a little confused.
"Are you sure you're not mistaken, God?" Samuel asked.  "That young man really did look like a king to me."  But God smiled as he replied, "Samuel, I am not looking at how tall, or handsome, or strong he is.  I am not looking for someone with fine clothes.  I am looking for someone who has a good heart."
So Samuel, who always listened to God, called for the next son, and the next, and the next, to see if he could find which one God had chosen.  But even though each one looked like a king to Samuel, the answer was always the same.  As the six strong sons marched by, God whispered. "No, no, no, no, no, no."
Finally, out came the last, the eighth son.  He was just a small boy.  He had been working out in the fields, taking care of the sheep, and his clothes were smelly and torn.  God gently whispered in Samuels's ear, "Yes, Samuel, Anoint him.  He is the one."
And so it was that young David knelt down at Samuel's feet and was anointed with oil in front of his seven brothers.  God had chosen David, the shepherd boy, the boy with the good heart.  And one day, that little boy would grow up to be a king.
God's Wonderful Words to You
"I have chosen you." ~ Isaiah 41:9
---
MESSAGE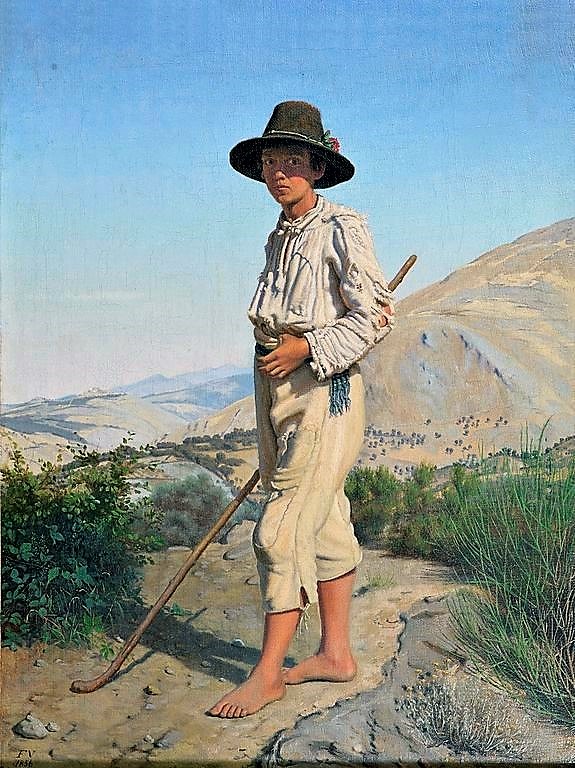 Jesse had eight sons.  God told Samuel to go to his house in order to anoint, or to pick the next king. 
1).  Who did Samuel anoint? (David)
Samuel was surprised when God kept telling him, "No, not that one"  and when he said, "yes" to David.
2).  What was Samuel looking for in a king? (Big & strong, smart, nicely dressed).
3). Were you surprised like Samuel, when God chose David?  Why or why not?
4).  What great lesson did Samuel learn? ( But the Lord said to Samuel, "Do not consider his appearance or his height, for I have rejected him. The Lord does not look at the things people look at. People look at the outward appearance, but the Lord looks at the heart." 1 Samuel 16:7 
5).  What can we learn from that verse? (That God cares more about the condition of our heart than how we look. Are we kind, loving, caring?  Do we reflect His image?  Do we follow Him?)
6).  What does God see when He looks on your heart?
---
LOVE LETTER FROM GOD
Dear ___________________,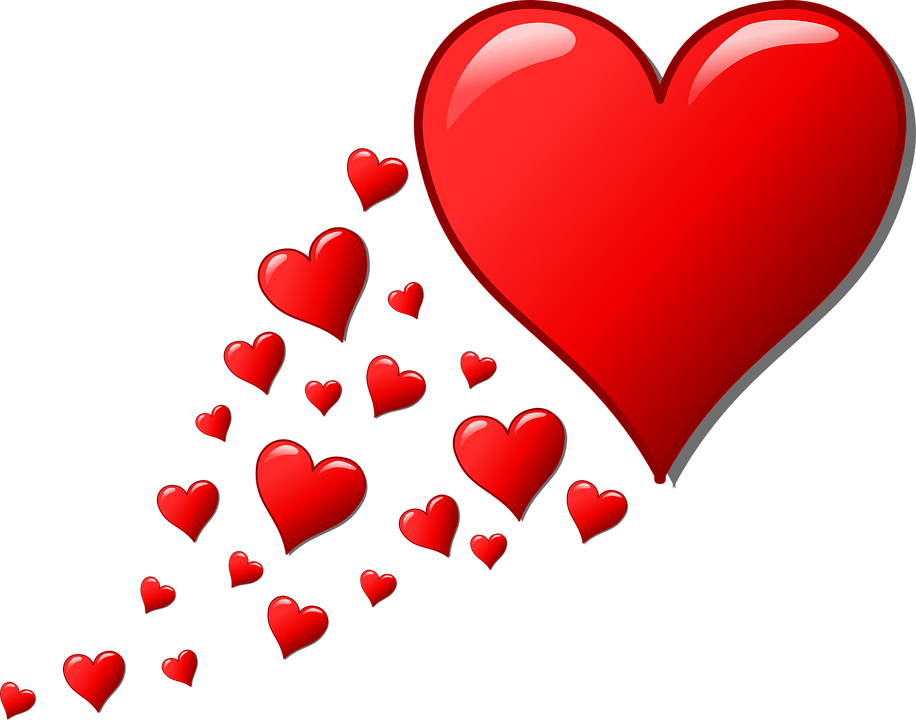 Do you know why I chose David to be king?  Was it because he looked like a king?  No.  It was because he had a good heart, just like you do.  So as you grow up, do not worry about how tall you are or how strong you are or how smart you are.  Just remember that I have chosen you – just like I chose David.  And even though you may never be a king or a queen, you will be something just as wonderful and very, very, special to me.
With All My Love,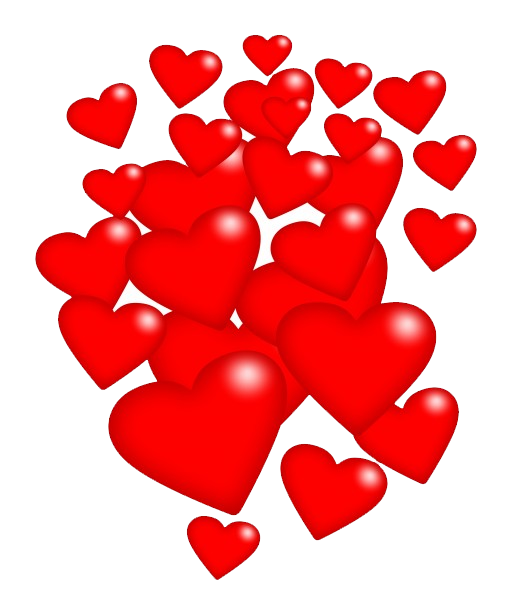 God  
---
ACTIVITY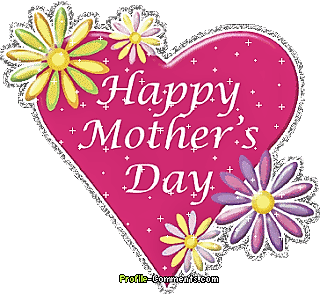 My Mother's Loving Heart
Supplies: White, red or pink construction paper or printer paper (any available  paper), pen, pencil, markers or crayons.
Purpose: To enhance understanding and meaning of story by identifying characteristics of a loving heart.
How To – Have the children take the paper and make a heart. Write on the top of it: My Mother's (Grandmother's) Loving Heart.  Then have them identify the ways in which she shows that she loves them.  They can decorate it then anyway they would like.  Have them then present it to mom or grandma, while thanking them for fulfilling one of God's purposes for their life. Send me pictures so I can share them next week.
EXAMPLE: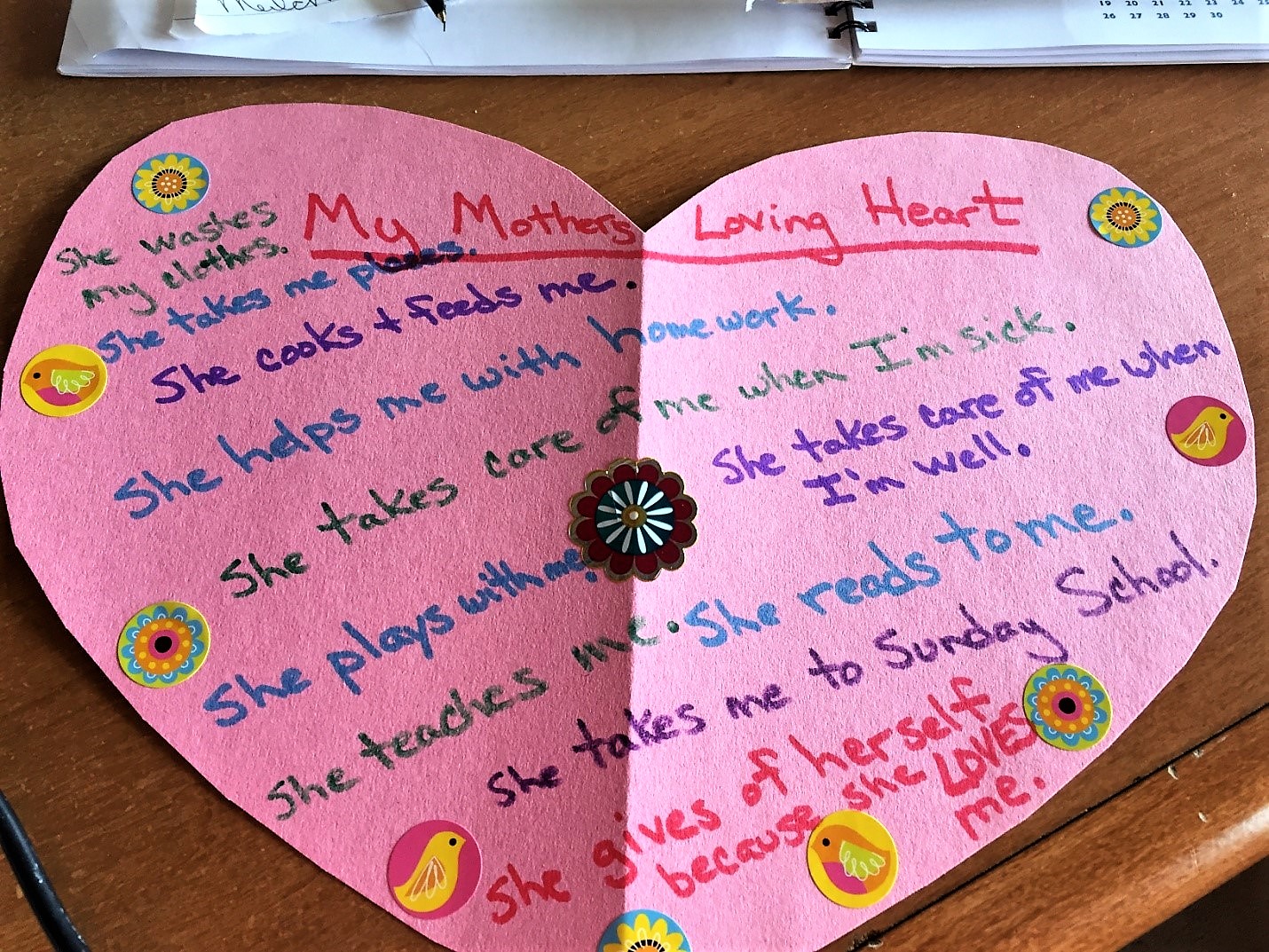 ---
WEEK'S CHALLENGE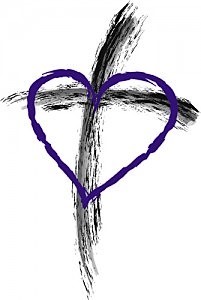 1). SMALL BUT MIGHTY PLEDGE  Write a pledge acknowledging your current limitations (size, skills, knowledge, resources) and your faith in God to groom you for a great purpose despite them.  Pledge your commitment to God to follow His calling on your life.
 2). ADOPT A GRANDPARENT  Write a letter, or color a picture to one of our elderly church members twice a month.  That's all you have to do to brighten someone's day.  Have mom or dad email, call or text me for a name and address.
 3). MAKE POSTERS! Make a poster for our five seniors who are graduating from High School without a formal graduation ceremony.  Send me a picture and we will put together a special video.
We can all do something to lighten the load of others during this time.  Be creative and share your ideas!
Pastor Schalm (734) 255-0935  / cschalm@stpaulucctaylor.org
---
CLOSING PRAYER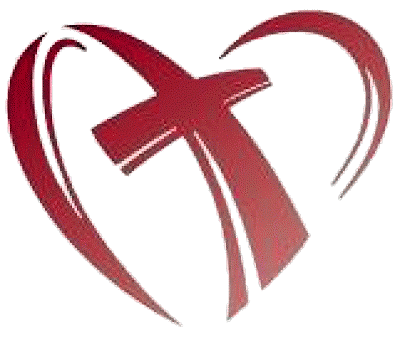 Dear Heavenly Father,
Thank you for my home, the food I have to eat, for my health and for my family.  Please forgive me when I worry about stuff, about being the best and having the most. Please help me God to pay more attention to what really matters to you, the condition of my heart.  Amen.
---