GREETING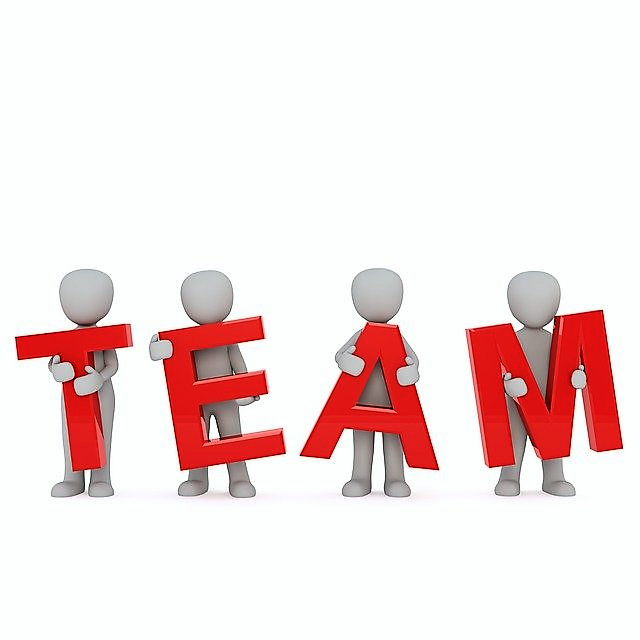 "From whom the whole body, joined and held together by every joint with which it is equipped, when each part is working properly, makes the body grow so that it builds itself up in love." ~Ephesians 4:16
Greetings!
As we continue to witness and to be plagued with things that continue to divide our nation, let us remember whose team we are on.  With God as our Head Coach, let us serve together to combat the evil, to care for the sick, and to spread God's message of love to all people.
Church family, we are on the winning team!  Let us behave humbly and with love in that knowledge.  Let us not lose hope nor forsake our faith.  Through our example, may others be drawn to our team; a team open and welcoming of all who long to be apart.
Peace, Blessings and Love,
Pastor Schalm
---
THE STORY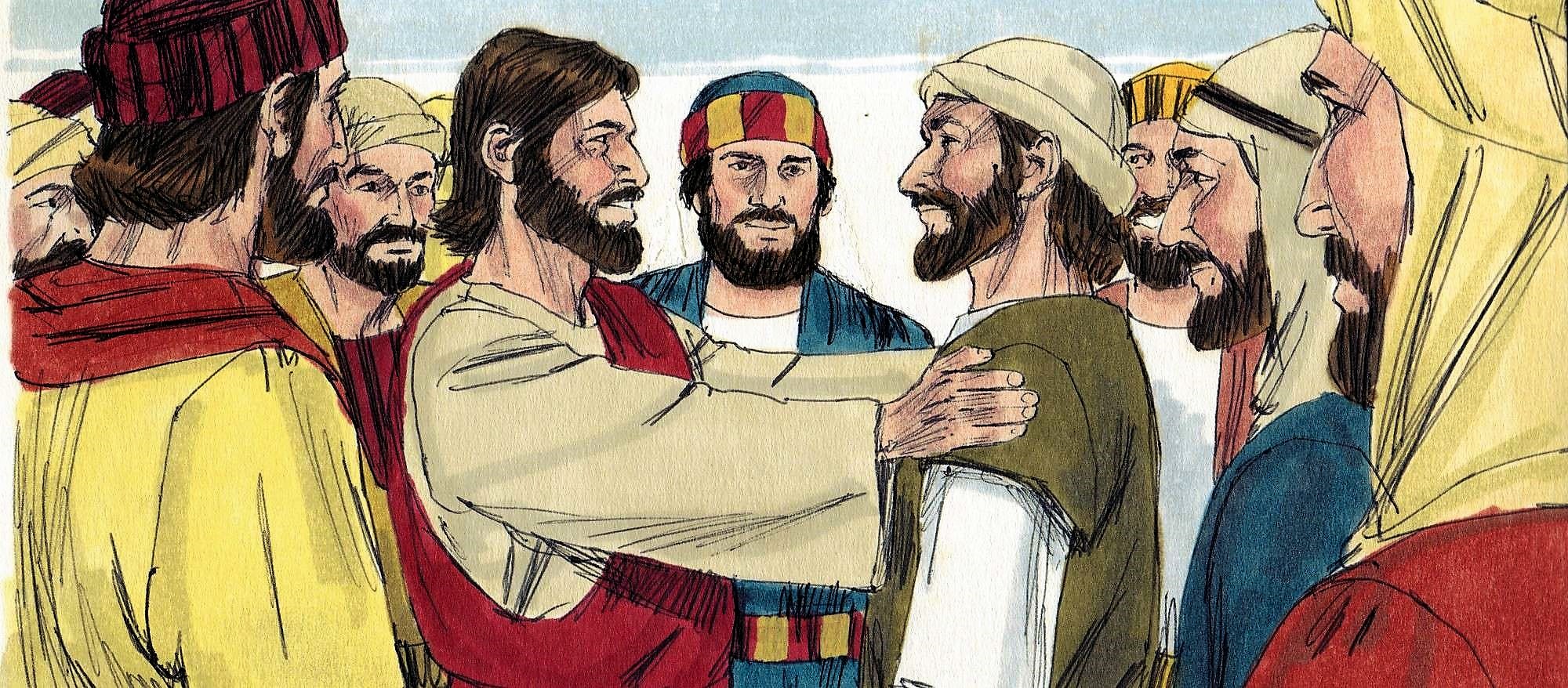 THE TEAM OF TWELVE
~ Glenys Nellist
Have you ever been hunting for treasure?  When Jesus was all grown up, he went hunting for treasure.  But he wasn't looking for treasure that sparkles.  He wasn't looking for treasure that glitters.  He was looking for people.  Jesus needed people who would follow him and help tell the world about God.  Now if he could find those people, that would be like finding treasure.
The first place Jesus looked for his treasure was at the beach.  There, on the shore, he found two fishermen.
"Hello, Peter," Jesus said, "Hello, Andrew," (He knew their names already!) "Will you follow me? Will you do what I do and help me tell the world about God?"
"Yes!" Peter said.
"Yes!" Andrew said.
Hurrah? Jesus thought.  I have found some treasure.
The next day, Jesus saw Matthew sitting at the market counting money.  I wonder if he will say yes, Jesus thought. And so, he asked him.  "Hello, Matthew," Jesus said.  "Will you follow me?  Will you do what I do and help me tell the world about God?"
"Yes!" Matthew said.
And right away, Matthew dropped his money and followed Jesus.
"Hurrah," Jesus thought.  I have found more treasure.
And so it went.  Every day, Jesus looked for people who would follow him.  Every day, somebody said yes.  How happy Jesus was when he had found his team of twelve.  They were his first disciples.  That team of twelve really was the very best treasure that Jesus had ever found!
God's Wonderful Words to You
You will be my special treasure ~ Exodus 19:5
---
MESSAGE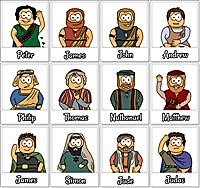 Do you like sports? What is your favorite sport? Baseball? Basketball? Soccer? Are you a good player? Not everyone is, you know. Many young people worry that they are not good enough to make a team.
I hope that this has never happened to you, but it probably has. It has happened to most of us. Surely there must be a better way to choose teams. Perhaps everyone could stand in a line and number off 1-2-1-2-1-2 and then all of the ones could be on one team and all of the twos on the other. That way, no one would have to be the last one chosen or not selected at all.
Our Bible story today is about being chosen/asked to be a member of God's team (His family).  How would you feel if Jesus came and asked you to become a member of His team?  Well, the good news is that you can be a member of God's winning team  and you don't have to worry about being the last one chosen or not being chosen at all. The Bible tells us that before he even made the world, God loved you and chose you. Before we were even born, God decided to adopt us into his own family; to make us a member of His team.
Why would God want you to be in his family and on His team? Is it because you are so good and so wonderful? No, it is because HE is so good and so wonderful. We needed an eternal home, and he gave us a home in heaven. We needed someone to help us to grow and he is there to help us every day. We needed someone to love us and he loved us more than anyone ever could. We needed a perfect Head Coach and He is it.
God has chosen you -- now it is up to you to say, "Yes." When we confess our sin and put our trust in Jesus, we become God's adopted children, members of His team and he makes everything work out according to his plan for us. I am so glad that God chose me to be a part of his family, aren't you?
---
LOVE LETTER FROM GOD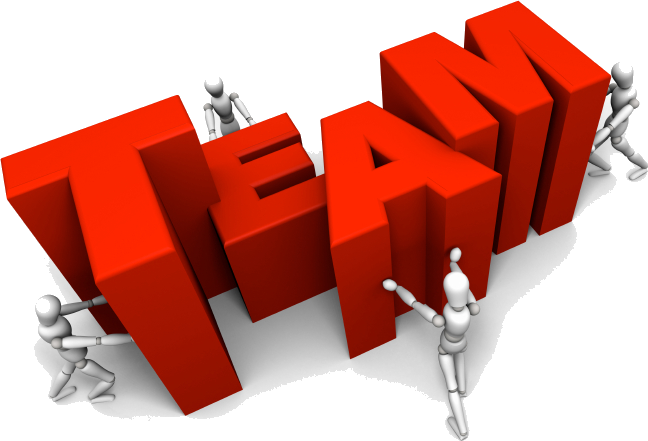 Dear ___________________,
Did you know that Jesus wants you to be part of His team? His team is the best team you could ever join…because Jesus is in charge!  And you would be so good at following Him and helping Him tell the world about me.  Will you say "yes" to Jesus?  If you will be art of his team, that will make Jesus and me so happy!  And more than that, you will be like treasure to him.  In fact, you will be one of the very best treasures Jesus has ever found!
With Lots of Love,
God 
---
ACTIVITY 
God's Team Olympic Banner
Supplies: White construction paper or printer paper (any white paper), pen, pencil, markers or crayons.
Purpose: To enhance understanding and meaning of story.
How To – Have the children take the paper and draw the Olympic Rings.  They can place the words, PART OF GOD'S WINNING TEAM within the circles (one word per circle).  On the top of the paper they can write, WE ARE MORE BEAUTIFUL WHEN WE COME TOGETHER.
Example:
WE ARE MORE BEAUTIFUL WHEN WE COME TOGETHER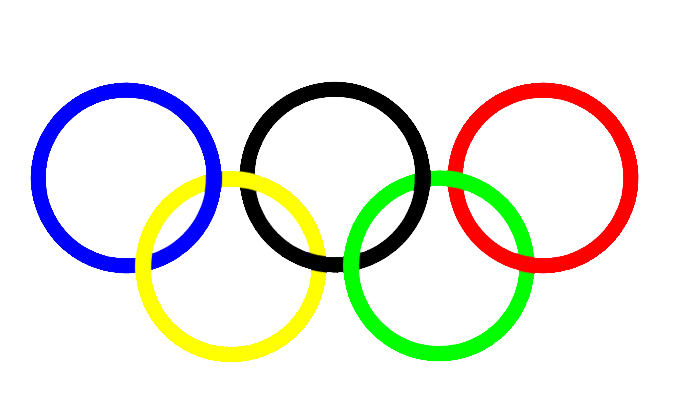 ---
WEEK'S CHALLENGE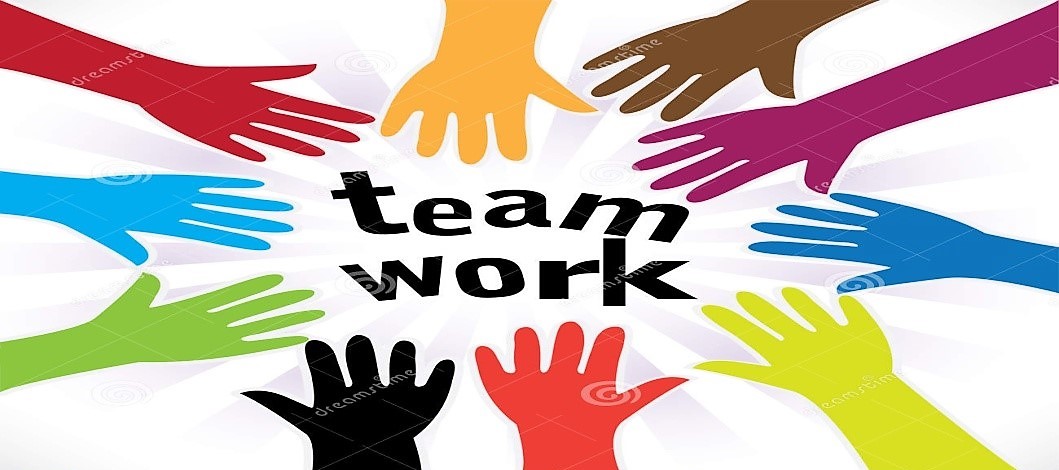 1.) TEAM SPIRIT  Rally your family together for a game of outside soccer, softball or basketball or to complete an inside project. Work together utilizing the individual gifts and talents of each family member to build the strongest team possible.  Have fun!
2.) PRACTICE MAKES PERFECT  Challenge yourself to read your Bible or have mom or dad read it to you.  Identify 3 of God's instructions and put them into practice this week.
3. ADOPT A GRANDPARENT  Write a letter, or color a picture to one of our elderly church members twice a month.  That's all you have to do to brighten someone's day.  Have mom or dad email, call or text me for a name and address.
We can all do something to lighten the load of others during this time.  Be creative and share your ideas!
Pastor Schalm (734) 255-0935  / cschalm@stpaulucctaylor.org
---
CLOSING PRAYER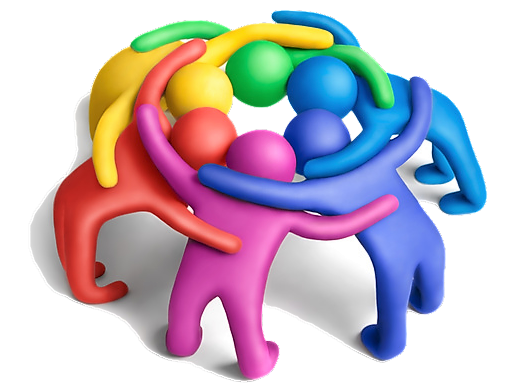 Dear God,
Thank you for choosing us and for sending your Son so that we could be a part of your team and family. Please help us to understand and practice your instruction.  In Jesus name we pray. Amen.
---