GREETING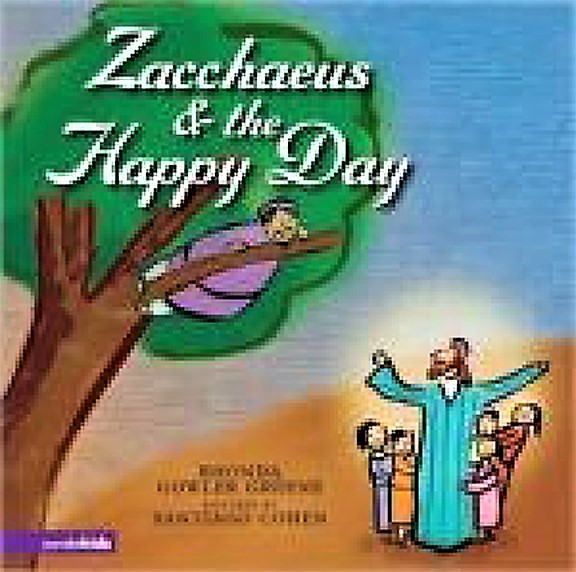 Greetings!
I hope you all had a good week.  The summer is moving by far to quickly.  Despite the pandemic, God remains good though and has blessed us with numerous sun filled, glorious days.  I hope you have had the opportunity to enjoy them and to fill them with fun, family and social-distanced friends.
Our virtual Vacation Bible School program, Breaking Free has been pushed back one week and will begin now on July 27th.  I hope that you will plan to join us for the week.  While enjoying the blessings of this summer, I look forward to next summer when we will once again be able to gather together.
May God bless you with a productive, safe and healthy week.
Peace, Blessings and Love,
Pastor Schalm
---
THE STORY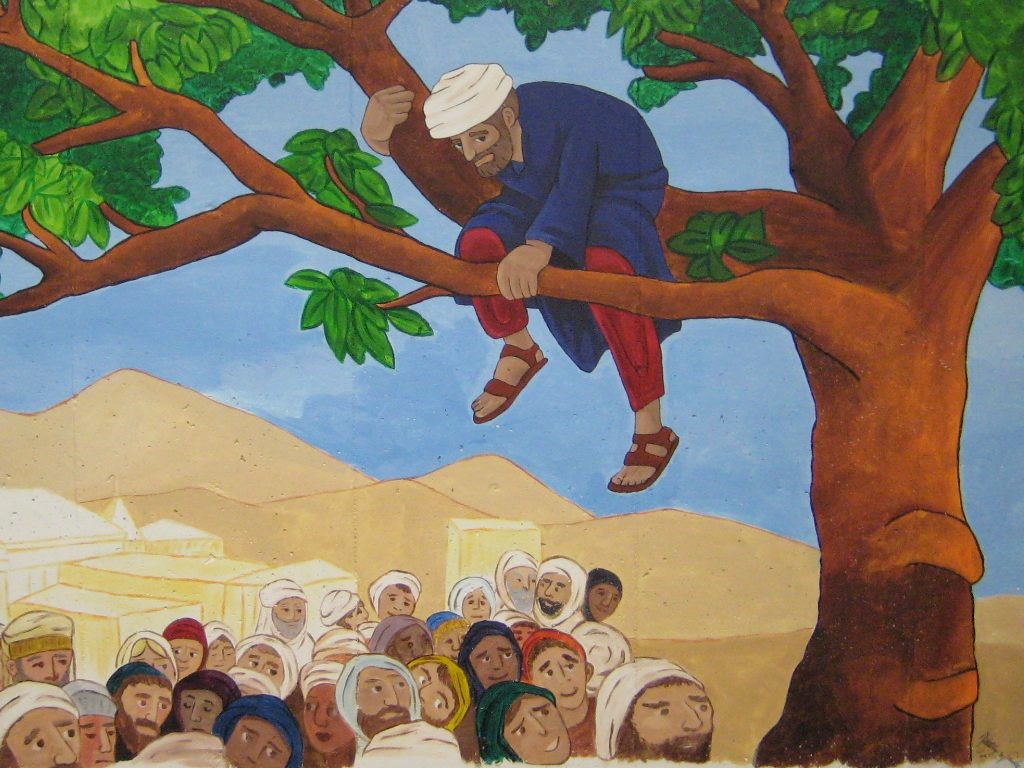 The Tiny Tax Collector
Glenys Nellist
          In the town of Jericho lived a tiny tax collector named Zacchaeus.  More than anything else in the whole world, Zacchaeus loved money.  He loved to touch it.  He loved to smell it.  He really loved to count it.  The trouble was Zacchaeus was greedy.  When he collected taxes from the people, he took much more than he should have.  Because of that, Zacchaeus had no friends.  But what did it matter if Zacchaeus had no friends?  He had money!  For Zacchaeus, having money was the only thing that really mattered.
          One day, Jesus came to Jericho.  Zacchaeus ran down the street, hoping to get a glimpse of Jesus, but the crowd would not let him through.  Try as he might, Zacchaeus could not see over their heads.  That tiny tax collector stood on the very tips of his toes, but he couldn't see Jesus.  That tiny tax collector jumped as high as he could, but still couldn't see Jesus.  So do you know what Zacchaeus did?  He climbed a tall sycamore tree.  Now he could see Jesus. And Jesus could see him. 
          "Zacchaeus," Jesus called.  "Come down.  I would like to come to your house today." Zacchaeus could not believe his tiny ears.  Oh no! Suppose that Jesus found out that Zacchaeus was greedy?  Suppose that Jesus found out that Zacchaeus took too much money from people?  What would happen when they talked?  Something utterly amazing would!
          Zacchaeus changed!  After Jesus talked with him, Zacchaeus was not greedy anymore.  In fact, he gave back all the money he owed and more.  Zacchaeus discovered he loved Jesus more than money.  Zacchaeus loved to talk to Jesus, and Zacchaeus really loved to listen to Jesus.  And in the end, for Zacchaeus, having Jesus as his very best friend was the only thing that really mattered.
GOD'S WONDERFUL WORDS TO YOU:
"I have called you friends" ~ John 15:15
---
MESSAGE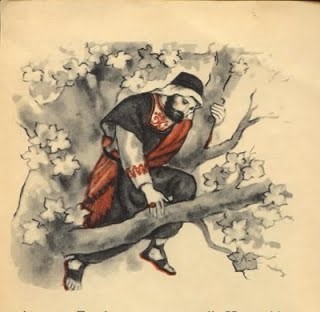 Consider the amazing details that are taking place here…there's Zacchaeus, short guy climbing up a tree to see the Jewish teacher he's heard about. He probably thought he was hidden away anonymously. But Jesus knew better. He looked straight up at the guy and called him out by name. Not only that, but he invited himself over for dinner!
How would you have felt in this position…what would be going through your head? The Bible tells us that Zacchaeus must have been excited, because he hurried down and received Jesus joyfully.
Now, remember that Zacchaeus was kind of a "bad guy" in the eyes of the Jews…they weren't too pleased that Jesus would associate with such a person, and they complained about it. Fortunately, Jesus was not after public opinion boosts, but individual heart healing…and in this case, it worked.
Jesus was not worried about how others viewed Him. He knew that His mission came from God, and that it involved loving all people. He also knew change was possible for all, and that He would grant forgiveness to all who asked. Zacchaeus was transformed by his encounter with Jesus. He got up and promised that if he had done any dishonest dealing, he would repay it with extra!
That probably amounted to quite a bit of money, but he realized he had found something more important. Zacchaeus became a new man and received the love and mercy of Jesus. And Jesus emphasized that He did not come just for good people, but for those who were truly lost and in need of healing. This is good news for us, because we do bad things too!
This story has another important element: Jesus loved everyone.
What does that mean for us? It should mean we demonstrate love and forgiveness, too. Now, some people still do wrong things and need consequences, sure. But we know that love and mercy are possible for all. If God thinks so, shouldn't we?
---
LOVE LETTER FROM GOD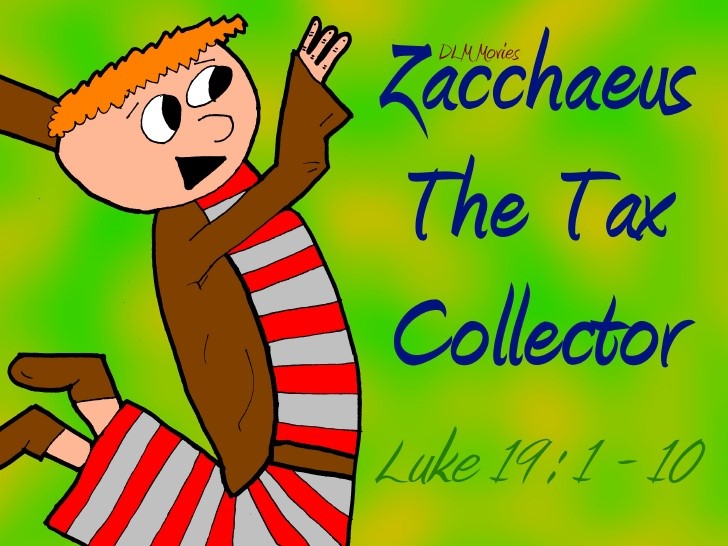 Dear ___________________,
          What a very important lesson Zacchaeus learned that day.  Zacchaeus learned that there is nothing more important in the whole world than having Jesus as your very best friend.
          Jesus is a friend who will never let you down.  He will never lie to you.  He will always keep His promises.  And best of all, he will never, ever leave you.  Jesus wants to be your very best friend too.  Will you let him?  I hope you do.
With Love,
God       
---
ACTIVITY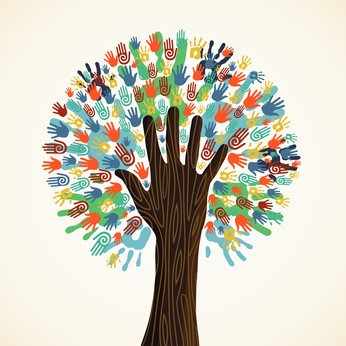 Zacchaeus in the Tree
Supplies:
Toilet paper or paper towel tube
Scissors
Construction paper
Tape or glue
String or ribbon (if you'd like to hang up the finished product)
Markers/decorative materials
Clothespin or popsicle stick
Procedure:
Decorate your popsicle stick or clothespin with a face and/or hair, clothing, etc.
Color your tube (tree trunk) if desired. Add a Bible verse or caption.
Cut leaf shapes out of construction paper (likely green color).
Glue the leaves onto the tree trunk.
Place your clothespin in or on the tree and watch Zacchaeus climb or hang out! Hang up with string, if you like.
Extra craft ideas…. You might hone in on the idea of a changed heart by encouraging students to decorate heart-shaped papers or other heart-related items. Or you can discuss the element of generosity and create a special tithing envelope or coin collection bank.  For a simple craft with younger audiences, talk about the importance of Jesus knowing the name of Zacchaeus. Have children write out their names with decorative lettering, or use the letters as an acrostic poem.
---
WEEK'S CHALLENGE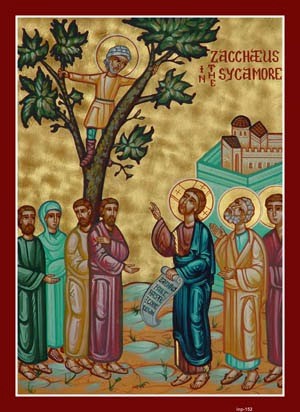 Forgive and Be a Friend  Tell those (your brother, sister, cousin, friend) who offend or hurt you this week that you forgive them. And do so before, responding in a mean and negative way.  After you forgive them tell them the story of Zacchaeus and how Jesus forgave him.
ADOPT A GRANDPARENT.  Write a letter, or color a picture to one of our elderly church members twice a month.  That's all you have to do to brighten someone's day.  Have mom or dad email, call or text me for a name and address.
We can all do something to lighten the load of others during this time.  Be creative and share your ideas!
Pastor Schalm (734) 255-0935  / cschalm@stpaulucctaylor.org
---
CLOSING PRAYER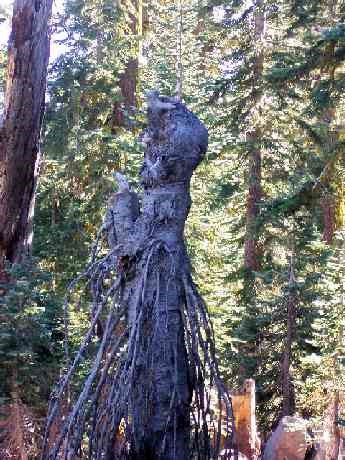 Dear God,
We thank you for loving and forgiving us and for knowing us by name. Help us to share the love of Christ with one another, especially those who struggle or are less popular. ~ Amen
---