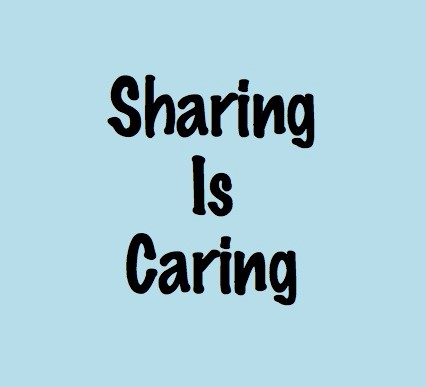 "Anyone who has been stealing must steal no longer, but must work, doing something useful with their own hands, that they may have something to share with those in need." ~ Ephesians 4:28
Greetings!
I hope you and your family had a great week!  Following all the pandemic protocols, children will have the opportunity to meet for in-class instruction on Sunday, January 17.   While Pastor Schalm leads the morning's worship service, Sunday School teacher, Candace Poet will take the lead in teaching children (K-6) a lesson on sharing.   All older students will have the opportunity to meet with Sunday School teacher, Lori Rogers.
We will continue throughout the year to gather in person for Sunday School providing no additional, necessary pandemic mandates be set.  This morning's lesson, "Sharing is Caring," follows this greeting.
I wish you and your family a very blessed week ahead.
Peace, Blessings and Love,
Pastor Schalm
---
Sharing is Caring….What it means to be part of the body of Christ
Scripture Story: Matthew 14:13-21
Lesson Opener:  Sharing to get it done… start with a quick team activity…give each student a few pieces of a jigsaw puzzle, and invite them to try putting it together. After a couple minutes of working alone, invite students to share their puzzle pieces and work together to complete the puzzle picture. Was the puzzle easier alone, or sharing?
CANDACE: WE WILL USE A FOUR PIECE PUZZLE.  EACH CHILD WILL BE GIVEN THREE PIECES OF THE PUZZLE.  YOU WILL HAVE THE OTHER ONE.  ONCE THE CHILDREN PUT THE THREE PIECES TOGETHER YOU WILL "SHARE" THE FINAL PIECE THEY NEED WITH THEM.  THE PUZZLE CAN THEN BE COLORED AND TAKEN HOME. 
PARENTS, the puzzle used in class follows the lesson
Lesson and Verses: 
ASK THE CHILDREN: What are some things that we share? Why do we share? Why is it important to share?
CANDACE: READ, A MARVELOUS PICNIC / PAGE 124
PARENTS: READ BIBLE STORY FOUND IN MATTHEW 14:13-21
Ask what the little boy shared?  Ask what Jesus did with what he shared?  Explain and really hit home the fact that Jesus does the same today.  He takes all that we give, whether material, time or talent, and uses it for good.  He turns it into something much bigger or greater than we could ever imagine.
Explain to the children that we share God's love, not only through words and explicitly telling people about Him, but also by merely demonstrating living the way Jesus would.  We can share things like time, love, and talents. Even if we don't have money or things that seem like they are worth much, we have much to share and contribute and God can do great things with them.It's also significant to note for students that nothing is truly ours to begin with. All that we have, including our very lives, belongs to God first and will go back to Him in the end.
MAKE A SHARING CHART: ADD STUDENTS NAME TO THE CHART AND ASK THEM TO SHARE ONE OR MORE WAYS IN WHICH THEY "SHARED" LAST WEEK.  ADD THESE THINGS NEXT TO THEIR NAME.  HANG THE CHART UP AND ADD TO IT FOR SEVERAL WEEKS. 
CANDACE: THE CHART IS ON THE TEACHING TABLE
CRAFT/ACTIVITY: Make it to give away… provide each student with two small paper bags and have them decorate them. Also provide each student with two bags of small prizes (candy, stickers, etc.). Invite students to put a bag of prizes into each decorated bag and then have them select another student in class to give one of their bags to.  Instruct them to then take the second bag home to share with a family member or neighbor.  Each child should receive a bag from another child to take home.  Make sure that a child is not given more than one.  Again, talk to them about the importance of sharing kindness and how it makes us feel good when we do.
CANDACE: HAVE CHILDREN POINT TO WHO THEY WANT TO GIVE THEIR BAG TO IN CLASS AND THEN PLACE IT ON THAT CHILD'S TABLE TO GRAB BEFORE HE/SHE DEPARTS FOR HOME. 
CLOSE IN PRAYER