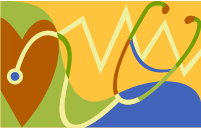 "Carry each other's burdens, and in this way you will fulfill the law of Christ." ~Galatians 6:2
Greetings!
As we work our way through February, I hope you and your family are well.   Despite having to social distance, it is a blessing to be able to meet for Sunday School.   This week we will be discussing "heavy hearts" and our responsibility to help lighten those hearts by carrying one another's burdens.
If your child/ren are unable to attend the in-person class, the Sunday School lesson follows.  Simply adjust the lesson to meet the age of your child/ren and utilize whatever materials you might have at home.  I wish you and yours a blessed and healthy week ahead.  Happy Valentine's Day!
Peace, Blessings and Love,
Pastor Schalm
---
Teaching Children To Care For One Another
Introduction:
Call one kid up (small kid is a good idea) and give them an empty back pack. Start to fill it with small books. Talk about how they are normal every day things. Occasionally put really big books in it. Explain that the bigger books are big things in life that happen. After awhile, if you put enough big books the small child won't be able to hold the bag up. Have them put the bag down and tell them we'll come back to it later. Talk about how in life we are often burdened by a lot of things. Sometimes those things are so big that we can't stand up on our own.
TS: Fortunately we have very specific instructions about this very subject in our Bible.
Help each other (vs 1-2)
Exp: Gal 6:1-2
Brethren, even if anyone is caught in any trespass, you who are spiritual, restore such a one in a spirit of gentleness; each one looking to yourself, so that you too will not be tempted. Bear one another's burdens, and thereby fulfill the law of Christ.
NASU
As a body of believers we are too help each other out. If someone is going through some things it is our duty to help that person out (Examples: Grandparent passes, pet dies, parents get a divorce, struggling at school, did not make the team …. Anything that a child may encounter)
Ill: Have the first kid come up and then have a bigger stronger kid come up 2. Have the bigger kid help the little kid pick up the bag. (Use siblings due to Covid protocols)
App:   Now we can help carry each other's burdens different ways. One of those ways is through doing physical things like this. (Ask the kid if they of any other ways of helping someone who is having problems emotional or physical) One of my favorite ways to help someone is simply being there to listen to them. If you are willing to listen to someone you make them feel special. Which they are! Because God has made them special just like you.
TS: But did you know that helping each other out isn't just something to do?
It's the law! (vs 2)
Exp: The law of Christ mentioned here is in reference to:
John 13:34-35
A new commandment I give to you, that you love one another, even as I have loved you, that you also love one another. "By this all men will know that you are My disciples, if you have love for one another."
Jesus spent his life serving others.
Ill: Jesus washing the feet of the disciples.
App: If we serve each other then we are acting as Jesus did. When people see us caring for each other they see how big the Love of God is.
TS: Do you know what another reason to help each other out is?
III. Because you'll need help one day too. (vs 3-5)
Exp: Gal 6:3-5
3 For if anyone thinks he is something when he is nothing, he deceives himself. 4 But each one must examine his own work, and then he will have reason for boasting in regard to himself alone, and not in regard to another. 5 For each one will bear his own load.
NASU
Paul warns us here not to act like you don't need any help. You have to realize that everyone needs help at some point. Sometimes it's hard to ask for help. But helping each other is one of the MAJOR reasons that God has given us Christian friends.
ACTIVITY: Give children small hearts and have them write some burdens and some ways in which they can help to lift them.  In class, the burden hearts will be taped to the Heavy Heart and the ways in which to help hearts will be taped to the Light Heart.
OUTREACH: Children will make cards for Nursing Home.
FUN ACTIVITY:  Children will get Valentine Cards and make a Valentine Truck treat to take home.
Conclusion: Close in Prayer
---